Donald Trump Jr. in Marathon Nine-Hour Interview Over Russia Election Interference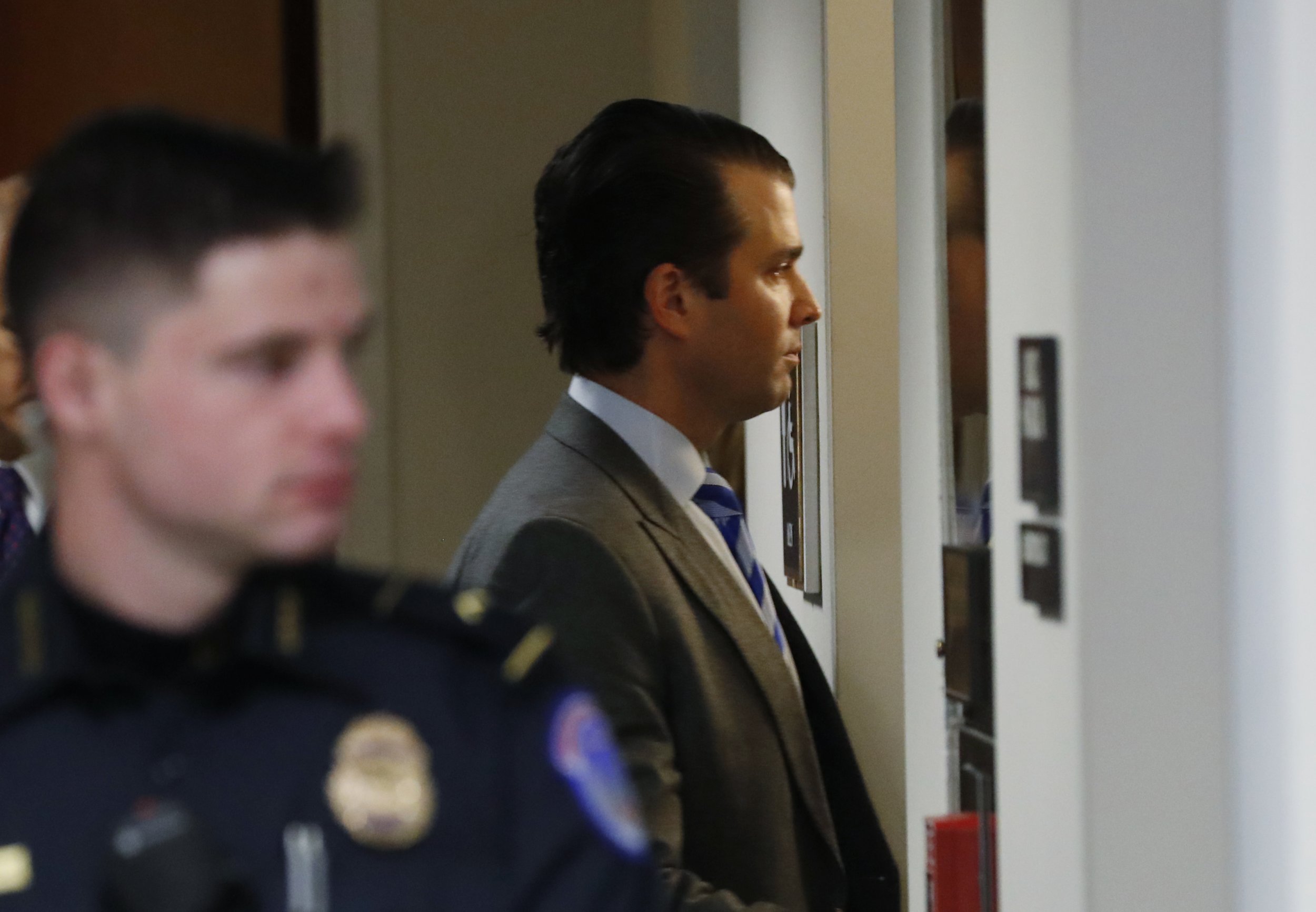 Donald Trump Jr., President Donald Trump's eldest son, spent nine hours answering questions about the Trump campaign's contacts with Russia on Wednesday.
Speaking to the Senate Intelligence Committee, it was Trump Jr.'s second interview on Capitol Hill in as many weeks amid a probe into Russian influence over the 2016 election. The session was held behind closed doors, though the top Democrat on the committee, Senator Mark Warner, has said President Donald Trump's son should give testimony in a public hearing.
In an interview with the House Intelligence Committee on December 6, Trump Jr. was grilled for more than seven hours and answered questions about a meeting he held with a Kremlin-linked lawyer in Trump Tower during the 2016 election after being promised "dirt" on Hillary Clinton.
During his testimony to the House committee last week, Trump Jr. refused to answer questions about phone calls he had with his father where they discussed their response to revelations about the Trump Tower meeting in The New York Times last July. Trump Jr. cited attorney-client privilege because lawyers for both the president and his son were in on the call, said Representative Adam Schiff of California, the committee's top Democrat, after the session.
Trump Jr.'s attorney asked the House committee on Tuesday to investigate how some of his client's testimony was leaked to the media while he was being interviewed.
The interviews are part of the ongoing congressional probes into Russian interference in the 2016 election. Early this year, key American intelligence agencies found the Kremlin worked to tilt the election in favor of Trump. The Senate Judiciary Committee also interviewed Trump Jr. in September.
Read more: Donald Trump Jr. wouldn't tell Congress about chats with his dad, citing attorney-client privilege—even though neither is a lawyer
When he left Capitol Hill on Wednesday: "He waved. He didn't comment. Hair still slick," wrote Steve Dennis, a reporter for Bloomberg, on Twitter. Dennis was camped outside the meeting room where Trump Jr. was questioned for hours.
President Trump has called the congressional investigation and a probe into his campaign's ties to Russia by special counsel Robert Mueller a "witch hunt." Mueller is also investigating whether Trump obstructed justice when he fired FBI Director James Comey, who was leading an investigation into the matters. Trump cited "this Russia thing" as a factor in Comey's termination. The president has urged at least seven top officials to end the probes.
Republicans in Congress insisted this week that members of Mueller's investigative team are partisan after it was revealed an FBI agent removed from the probe last summer had sent anti-Trump text messages.
Fielding questions about Mueller's performance at a House Judiciary hearing on Wednesday, Deputy Attorney General Rod Rosenstein said he sees no cause to fire the special counsel.
Mueller's probe has filed four indictments against former Trump campaign officials, including former Trump campaign chairman Paul Manafort and former national security adviser Michael Flynn. Flynn has pleaded guilty to lying to the FBI about phone calls he held with Russia's ambassador to the U.S. where he discussed potentially lifting U.S. sanctions.
The Senate Intelligence Committee has more than a dozen witnesses left to interview as part of its probe, which is likely to extend into 2018.