Donald Trump Jr. Uses Seattle Mayor Sex Abuse Resignation to Bash Democrats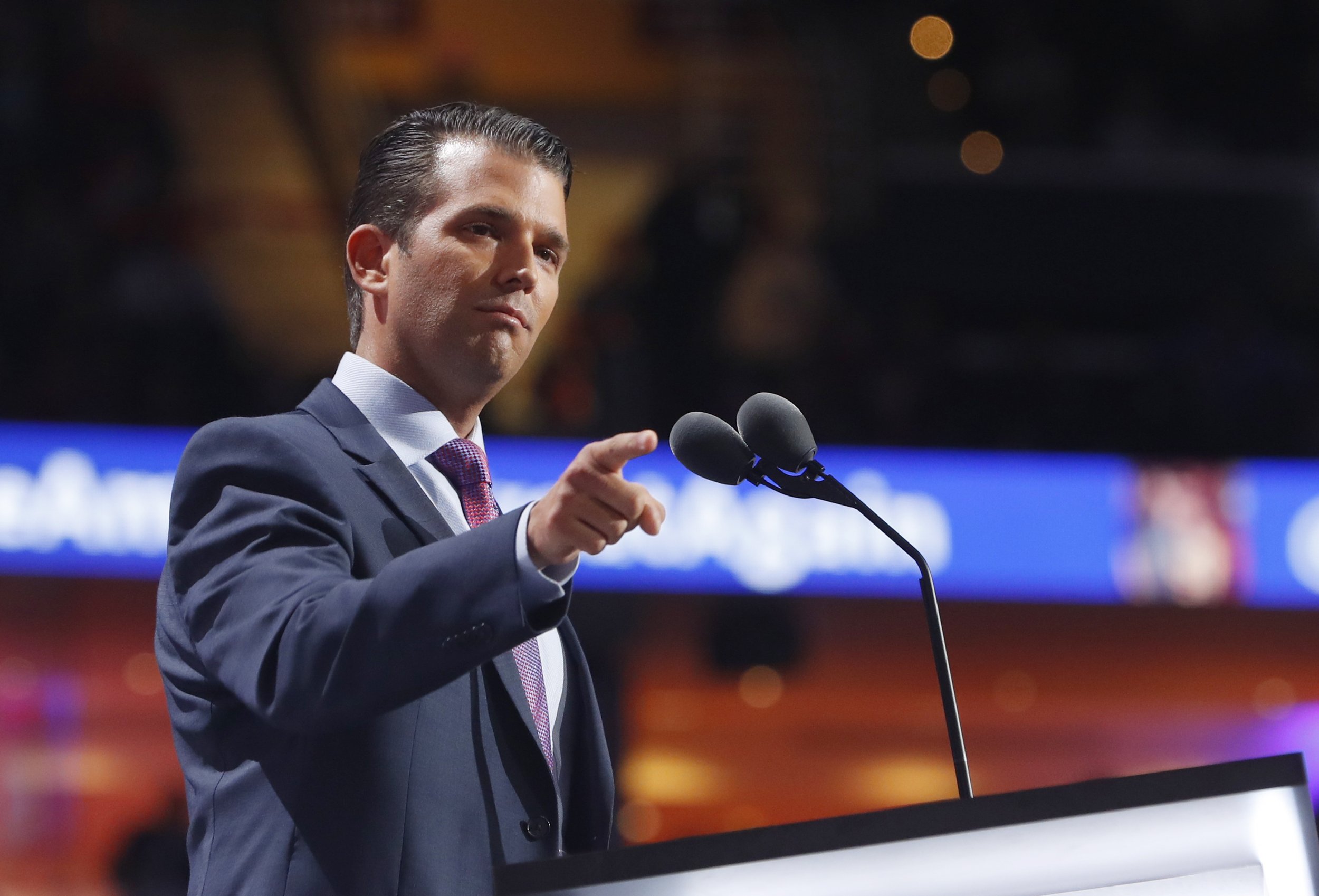 President Donald Trump's son Donald Trump Jr. took to Twitter Tuesday to question why it took five allegations of sexual abuse against Ed Murray for the embattled Seattle mayor to resign.
"It took 5?" the eldest of the president's children wrote on Twitter, sharing a CNBC tweet reporting the news of Murray's resignation and pointing out that Murray is a Democratic Party politician: "Also: Ed Murray (D) fyi."
Murray, the city's first openly gay mayor and a Democrat who fiercely opposed Donald Trump, resigned on Tuesday after his younger cousin, Joseph Dyer, became the fifth person to accuse him of child sexual abuse, The Seattle Times reported. Murray denies the accusations.
The mayor first faced formal accusations of child abuse in a lawsuit reported in April. Delvonn Heckard claimed Murray had sexually assaulted him, paying $10 or $20 at a time, in 1986, when he was a 15-year-old drug addict.
The lawsuit was dropped in June with the intention of refiling after Murray's term in office ended, as the mayor announced he would not be seeking re-election. However, Heckard filed a claim for up to $3 million in damages against the city of Seattle, claiming Murray used the public office to defame him.
Another alleged victim, Maurice Lavon Jones, is in prison. He told The Seattle Times Murray paid him for sex when he was a drug-addicted teen and a close friend of Heckard's.
The newspaper also further investigated claims made by two other men a decade ago, which the newspaper did not report at the time.
Jeff Simpson and Lloyd Anderson claimed Murray abused them in the 1980s. Simpson was put under Murray's foster care in 1982 and initially made abuse allegations in 1984. While his caseworker believed him—as documents the Oregon Child Protective Services released to The Seattle Times showed—no charges were brought. The investigation was dropped because of Simpson's "emotional instability and history of manipulative behavior."
At the time, Murray's spokesman, Jeff Reading, dismissed the men's allegations as politically motivated. "The two older accusations were promoted by extreme right-wing anti-gay activists in the midst of the marriage equality campaign, and were thoroughly investigated and dismissed by both law enforcement authorities and the media," he said.
The spokesman also rejected the lawsuit's allegations as "categorically false," saying, "Mayor Murray has never engaged in an inappropriate relationship with any minor.… Mayor Murray will vigorously fight these allegations in court."
Until this Tuesday, Murray resisted numerous calls to step down, including one from the Seattle LGBTQ Commission. Dyer's allegations effectively ended his almost two-decade-long career in state politics, in which Murray prided himself of having introduced a landmark gay civil rights bill, same-sex-marriage legislation and a $15 minimum hourly wage.
His resignation will become effective on Wednesday afternoon. In a statement to the press, the mayor said, "While the allegations against me are not true, it is important that my personal issues do not affect the ability of our city government to conduct the public's business."
Murray denied Dyer's allegations, blaming them on a "family rift," Reuters reports. His cousin has accused him of abusing a boy at a Catholic group home where he worked.
Critics on Twitter pointed out that Trump Jr.'s father has faced more than 10 accusations of sexual assault, ranging from groping to nonconsensual kissing—allegations Trump either denied or ignored, The Guardian noted, after a tape recording of him boasting about committing sexual assault came out last October. "How many will it take your dad?" one Twitter user wrote.