What Did Donald Trump Jr. Tell Congress About Russia Business Meetings?
President Donald Trump's former lawyer Michael Cohen said Thursday that he was working on a business deal in Russia on behalf of the president well into 2016. That statement has raised questions about potential conflicts with the congressional testimony of Trump Organization Executive Vice President Donald Trump Jr.
During a meeting with the Senate Judiciary Committee in September 2017, Trump's eldest son said that his communications about business dealings in Russia ended in 2014. When asked directly if there were any business dealings in 2015 or 2016, Trump Jr. said, "Certainly not 2016."
He added that "there was never a definitive end to it. It just died of deal fatigue."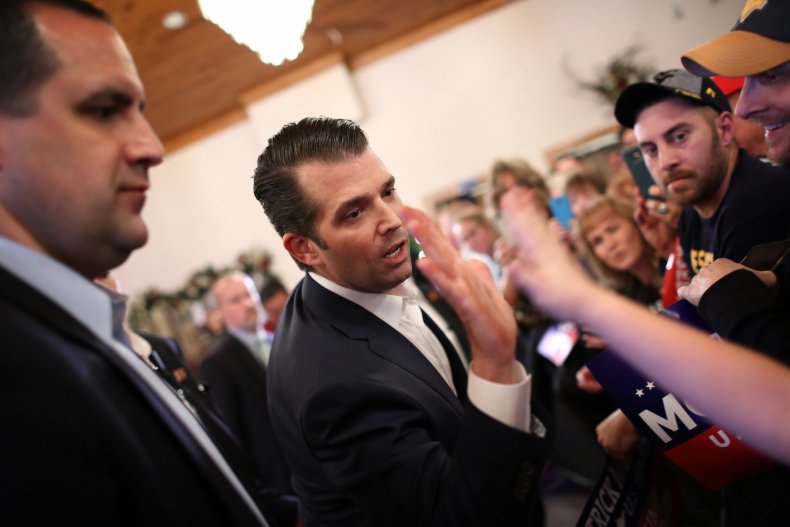 Cohen said this week that he had reached out to a representative of Russian President Vladimir Putin to discuss the tower in June 2016, just one month before the Republican National Convention. He also said that he had briefed members of the Trump family on these ongoing relations.
Trump Jr. said that he was "peripherally aware" of these discussions but that he did not know specifics.
Cohen's guilty plea also included information about plans to gift Putin with a $50 million penthouse in the Moscow Tower in order to attract oligarchs to the project.
Rudy Giuliani, former New York City mayor and President Trump's current personal lawyer, went on the attack against Cohen yesterday.
"Michael Cohen is a liar," he said. "It's no surprise that Cohen lied to Congress. He's a proven liar who is doing everything he can to get out of a long-term prison sentence for serious crimes of bank and tax fraud that had nothing to do with the Trump Organization."
Giuliani continued his campaign to brand Cohen as an untrustworthy witness. "They've reached a plea deal with a proven liar and [are] sending a signal to the world: If you tell us what you want to hear, you get a nice big deal," he said.
President Donald Trump took to Twitter early Friday morning to defend himself, explaining that doing business with Russia was not illegal.
"Oh, I get it! I am a very good developer, happily living my life, when I see our Country going in the wrong direction (to put it mildly)," he wrote. "Against all odds, I decide to run for President & continue to run my business-very legal & very cool, talked about it on the campaign trail...Lightly looked at doing a building somewhere in Russia. Put up zero money, zero guarantees and didn't do the project. Witch Hunt!"
Donald Trump Jr. has so far remained silent on the issue.
Correction: A previous version of this story mischaracterized Donald Trump Jr.'s Congressional testimony.