On Tuesday, President Donald Trump's son, Donald Trump Jr., tweeted that the caravan of Central American immigrants traveling toward the United States harbored terrorists, supporting his claim with a blog post from a conservative activist group that was completely unrelated to the caravan.
"The caravan thing is an obvious political stunt, but what better way to get terrorists into the country than imbed them in the flood? Leftist policies just endanger our kids," the president's son tweeted, including a blog post that claimed 100 Islamic State terrorists had been apprehended in Guatemala.
"In a startling revelation, Guatemala's president announced in the country's largest newspaper that nearly 100 ISIS terrorists have been apprehended in the impoverished Central American nation. Why should Americans care about this? A caravan of Central American migrants is making its way north. Let's not forget that Guatemala is one of the countries that bombarded the U.S. with illegal immigrant minors under Barack Obama's open border free-for-all," reads the blog post by Judicial Watch, a conservative activist group.
But the Judicial Watch post referred to a statement by Guatemala's President Jimmy Morales that claimed Guatemala's security forces had apprehended the Islamic State-linked terrorists and deported them back to their countries of origin. The article makes no reference to the immigrant caravan or to immigration.
Instead, Morales told Guatemala's Prensa Libre that his country had cooperated with the security forces of neighboring countries to halt the movement of terrorists. The individuals had been "intercepted, detained, processed and returned to their country of origin," according to Guatemalan security officials. Some of these arrests, including the arrests of several Syrians, occurred in 2016.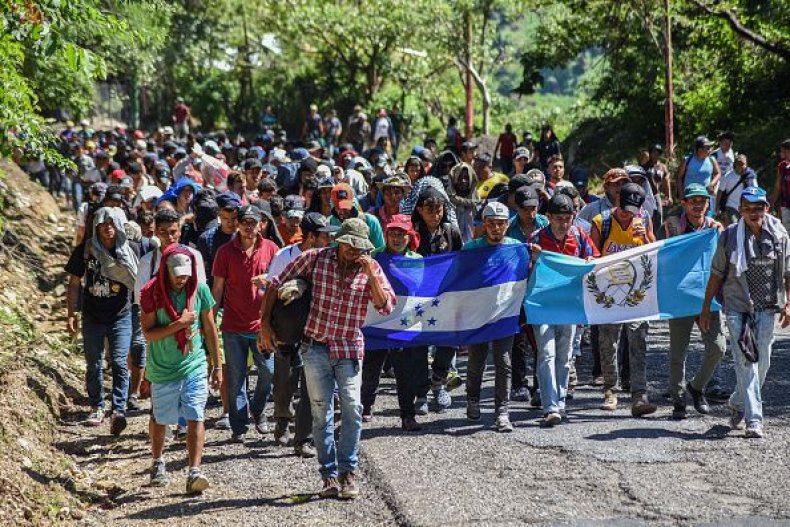 The tweet, however, appears to be part of a concerted effort by the president and his closest supporters to focus on immigration in the lead-up to the November midterm elections. Immigration and border security are popular issues among Trump's base, and the appearance of a migrant caravan has created an opportunity for the president to fan the fears on these issues again.
On Monday, Trump threatened to declare a national emergency over the arrival of the caravan. He also claimed that "unknown Middle Easterners" have joined the caravan, an apparent reference to alleged terrorists. The president, however, provided no proof for this claim. White House press secretary Sarah Huckabee Sanders, who frequently defends Trump's misstatements, doubled down on the claim, saying that there was "absolutely" evidence of Middle Easterners in the immigrant caravan currently traveling through Mexico.
Trump has threatened to cut aid to Central America as punishment for the fact that many Central Americans are leaving their countries for the U.S. It is unclear how cutting aid to Central America would help bolster regional security or stem the tide of migration. In fact, some experts say a funding cut could have serious negative consequences.
"While I continue to believe that threats of a total aid cutoff are unlikely, should it happen consequences could be dire," Eric Olson, deputy director of the Wilson Center's Latin American Program, told Newsweek. "U.S. supported efforts to promote development, reduce violence, offer youth alternatives to joining gangs, alternatives to migration, and fight corruption would be weakened.
"The governments, especially Honduras where the caravan originated, are very weak and are struggling with corruption, and the inability to provide for or protect their citizens," he added. "For the U.S. to walk away is to surrender. We would likely see more violence, more migration, more corruption, and more drug trafficking, not less."