Donald Trump Jr. Mocks Barack Obama With Giant Cookie in Ted Cruz Instagram Post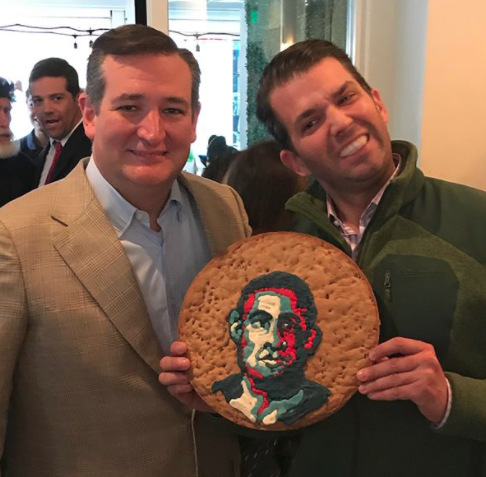 Donald Trump Jr. took to Instagram on Sunday alongside Texas Senator Ted Cruz to mock former President Barack Obama and pose with a cookie that featured a picture of the former leader.
President Donald Trump's eldest son said the cookie was an early birthday president. "With friends like these... some good friends decided that while my birthday is not for 2 weeks that they would get me an early 40th birthday cake. And what birthday is complete without an Obama cake?" Trump Jr. wrote in the Instagram post.
Related: Donald Trump Jr. slams Hillary Clinton as arrogant and entitled in birthday tweet
In the image, Ted Cruz appeared unmoved by the cookie, looking into the camera with little emotion. Trump Jr. gave a skewed grimace, presumably showing his distaste for the former Democratic president.
The comments below Trump Jr.'s caption descend into familiar partisan bickering with a few of the posts noting the foodstuff on display was a cookie, rather than a cake, as described.
Trump Jr. has reaped the whirlwind online in the past over his social media posts. In October he joked that he was going to take half of his daughter's candy to "teach her about socialism."
The businessman wrote on Instagram on Halloween night that he was going to "take half of Chloe's candy tonight & give it to some kid who sat at home. It's never to [sic] early to teach her about socialism."
Social media users pointed out that using a holiday where strangers gave away candy out of kindness rather than for money might not offer the best lesson in favor of capitalism.
Also in October Trump Jr. slammed Hillary Clinton as arrogant and entitled in a birthday tweet. He called out the former Democratic presidential nominee over her hubris in a 2016 tweet in which she announced herself the future president.
"A year later the arrogance and entitlement in this tweet is exactly why it was never going to happen," Trump Jr. said. He added an image of the tweet Clinton had posted a year ago that showed her as a young girl. "Happy birthday to this future president," she wrote at the time.
However, Trump Jr. has grabbed the most press attention over his desire to find dirt on Clinton during the 2016 election. He has become a person of interest in the probe into Russian interference in the U.S. election after he met with a Kremlin-linked lawyer hoping to get damaging information about his father's former presidential rival.
Russia has denied seeking to influence the election while the Trump administration has refuted reports of collusion between the campaign and Moscow.