Donald Trump Jr. Mocks Kirsten Gillibrand 'Future is Female' Tweet, Says it Ruins His Sons' Futures
First son Donald Trump Jr. made fun of Democratic Senator Kirsten Gillibrand on Wednesday morning over her tweet stating that the nation's future is "female" and "intersectional."
"Our future is: Female Intersectional Powered by our belief in one another," Gillibrand tweeted on Tuesday night. "And we're just getting started."
President Donald Trump's eldest son quote tweeted Gillibrand and wrote: "Good to know. My girls will be excited about this. When is it appropriate to let my boys (9, 7 and 6 years old) that there's no future for them?
"Not sure this is a winning platform but you be you," Trump Jr. tweeted.
He has three sons and two daughters with Vanessa Trump, who filed for divorce in March.
Trump Jr. has criticized female empowerment and the #MeToo movement by saying it is detrimental to his sons before. He made a reference to the boys on Daily Mail TV in September while bashing Christine Blasey Ford, who accused President Trump's Supreme Court nominee Brett Kavanaugh of sexual assault.
"I've got boys and I've got girls, and when I see what's going on right now, it's scary," Trump Jr. said.
When asked if he feared more for his sons or his daughters in light of the #MeToo movement, Trump Jr. replied, "Right now, I would say my sons."
"When the other side weaponizes against men and says 40 years later we can bring it up and you did something in high school that no one remembers and it should disqualify you from ever doing anything ever again, it diminishes the real claims," Trump Jr. explained.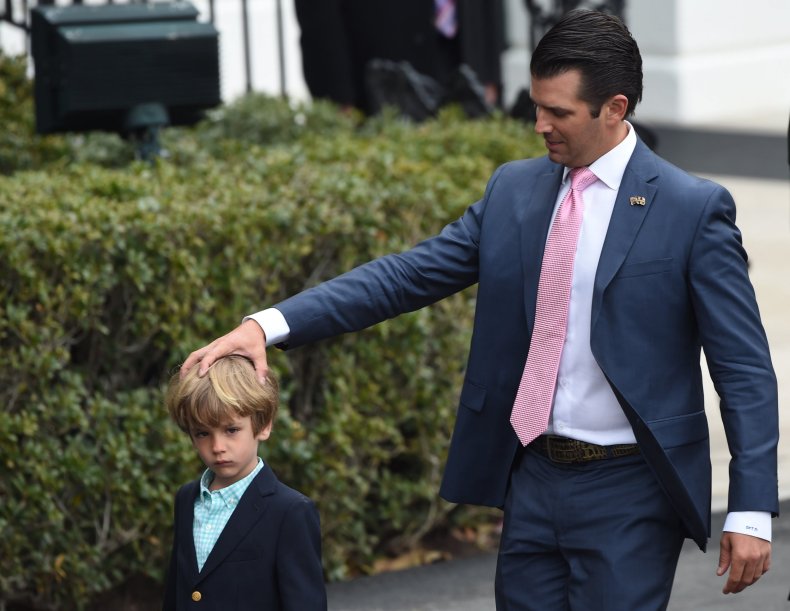 Republican Senator Marco Rubio mocked Gillibrand's tweet earlier on Wednesday by replicating its format and stating that the future is "not based on gender."
"Our future is: AMERICAN," Rubio tweeted. "An identity based not on gender, race, ethnicity or religion. But on the powerful truth that all people are created equal with a God given right to life, liberty & the pursuit of happiness."
A record number of women won seats in Congress during the November midterm elections, leading some to call it a women's wave.
Trump Jr.'s father has also attacked Gillibrand. In December 2017, the president tweeted she was a "lightweight" senator and "someone who would come to my office 'begging' for campaign contributions not so long ago."
In response, Gillibrand told NBC's Today Show "it was certainly just a sexist smear intended to silence me." Around that time, Gillibrand also called on President Trump to resign after several women resurfaced sexual misconduct allegations against him.