Donald Trump Jr. Shares Hammer Halloween Photo Mocking Paul Pelosi Attack
Donald Trump Jr. has made light of the attack on Paul Pelosi while praising jokes about it on his social media page.
The son of former President Donald Trump mocked Paul Pelosi on both Twitter and Instagram.
Police have said the husband of House Speaker Nancy Pelosi, Paul Pelosi, was attacked with a hammer on Friday morning by 42-year-old suspect David Depape.
"The suspect pulled the hammer away from Mr. Pelosi and violently assaulted him with it. Our officers immediately tackled the suspect, disarmed him, took him into custody, requested emergency backup and rendered medical aid," San Francisco Police Chief William Scott told the media Friday.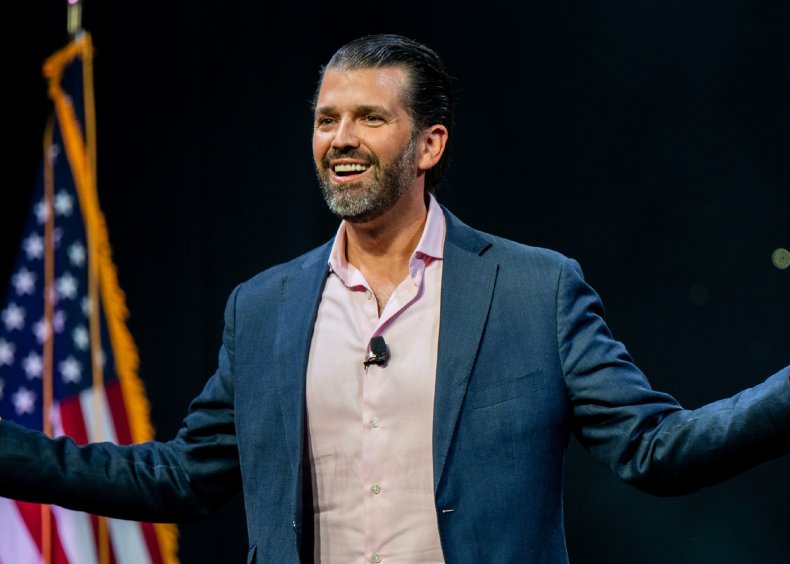 On Twitter on Saturday, a picture was posted showing a hammer lying on top of men's underwear. It was captioned: "Got my Paul Pelosi Halloween costume ready."
Trump Jr. did not add any commentary explicitly mocking the attack but indicated he was enjoying the internet's reaction to the incident.
He tweeted the image and captioned it: "The internet remains undefeated. Also if you switch out the hammer for a red feather boa you could be Hunter Biden in an instant."
Trump Jr. also shared the image on his Instagram and commented: "OMG the internet remains undefeated."
The use of the underwear in the photo appears to relate to a conspiracy theory that began circulating following the attack.
A report by the Santa Monica Observer, that was initially tweeted by billionaire Elon Musk but has since been deleted, alleged there was more to the story.
The report said that Paul Pelosi was struggling with suspect Depape in his underwear when the police found the pair.
When Musk shared the story he added:" There is a tiny possibility there might be more to this story than meets the eye."
He faced a backlash on social media following his comments.
"Elon Musk is not a trained journalist. This is dangerously irresponsible. The newspaper he's quoting wrote in 2016 that Hillary Clinton had died on the campaign trail & was using a body double. This is gross, @elonmusk," tweeted Isa Watson, founder and CEO of social media app Squad. "With great power comes great responsibility. Do better."
"Elon Musk says Twitter won't be a 'free-for-all hellscape, where anything can be said with no consequences,' tweeted the organization Citizens for Ethics. "So @elonmusk, what are the consequences for you tweeting garbage from a source that claims Hillary Clinton died in 2016?"