Watch: Donald Trump Jr. Says It's 'Scary' How Similar Democratic and Nazi Parties Are
Donald Trump Jr. equated the Democratic Party to the Nazi Party in 1930s Germany at a film screening for conservative provocateur Dinesh D'Souza Wednesday night.
Trump Jr., who was co-hosting the event, told a reporter from One America News that he often "hears the left talking about fascism and Nazism on the right." But, said Trump Jr., "when you look at the actual history of how those things evolved and you look at the actual platform of the modern left, you say, 'Wait a minute, those two are actually really heavily aligned and frankly, contrary to the right.'"
President Donald Trump's eldest son stuck to this point, clarifying it later in the interview: "You see the Nazi platform in the early 1930s...and you look at it, compared to the DNC platform of today, you're saying, 'Man, those things are awfully similar' to a point where it's actually scary, to me. That was one of the striking things I took from the movie because it's the exact opposite of what you've been told."
The Nazi Party of 1930s Germany was built on prejudice and the scapegoating of the Jewish people for economic problems facing the country. The party was fronted by a dictator, Adolf Hitler, who led a genocide of Jews, homosexuals, priests, Gypsies and more. The Nazis are in no way equivalent to today's Democratic Party.
Trump Jr. took to Twitter to defend his comments, posting a preview for D'Souza's film and writing, "The left spends the last 3 years falsely calling my entire family NAZI's, but the second I point out the similarities between the economic platform of the National Socialists and the Democrat Party, they scream bloody murder. Here's what I was referring to. #facts."
The clip of the film attempts to link Democrats to the Nazis by saying that both parties supported state-controlled healthcare and profit sharing for workers in large corporations. Neither of those are planks in the Democratic platform. The clip has a number of factual errors, including claims that Democrats support the punishing of "moneylenders and profiteers" with death.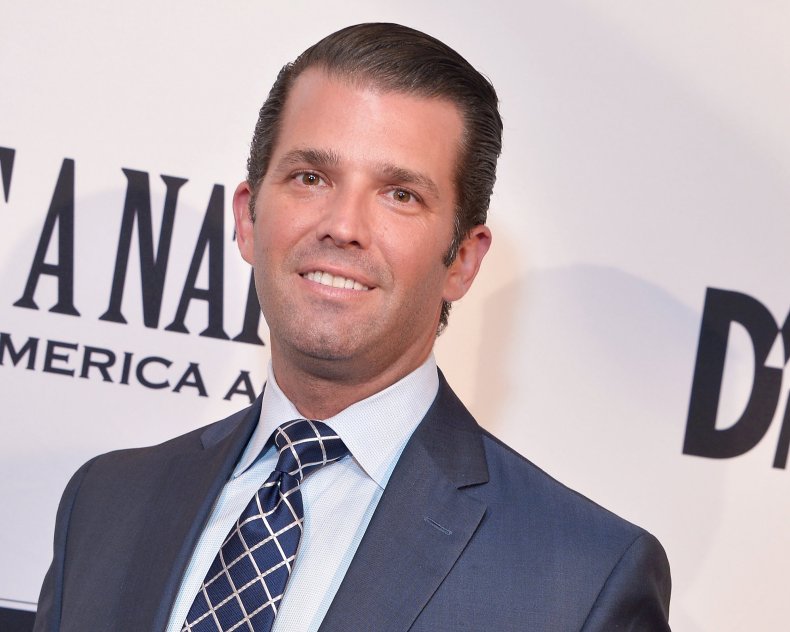 D'Souza pleaded guilty to violating campaign finance laws in 2014 and was later pardoned by President Donald Trump.
D'Souza's new film, Death of a Nation: Plantation Politics and the Making of the Democratic Party, works to compare President Donald Trump to President Abraham Lincoln and blame Democrats for slavery. "The reality is the race card and the fascism card were not played by me. They were played by the left against Trump," he told The Hill. "I'm jumping into this debate saying, 'All right, if you're going to talk about racism and fascism, let's dive into what those things mean.'"
Housing and Urban Development Secretary Ben Carson and former Trump adviser Sebastian Gorka also attended the premiere.