Donald Trump Jr. in Jeopardy of Perjury in Second Senate Intelligence Committee Testimony: Nixon Counsel
First son Donald Trump Jr. could be vulnerable to perjury charges in his second testimony before the Senate Intelligence Committee on Wednesday, according to President Richard Nixon's former White House counsel.
Trump Jr. on Wednesday morning appeared for a closed-door interview with committee members, as a result of a subpoena the panel issued last month for his testimony on matters under investigation including a June 2016 Trump Tower meeting with a Russian lawyer who promised damaging information on Hillary Clinton.
The committee, chaired by Republican Senator Richard Burr, subpoenaed Trump Jr. to answer questions about what he said in the past about the Russia matters. Nixon's former White House Counsel John Dean on CNN's OutFront show Tuesday night said that any inconsistencies in Trump Jr.'s testimony could put him at risk of being charged with the criminal act of willfully lying under oath.
"What do you think they need from him?" OutFront host Erin Burnett asked Dean, who earlier this week testified as a witness for House Democrats about alleged obstruction of justice by the president.
"Well it's not clear, but there are a couple of very real possibilities. One, he refused when he was there last time to testify about a subject that they think he has exclusive knowledge on," Dean said. "And the more troublesome one is there is some inconsistent testimony with other facts they've gained, and that could possibly put him in jeopardy."
Burnett clarified, "In jeopardy of perjury, right?"
"Right," Dean replied.
Burnett then asked American Urban Radio Networks' White House correspondent April Ryan how significant it was that Trump Jr. was testifying a second time.
"It's very significant," Ryan said. "You have to remember that Don Jr. is not part of the administration, he is not immune to jail time."
Burnett asked Dean how concerned he thinks President Donald Trump is about his son's interview.
Dean said the subpoena had to be settled or Trump Jr. would be compelled by the courts to appear.
"They obviously didn't want the fight. They were going to lose it," Dean said. "So the president is undoubtedly concerned."
Dean added that Trump Jr. could plead the Fifth Amendment, which protects citizens from self-incrimination, "if he hasn't waived it already, if they open up an area that he feels jeopardy."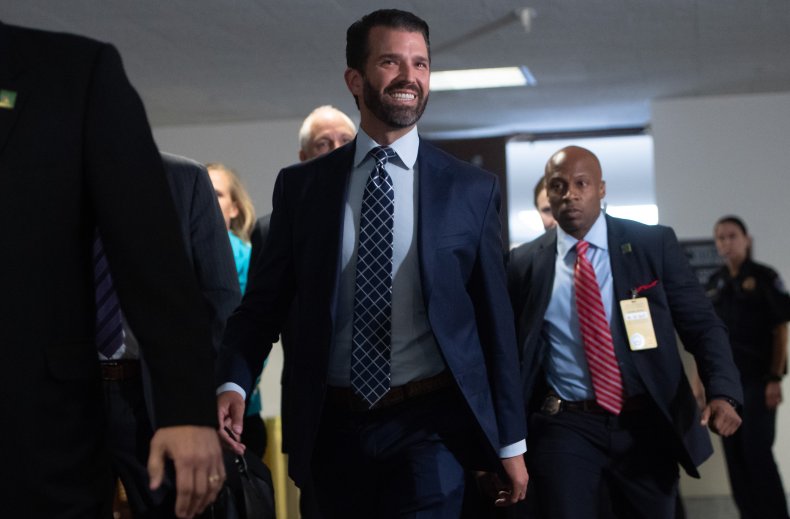 Trump Jr. testified for more than nine hours before the Senate Intelligence Committee in December 2017, and before the Senate Judiciary Committee three months prior.
Ahead of his closed-door interview, reportedly constrained to about four hours and limited questions, Trump Jr. said "no" when asked if he was going to change his testimony, according to Bloomberg. "Nothing to correct."
Dean was criticized by Republicans and the president for his appearance before the House Judiciary Committee, when he compared Trump's conduct to that of Nixon during Watergate.
"Can't believe they are bringing in John Dean, the disgraced Nixon White House Counsel who is a paid CNN contributor. No Collusion - No Obstruction! Democrats just want a do-over which they'll never get!" Trump tweeted.