Donald Trump Jr. Poses Next to 'Don Jr. 2024' Banner on Instagram, Fans Rejoice
Donald Trump Jr., the president's eldest son, posted a picture posing next to a "Don Jr. 2024" banner to his Instagram on Saturday.
"Hahahahaha. Oh boy," the first son's Instagram post read. "This was a sign I saw up at the Fallon Nevada Livestock Auction. This will make the liberal heads explode. To whomever made that thanks for the compliment... but let's get through 2020 with a big win first!"
The picture shows Trump Jr. standing in the foreground pointing sideways to the large banner behind him. The picture received about 225,000 likes within seven hours, with many enthusiastic comments from supporters.
"I'd vote for you!" commented country music artist Ryan Weaver. "Would love to see you trounce any opponent in a debate. Would be prime time entertainment!"
"Well then, sign me up on that one!" commented Anna Paulina Luna, who's running to represent Florida's 13th District in the U.S. House.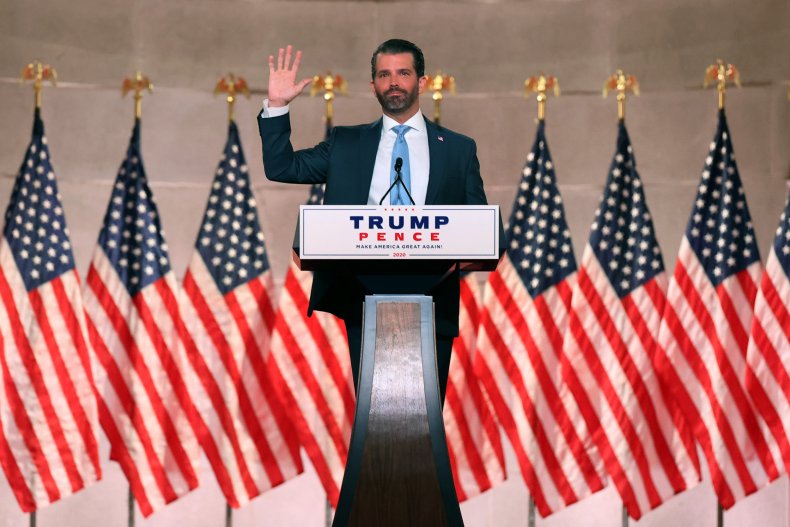 Trump Jr. hasn't formally announced plans to run for political office. Rumors have been circulating, however, that he'll be considered for the U.S. Senate seat scheduled to open in 2022 in Pennsylvania because of Senator Pat Toomey's retirement, announced earlier this month.
On October 4, Todd Zwillich, Deputy DC Bureau Chief for Vice, tweeted that Trump Jr.'s name was brought up when speaking to Pennsylvania Republicans about the opening.
"In my convos with PA Republicans today, among the many many names in the mix for the open Senate seat: Donald Trump Jr.," Zwillich wrote. "He's played a deep role in Trump's campaign in PA, has installed many allies in county and state party positions."
In the meantime, Trump Jr. has been deeply involved in his father's re-election campaign, especially in terms of social media. Newsweek reported this week that Trump Jr. and his siblings could give their father an edge on Facebook and other platforms. Democratic nominee Joe Biden had on average 26,145 interactions for each post on Facebook from the start of 2020 to October 20. In comparison, Trump Jr. had 64,267.
Meanwhile Steve Bannon, the White House's former chief strategist under Donald Trump, predicted that the president will run again in 2024 if he loses to Biden next month—a prospect many see as likely with national polls showing Biden maintaining a strong lead over Trump.
"I'll make this prediction right now: If for any reason the election is stolen from, or in some sort of way Joe Biden is declared the winner, Trump will announce he's going to run for re-election in 2024," Bannon told The Australian. "You're not going to see the end of Donald Trump."
And the Trump political dynasty may just be getting started, suggested Trump campaign manager Brad Parscale in September, saying at a Republican convention in California, "The Trumps will be a dynasty that will last for decades."