​​Will Donald Trump Jr. Run for President? First Son to Reportedly Release Book on Politics and Future of MAGA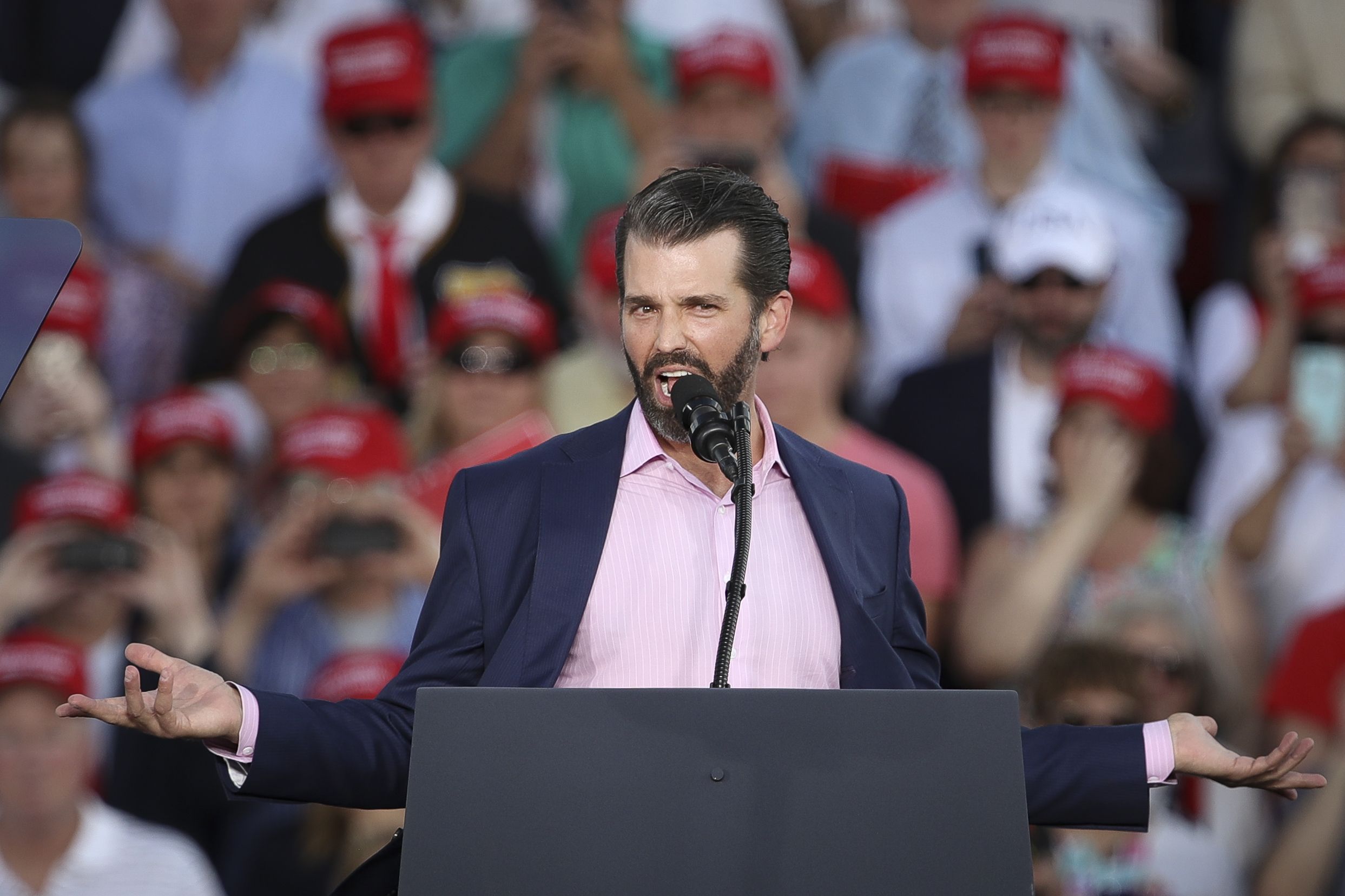 First son Donald Trump Jr. is reportedly penning a book focusing on politics and the future of the president's Make America great again movement, raising questions about his political ambitions and future interest in running for president.
President Donald Trump's eldest son signed a deal for a book "that will focus on politics, current events and the future of the MAGA movement," a source close to him told Politico in a report published Wednesday. It is slated to be published in late 2019.
The book deal is with Center Street Books, which is part of the Hachette Book Group. Trump Jr. was represented by literary agent Tom Winters, who negotiated the deal with the publisher, Rolf Zettersten, and Center Street editorial director Kate Harston.
A spokesman for Trump Jr. did not immediately respond to a request for comment from Newsweek on Wednesday.
Trump Jr. serves as executive vice president of the Trump Organization rather than having a role within the Trump administration like his sister Ivanka Trump, who is a senior White House adviser. However, the first son is extremely vocal in politics, bashing Trump opponents daily on Twitter and speaking frequently at MAGA rallies.
The president's eldest son in late March during a 2020 Trump campaign rally in Grand Rapids, Michigan, renewed speculation that he could run for political office.
"Right now, I'll never rule anything out," Trump Jr. told Fox News host Sean Hannity when asked if he planned to run. "I do enjoy it. I like being in the fight. I like being in the mix."
Trump Jr. said that despite being the son of a real estate billionaire from New York City, "everyone knows and anyone who's seen me on the campaign trail knows, I have friends in flyover country."
"I actually spend much more time here than I do at the rubber chicken charity dinner circuit in New York City," the first son said. "These are my people. I get it."
Journalist Vicky Ward, author of Kushner Inc. published in March, quoted former economic adviser Gary Cohn saying that Ivanka Trump "thinks she's going to be president of the United States." Ward at the time told Newsweek that "the truth is, Don Jr. plays much better with Republicans" and appeared at far more events for the GOP than his sister.
Unlike Trump Jr., Ivanka Trump has authored two books: Women Who Work in 2017 and The Trump Card in 2009.