Donald Trump Jr. Restricted from Posting on Twitter After Sharing Video Touting Hydroxychloroquine As COVID Treatment
Twitter restricted President Donald Trump's son Donald Trump Jr. from tweeting after he shared a video touting the anti-malarial drug Hydroxychloroquine as a successful treatment for combating the spread of the novel coronavirus pandemic, and telling people not to wear masks.
A Twitter spokesperson confirmed the news to Newsweek. They said Trump Jr. had shared a tweet "in violation of our COVID-19 misinformation policy. We are taking action in line with our policy...." The spokesperson shared a link to the social media platforms policy as well.
Republican strategist Andrew Surabian shared a screenshot of a message from Twitter to Trump Jr. saying that it had "temporarily limited" some of his account features. "Big Tech is the biggest threat to free expression in America today & they're continuing to engage in open election interference - full stop," Surabian wrote.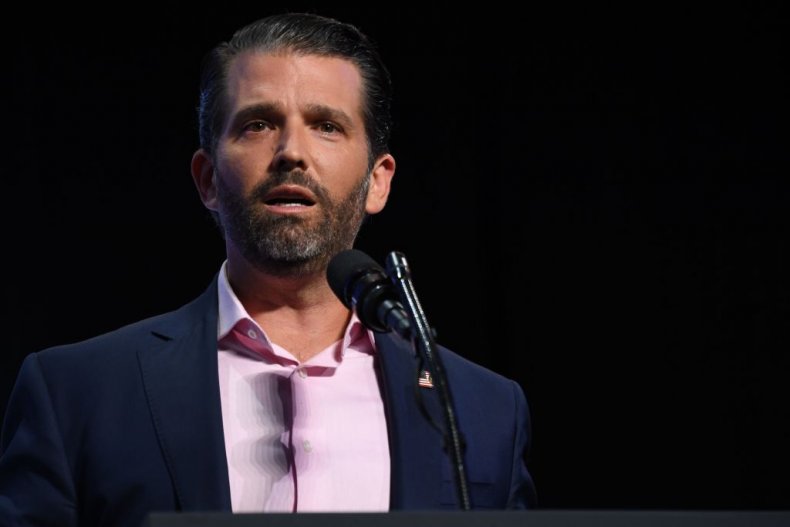 The message to Trump Jr. said he faced the restrictions because he had violated Twitter's "policy on spreading misleading and potentially harmful information related to COVID-19." Twitter explained that Trump Jr. was not blocked from browsing on the social media site, but he would only be able to send direct messages for the next 12 hours and would not be able to post public tweets.
Trump Jr. shared the video on Monday evening, writing: "This is a much watch!!! So different from the narrative that everyone is running with." The video featured medical professional promoting Hydroxychloroquine.
The federal Food and Drug Administration (FDA) on June 15 revoked the emergency use authorization it had given for COVID-19 patients to be given chloroquine phosphate and hydroxychloroquine sulfate. With the decision, the FDA cited "emerging scientific data" that suggested the drugs "are unlikely to be effective in treating COVID-19."
President Trump had touted the drug as a game-changing treatment for the novel coronavirus, despite a lack of scientific evidence. Further studies of the drug, which was given to patients in the U.S. and around the world, have suggested that it provides little benefit and may even cause harm in some cases. However, some public health experts and doctors continue to support use of the drug.
NBC News reporter Ben Collins pointed out that the "doctors" included in the video shared by Trump Jr. have questionable beliefs. Trump Jr. "shared a fake cure for coronavirus last night, part of a video where 'doctors,' one of whom believes sex with witches causes disease, tell you not to wear masks," Collins tweeted.
In May, President Trump revealed that he was personally taking hydroxychloroquine as a preventative measure against contracting COVID-19. "I'm still fine," he told reporters at the time, dismissing concerns about the drug. Notably, that was before the FDA revoked its emergency use authorization.
Updated July 28, 2020 at 10:29 a.m. with additional information and background.