'Pure Fake News': Donald Trump Jr. Slams Roy Moore Claim His Senate Bid is 'Not Going Against President Trump'
First son Donald Trump Jr. attacked Roy Moore on Thursday quickly after the Alabama Republican politician announced he is again running for the U.S. Senate, deeming Moore's claim he is "not going against President Trump" as "pure fake news."
Trump Jr. quoted Moore's statement, "I'm not going against President Trump," and commented: "I can assure everyone that by running, Roy Moore is going against my father and he's doing a disservice to all conservatives across the country in the process."
Moore, a former chief justice of the Supreme Court of Alabama, lost his last bid for one of Alabama's Senate seats in 2017 when he was edged out by Democrat Doug Jones in a special, off-cycle election to replace Jeff Sessions when he left the Senate to become U.S. attorney general.
Throughout the campaign, Moore faced allegations — which he has denied — of inappropriate sexual contact with teenage girls when he was in his 30s. Trump endorsed Moore in that election, but only after the former judge beat another Republican candidate, Luther Strange, in a primary runoff.
Trump Jr., a vocal defender of his father, had lodged various attacks leading up to Moore's anticipated Senate bid announcement.
Two weeks ago, Trump Jr. liked and retweeted a story on Moore's lawyer Trenton Garmon's arrest on drug charges.
On May 28, the president's eldest son criticized Moore with a message similar to his tweet Thursday.
"You are literally the only candidate who could lose a GOP seat in pro-Trump, pro-USA ALABAMA," Trump Jr. tweeted. "Running for office should never become a business model. If you actually care about #MAGA more than your own ego, it's time to ride off into the sunset, Judge."
Last month, the president himself offered a shrugging portrait of Moore and his political future.
"I have NOTHING against Roy Moore, and unlike many other Republican leaders, wanted him to win," Trump tweeted. "But he didn't, and probably won't."
Trump also said that Republicans "cannot allow themselves to again lose the Senate seat in the Great State of Alabama."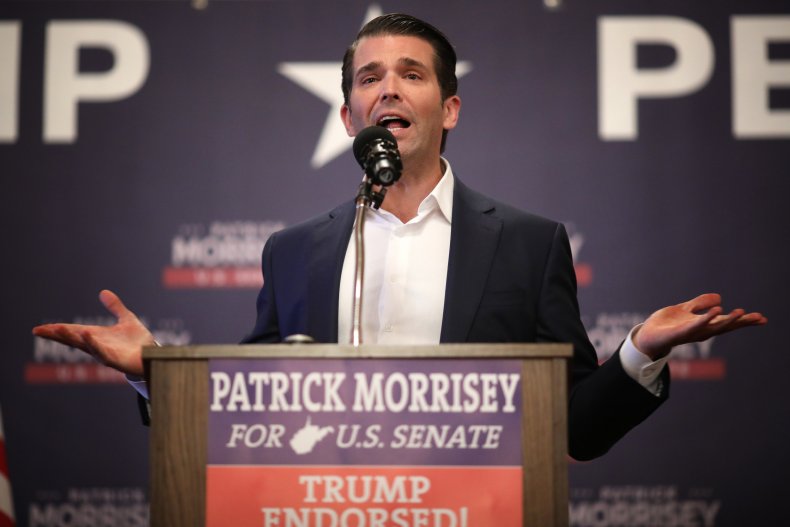 Moore on Thursday blamed the National Republican Senatorial Committee (NRSC) for the president not approving his new senatorial bid.
"I think he's being pushed by the NRSC. I don't know what he's thinking. I can't speak for him," Moore said. "But I can say I don't disagree with him in lots of his policies."
Moore was the first Republican in 25 years to lose a statewide election to a Democrat in Alabama. Republicans are afraid that if Moore wins the GOP nomination in March, incumbent Jones could again win the seat.
Trump did not immediately tweet or comment on Moore's announcement on Thursday.