Donald Trump Jr. Rejoices Roy Moore's Lawyer Was Arrested Despite Previously Backing Alabama Senate Candidate
First son Donald Trump Jr. cemented his distaste for Republican Roy Moore—who lost the Alabama Senate race after facing sexual misconduct allegations—by promoting news on Thursday that Moore's lawyer had been arrested on drug charges.
President Donald Trump's eldest son liked and retweeted a story by AL.com detailing that Moore's lawyer Trenton Garmon was arrested Wednesday night on charges of driving under the influence of controlled substances, as well as second-degree possession of marijuana and drug paraphernalia. Garmon represented Moore when he lost the December 2017 special Alabama Senate election to Democrat Doug Jones.
A spokesman for Trump Jr. did not immediately respond to a request for comment from Newsweek on Thursday.
Trump Jr. in 2017, four days before the Alabama Senate election, backed Moore, tweeting a report about one of Moore's accusers saying she added the time and date to Moore's signature in her yearbook.

But last week, Trump Jr. criticized Moore, who has expressed interest in running for Senate next year. Moore, a former chief justice of the Supreme Court of Alabama, faced allegations of inappropriate sexual contact with young girls from decades ago during the 2017 race.
"You are literally the only candidate who could lose a GOP seat in pro-Trump, pro-USA ALABAMA," Trump Jr. tweeted on May 28. "Running for office should never become a business model. If you actually care about #MAGA more than your own ego, it's time to ride off into the sunset, Judge."
Trump Jr. had weighed in after Moore defended himself against Republican Representative Bradley Byrne, who is running for the Alabama Senate seat and said he expects Moore will make a bid but lose due to controversy from his failed attempt.
"What is Bradley so worried about?" Moore tweeted. "He knows that if I run I will beat Doug Jones."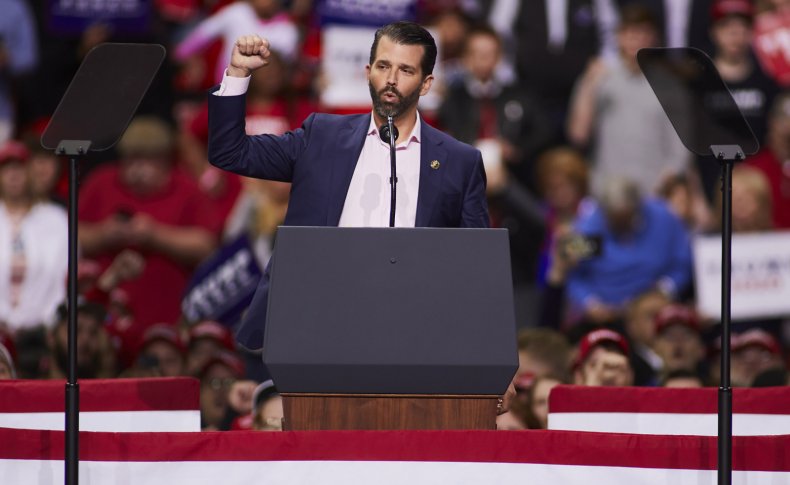 A day after Trump Jr.'s tweet, the president opposed Moore more lightly.
"I have NOTHING against Roy Moore, and unlike many other Republican leaders, wanted him to win," Trump Jr. tweeted. "But he didn't, and probably won't."
Republicans have said they will not support Moore if he indeed runs against Jones, who won by less than 2 percentage points in 2017 and is considered the most vulnerable incumbent in the Senate up for election in 2020.
Moore had not commented publicly on his lawyer's arrest as of late Thursday afternoon.