Donald Trump Jr. 'Treason' Emails Prove Russian Collusion: Tim Kaine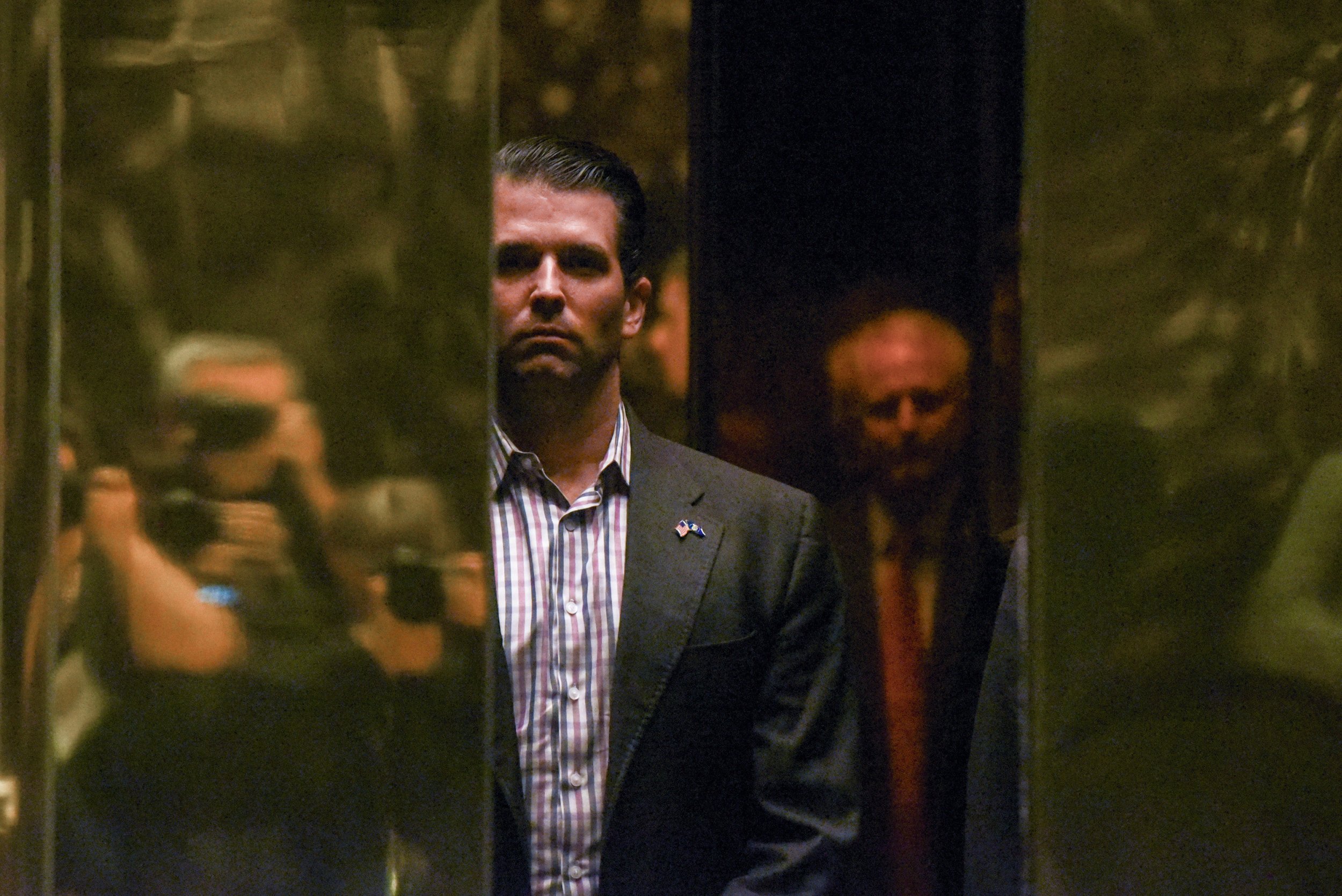 Senior lawmakers have said that Donald Trump Jr. may have committed a criminal offense for agreeing to meet a Russian lawyer who promised dirt on Hillary Clinton, and could even be guilty of treason.
Clinton's running mate in the 2016 election, Senator Tim Kaine, told reporters: "The investigation—it's not, nothing is proven yet, but we're now beyond obstruction of justice in terms of what's being investigated. This is moving into perjury, false statements and even potentially treason."
Trump Jr. on Tuesday tweeted a series of emails in which he welcomed an offer to meet a Russian lawyer who allegedly had information about Hillary Clinton. He was told in the emails that the Russian government backed Trump's 2016 presidential campaign. Multiple investigations, including one led by special counsel Robert Mueller, are probing claims that Trump's campaign colluded with Russia.
In an earlier statement, Trump Jr.'s lawyer, Alan Futerfas, said that the reaction to the meeting between Trump Jr. and the Russian lawyer was "much ado about nothing."
Ron Wyden, ranking Democrat on the Senate Finance Committee tweeted: "No longer a question that the Trump campaign sought to collude with a hostile foreign power to subvert American democracy."
Democrat California Representative Norma Torres tweeted: "No matter what info came out of mtg. - Trump Jr. completely willing to accept help from Russian govt. Collusion plain & simple."
Norman Eisen, ethics czar under former president Barack Obama, tweeted: "This is extraordinary: proof that collusion was offered, and accepted. whether actual help/info flowed in 1st meeting or later, irrelevant."
Meanwhile, Republican Senator Lindsey Graham joined in expressed concern over Trump Jr.'s behavior. "Anytime you're in a campaign and you get an offer from a foreign government to help your campaign, the answer is no," Graham told reporters.
"So I don't know what Mr. Trump Jr.'s version of the facts are. Definitely—he has to testify. That email is disturbing."
Representative Adam Schiff, the ranking Democrat on the House Intelligence Committee earlier said on CNN's "New Day" that the revelation Trump Jr. met with the lawyer is "stunning" and that those involved in the meeting need to work with the committee's investigation into the Trump camp's alleged Russia collusion.
"All of these participants will have to come before the committee," Schiff said. "We're going to have to obtain all relevant emails and documents. Yet another, I think, stunning disclosure."
Trump Jr. tweeted Monday that he would gladly meet with members of the separate Senate committee probing his father's alleged Russia ties.
The emails were released as support for Trump's impeachment grows, with 47 percent believing the president should be removed from office, according to a recent survey for Public Policy Polling—a firm that does public surveys as well as polling for Democratic candidates
In May, Representative Al Green called for Trump to be impeached, amid multiple probes into the president's alleged Russia ties.
The impeachment of the president requires the support of the majority of the House of Representatives and two thirds of Senate, with both legislative arms currently under Republican control. The White House has not responded to the latest disclosure.