Donald Trump Jr. 'Continues to Be in Serious Trouble,' Ex-Watergate Lawyer Says After Updated FEC Complaint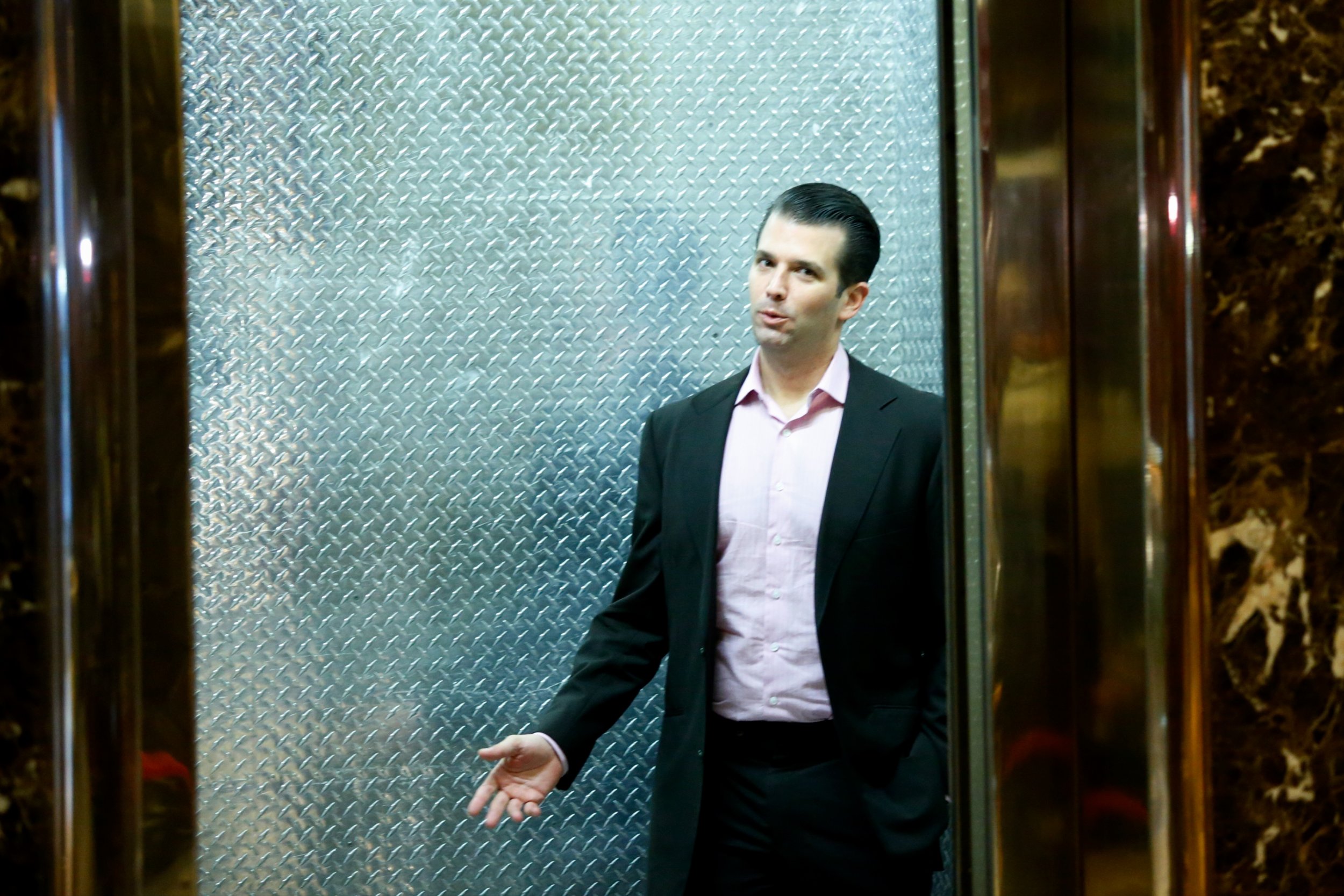 First son Donald Trump Jr. "continues to be in serious trouble" regarding his involvement with Russians leading up to the 2016 presidential election, a former Watergate lawyer said after watchdog groups updated their Federal Election Commission complaint against Trump campaign members Tuesday.
The watchdogs—Campaign Legal Center, Common Cause and Democracy 21—filed a supplement to their July 2017 complaint against President Donald Trump's presidential campaign committee for soliciting contributions from foreign nationals via opposition research that Russians offered.
In the supplement, the complainants argued that while special counsel Robert Mueller decided not to pursue criminal charges against Trump Jr., his report provided a roadmap for the FEC to assess civil penalties. The watchdogs cited the Mueller report's account of the June 2016 Trump Tower meeting in which Trump Jr., Trump's son-in-law Jared Kushner and Trump campaign chairman Paul Manafort met with a Kremlin-linked lawyer who promised dirt on Hillary Clinton.
"The Special Counsel concluded that the promised 'documents and information that would incriminate Hillary' constituted a 'thing of value,'" the supplement states. "And that Trump Jr.—and potentially Manafort and Kushner—solicited such a contribution from a person known to be a foreign national."
The supplement concludes: "In other words, the Special Counsel concluded that, at a minimum, Trump Jr. violated the ban on soliciting contributions from foreign nationals."
David Dorsen, a Watergate assistant chief counsel in 1973 and 1974, told Newsweek on Tuesday that the watchdogs' call for the FEC to pursue civil penalties against Trump Jr. "is hardly unexpected and seems soundly based."
"Soliciting or accepting contributions from foreign nationals is a violation of law and this appears to be one of the more serious ones that I have encountered," Dorsen said. "I've been waiting for someone to file a charge along these lines."
Mueller did not indict Trump Jr. in relation to the Trump Tower meeting because he did not have the evidence he believed could show beyond a reasonable doubt that Trump Jr. knew and was "knowingly and willfully" intending to break U.S. campaign finance laws.
"The investigation has not developed evidence that the participants in the meeting were familiar with the foreign-contribution ban or the application of federal law to the relevant factual context," Mueller wrote in the report.
In a sense, the Mueller report "did eliminate a couple of possible charges including conspiring with the Russians but they've also presented evidence of other possible offenses that are quite serious," Dorsen said. "So he is not in more serious, but continues to be in serious trouble."
Dorsen added that the FEC should coordinate its investigation with the U.S. Attorney's Office in the Southern District of New York—in which he served from 1964 to 1969—to avoid duplication and have the most information available to make a reasoned judgment.
Civil penalties against Trump Jr. that the FEC could pursue "would be limited to fines and an agreement not to engage in similar conduct in the future, which you think would go without saying but you never know," the Campaign Legal Center's federal reform program director Brendan Fischer told Newsweek on Tuesday.
"If the FEC doesn't send a clear signal that soliciting opposition research is unlawful," Fischer said, "Then it could be potentially handing a lot of power to foreign governments to meddle in U.S. elections.