Watch the Music Video That Helped Ignite Donald Trump Jr.'s Russia Email Scandal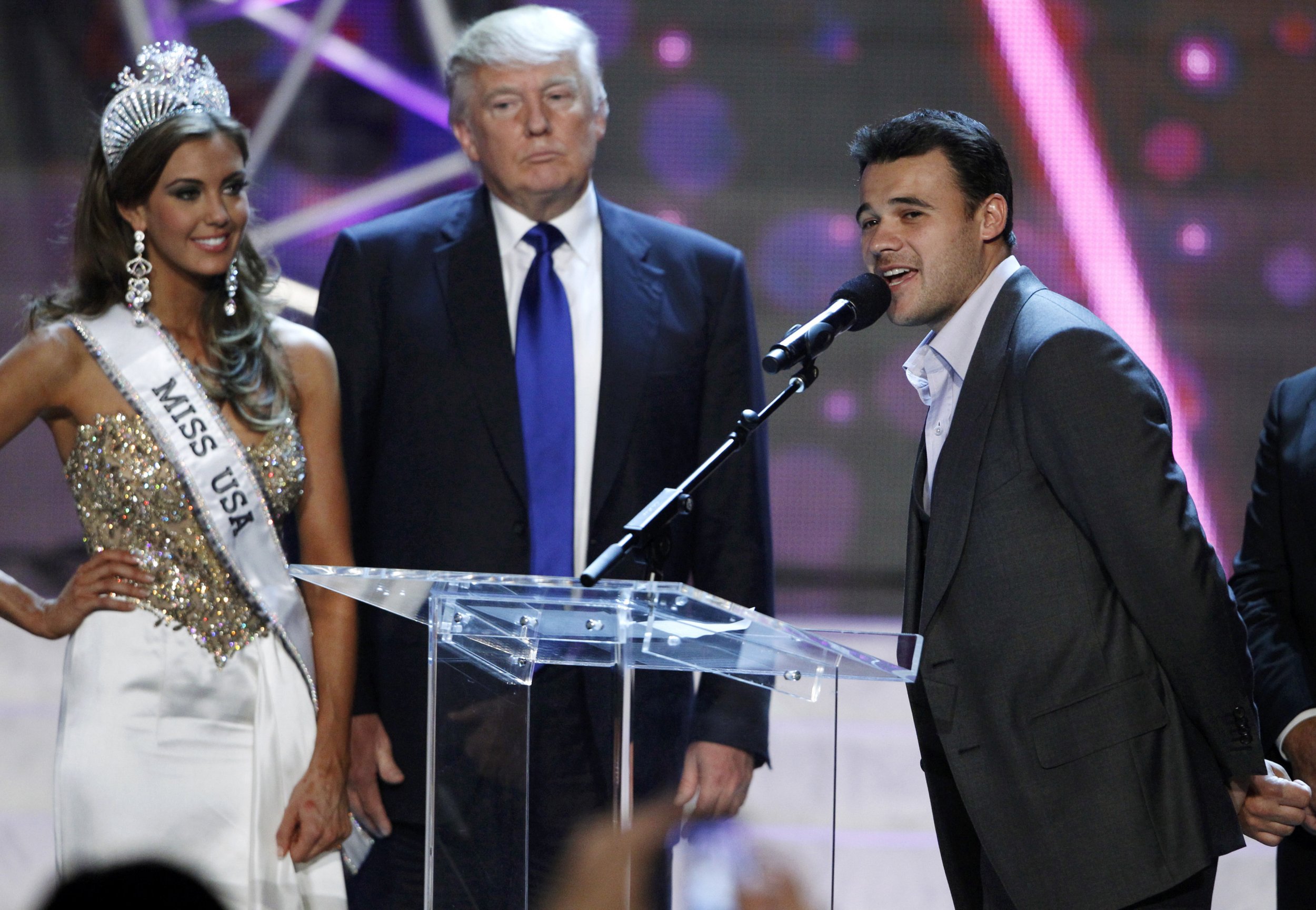 The chain of events that led to President Donald Trump facing the most serious evidence yet of collusion between his campaign and the Russian government all started with a music video in which he made a brief but memorable appearance.
Related: The five most important lines from Donald Trump Jr.'s emails about the Russia meeting
On Tuesday, Donald Trump Jr. released an email chain of his conversations with a British entertainment publicist who had previous links to the president and the Trump Organization.
"Emin just called and asked me to contact you with something very interesting," Rob Goldstone, the publicist, wrote in the email. "The Crown prosecutor of Russia met with his father Aras this morning and in their meeting offered to provide the Trump campaign with some official documents and information that would incriminate Hillary and her dealings with Russia and would be very useful to your father."
Newsweek subscription offers >
The Emin that Goldstone was referring to is Emin Agalarov, known simply as Emin in Russia, where he is a major pop star. The Azerbaijani native is also the son of one of Russia's richest men, Aras Agalarov, a real estate developer who has often been dubbed the "Donald Trump of Russia."
Newsweek subscription offers >
Trump's links to the family began in 2013 when the Agalarovs made an ultimately successful push to get the Miss Universe contest brought to Moscow. Trump owned the contest at the time.
Their relationship got closer still. In the days leading up to Miss Universe, Trump appeared in a music video for Emin that included a scene borrowed from The Apprentice reality TV show, of which Trump was host and executive producer at the time.
The video for "In Another Life" begins with Emin dozing off during a boardroom meeting to dream of a house and swimming pool full of Miss Universe contestants—his own Playboy Mansion, if you will. Later in the video, he is snapped back to reality by the sound of Trump's voice at the head of the table.
"Emin, wake up," Trump commands, before going on to deliver his famous catchphrase from The Apprentice.
"Emin. let's get with it, you're always late, you're just another pretty face," Trump tells the young star. "I'm really tired of you. You're fired!"
Emin donated 100 percent of the profits from the sales of the song to the victims of a devastating typhoon that struck the Philippines in 2013. The video has gone on to be viewed close to two million times on YouTube.
The mutual appreciation between Emin and Donald Trump has continued since then. To mark Emin's 35th birthday in 2014, Trump made a video in which he heaped praise on the singer. "You're a winner, you're a champ, you're great at real estate and boy, can you entertain," Trump said.
Following Trump's election victory over Clinton last November, Emin replied with a tribute of his own.
"I want to take this opportunity to say congratulations, you did it," he said. "I never doubted you for one second. You're an absolute winner, you proved everybody wrong. It's incredible. Congratulations."
Watch the Music Video That Helped Ignite Donald Trump Jr.'s Russia Email Scandal | U.S.