Donald Trump Jr. Praises Native American Genocide Joke About Elizabeth Warren: 'Savage!!!'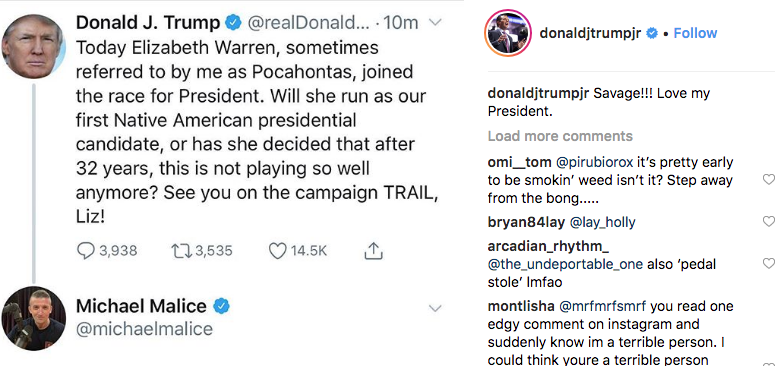 Donald Trump Jr. followed his father's foosteps and used disparaging references to Native Americans in order to insult Democratic Sen. Elizabeth Warren's recent 2020 presidential campaign announcement.
The president's 41-year-old namesake took to Twitter and Instagram to tout his dad's latest "Pocahontas" comment directed toward Warren's past claim to minimal Native American heritage. The elder Trump was already being denounced by Native American groups last month for mocking Warren with Wounded Knee and Little Big Horn comments they said "descecrated" the memory of their ancestors. But Trump Jr. doubled down on the culturally insensitive negavitity by lauding a Twitter joke about "genocide" and calling it "SAVAGE!!!"
The term is frequently used in online banter to indicate a particularly nasty comment, but historically was used by white Americans and European settlers to refer to Native Americans.
"Today Elizabeth Warren, sometimes referred to by me as Pocahontas, joined the race for President. Will she run as our first Native American presidential candidate, or has she decided that after 32 years, this is not playing so well anymore? See you on the campaign TRAIL, Liz!," Trump tweeted Saturday in his latest attack on Warren.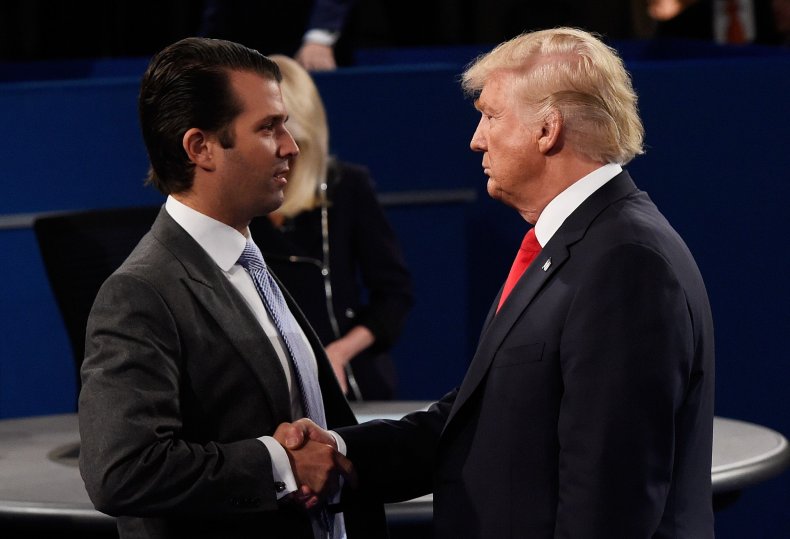 "The Native American genocide continued with another murder by the president," tweeted the appropriately nicknamed right-wing media figure, Michael Malice.
Donald Trump Jr. stepped in to retweet the two white men's disparaging comments with the message, "Amazing. Love my president!!!" But then the president's son decided to follow his dad's poor taste "TRAIL" of Tears reference with a poor pun of his own.
"Savage!!! Love my President," Donald Trump Jr. posted on his Instagram page Saturday, highlighting the same conversation. Immediately, Trump Jr.'s followers rushed to defend his "edgy" comment being "savage" from offended Instagram users. Many responses pointed Trump supporters over to charts showing the mass, forced relocation of Native Americans at the behest of the U.S. federal government during the 19th Century.
Last month, President Trump used a similar tweet to mock Warren's 2020 campaign announcement: "If Elizabeth Warren, often referred to by me as Pocahontas, did this commercial from Bighorn or Wounded Knee instead of her kitchen, with her husband dressed in full Indian garb, it would have been a smash!"