Donald Trump Jr. Says His Dad 'Does Not Do As Well With Illegal Immigrants' As With 'Actual Americans'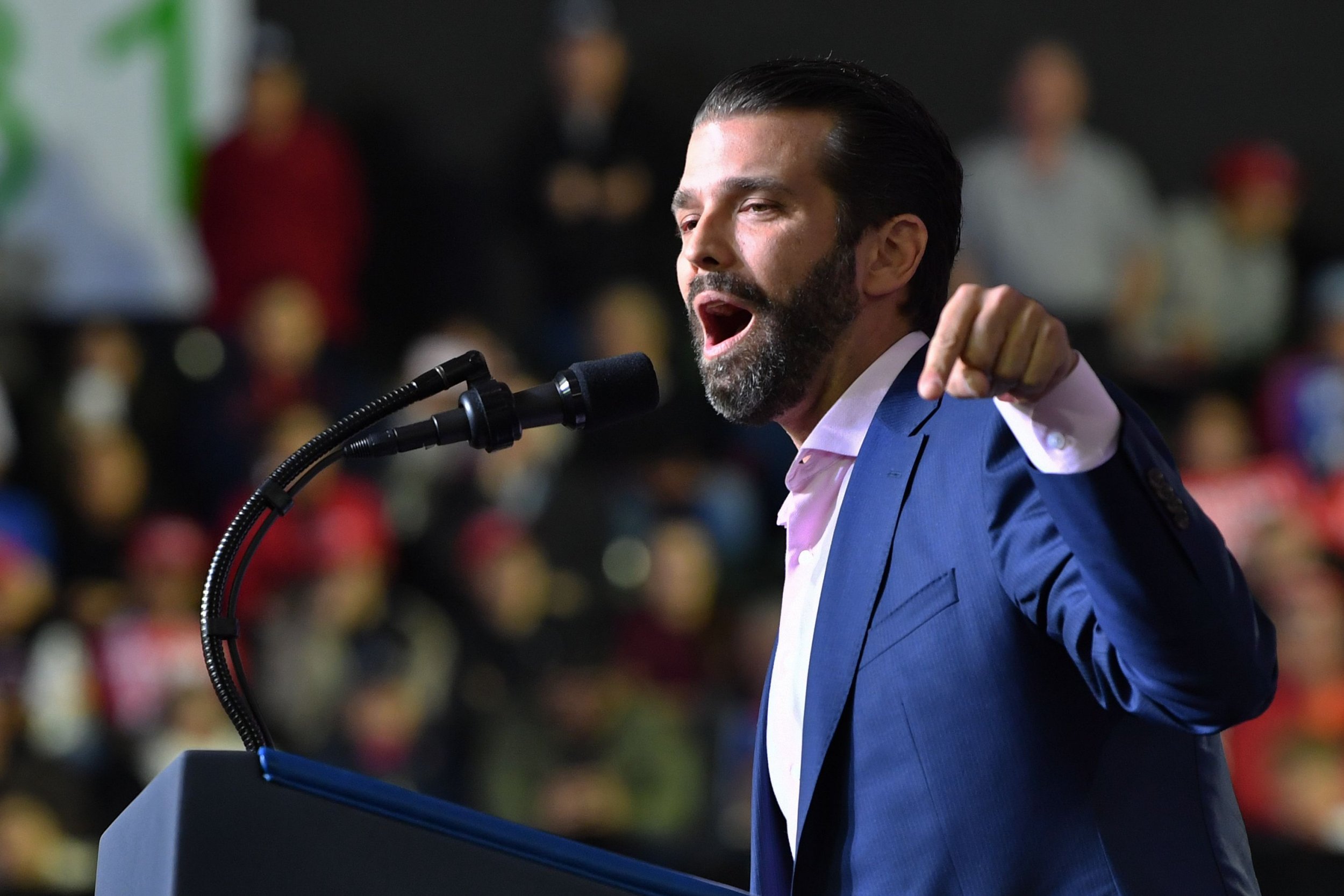 First son Donald Trump Jr. on Wednesday said that his father President Donald Trump "does not do as well with illegal immigrants" as he does with "actual Americans" and claimed that was why Democrats want the support of the former group "so badly."
Trump Jr. made the remark in regards to a commentary piece stating that Hispanics are rallying to Trump and boosting his chances of being reelected in 2020.
"Full disclosure: @realDonaldTrump does not do as well with illegal immigrants which is why the Democrats want them so badly," Trump Jr. tweeted. "Dem policies are garbage, so they'll buy the votes however they can rather than spending your tax dollars on you, your families, and actual Americans."
Trump Jr. quote tweeted a post by the 2020 Trump campaign national press secretary Kayleigh McEnany highlighting some points of the commentary published by Real Clear Politics Tuesday from Trump Hispanic Advisory Council president and CNN political commentator Steve Cortes.
They include Hispanic approval for Trump rising to 50 percent in March according to McLaughlin & Associates, 45 percent Hispanic approval in February according to a Politico poll and 50 percent approval in January according to a Marist poll.
"Hispanic Americans have suffered too many totally preventable losses, such as slain Arizona police Sgt. Brandon Mendoza and young Los Angeles mother Sandra Duran, both murdered by illegal aliens living in America despite multiple prior arrests in the United States," Cortes wrote.
Trump Jr.'s remark was very similar to that of Michael Anton, a former senior national security official for the Trump administration, on Fox News' Fox & Friends in December. Anton, who left his role earlier in 2018 after advocating for the president's $5 billion border wall funding request, said that Trump's problem in negotiating for a tougher border plan was that "Democrats know their base."
"Their base doesn't want border security and the Democratic leadership knows that border security doesn't benefit democratic politics," Anton claimed. "They don't want a wall, they don't want greater security, and they really don't care about the consequences."
Anton argued that was "because for them, the consequence is the more immigrants come in, the more the demographic change there is in the United States of America, the more that benefits Democratic politicians."
Following Anton's claim suggesting that Democrats want illegal immigration for votes, the president commended him on Twitter for a "great job" and for being "a true National Security expert!"