Donald Trump Jr. Says It's Not 'Too Complicated' to Wear Masks as Precaution
President Donald Trump's son Donald Trump Jr. suggested that masks should be worn during the Republican National Convention (RNC) in Florida as a preventive measure to curb the spread of the new coronavirus.
"We're still two months out from the convention, so we have a little bit of time to get everything in order," Trump Jr., an executive vice president of his father's company the Trump Organization, said during a Tuesday interview with Fox Business. "We're going to make sure that everything is done in a safe and appropriate manner."
"You know, I don't think it's too complicated to wear a mask," Trump Jr. said, "or wash your hands, follow basic hygiene protocols. We're just going to do whatever we can to make sure that the people that are there in attendance as well as the people from the [Republican National Committee (RNC)] and the campaign are safe, enjoyable and have an awesome time."
A spokesperson for the RNC told Newsweek that precautions would be taken due to the ongoing pandemic. But they did not respond to a question as to whether masks would be suggested or required.
"The RNC is committed to holding a safe convention that fully complies with local health regulations in place at the time. The event is still two months away, and we are planning to offer health precautions including but not limited to temperature checks, available [personal protective equipment], aggressive sanitizing protocols and available COVID-19 testing," the spokesperson said.
The event is scheduled to take place in August, even as coronavirus infections continue to spike in Florida.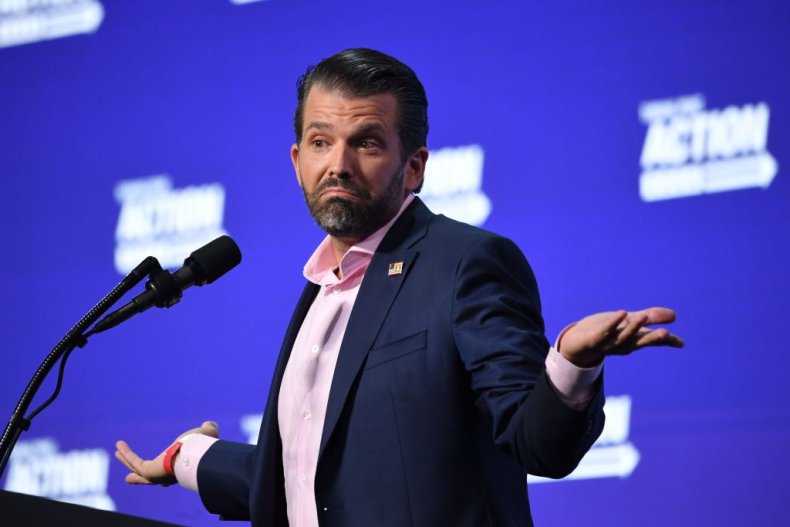 Trump Jr.'s support for wearing masks stands at odds with that of some other conservatives. His father has also been publicly dismissive of the need to wear masks, which has drawn criticism from public health experts and Democrats.
In early April, the Centers for Disease Control and Prevention updated its guidance about the coronavirus to urge the public to wear face coverings. "CDC is additionally advising the use of simple cloth face coverings to slow the spread of the virus and help people who may have the virus and do not know it from transmitting it to others," the agency advised on April 3.
Trump said at the time that he didn't plan on wearing a mask. "I'm choosing not to do it," he said. Although the president was photographed wearing a mask during a tour of a Ford plant in Michigan in late May, he has generally avoided covering his face in public. Meanwhile, many right-wing supporters have refused to wear masks and promoted misinformation online claiming that wearing face coverings can cause serious health risks.
But the opposition to masks stands at odds with the official position of the Trump administration and that of some leading Republicans. "And then everyone should just wear a damn mask—like you guys are, like I am right now," GOP Senator Marco Rubio of Florida told reporters last week.
Trump's Secretary of Health and Human Services Alex Azar reiterated the necessity of wearing masks in public during a Sunday interview with NBC News Meet the Press, saying that he was speaking as a representative of the president.
"We have to act and people as individuals have to act responsibly. We need to social distance, we need to wear our face coverings," he said.
Speaker of the House Nancy Pelosi, a Democrat from California, criticized Trump on Sunday during an interview with ABC News This Week. She suggested that masks should be required nationwide and that this had not happened due to the president's opposition.
"[It's] my understanding that the Centers for Disease Control has recommended the use of masks but not demand—required it because they don't want to offend the president," Pelosi said.
"And the president should be an example," the top Democratic lawmaker said. "You know, real men wear masks."
Update: This article has been updated to include a comment from the RNC.