Donald Trump Jr. Says He 'Lived Off' Gas Station Sushi
Donald Trump Jr., the eldest son of the former president, said he "lived off" gas station sushi for a time after he graduated from college.
Trump Jr. has Republican Congresswoman Marjorie Taylor Greene as a guest on his podcast, "Triggered," Thursday.
The pair compared Trump Jr.'s post-grad experience with that of Greene's Democratic colleague Alexandria Ocasio-Cortez, saying that the New York congresswoman's experience as a bartender does not make her a financial expert.
While they are both known by their respective acronyms, "MTG" and "AOC," Trump Jr. said Greene and Ocasio-Cortez are treated very differently in the media.
Trump Jr. said Ocasio-Cortez is lauded as a hero and economic expert by the Left, but "is also one of the dumbest people in Congress."
Meanwhile, Trump Jr. said Greene, who has experience running a small business, is "vilified" by the media.
Greene agreed, calling Ocasio-Cortez "definitely pretty dumb" and saying that she was "lying" to her district about her humble background.
Ocasio-Cortez has been open about her experience waiting tables and working behind the bar at a New York City taqueria before launching her campaign in 2017.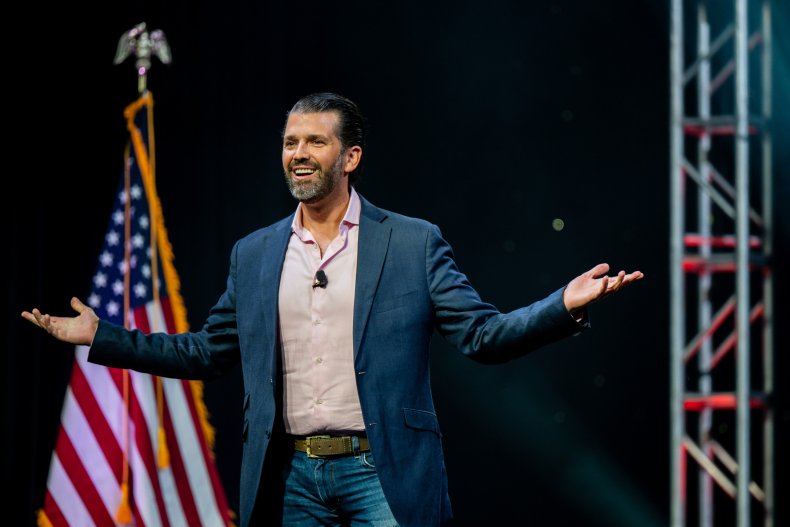 Greene added that she has "a lot of respect" for bartenders.
"They work very, very hard," she said.
Trump Jr. chimed in, saying he worked as a bartender in Colorado after he graduated from the University of Pennsylvania's Wharton School of Finance to "get some stuff out of my system."
He joked that his choice "went over very well" with his father, former President Donald Trump.
Trump Jr. said he was "cut off" by his family, except for his gas card.
"I'm the guy who lived off gas station sushi for like a year," he said. "It could be worse. It's not ideal."
Trump Jr. said this experience alone did not qualify him to "make trillion-dollar decisions" or "get up on a stage and be lauded by the media as a great financial thought leader like they do with AOC when it's clear that she doesn't even understand what they are talking about."
Greene said Ocasio-Cortez "has no clue what they're talking about" and that her background "doesn't give her the qualifications "to literally change our economy."
In a podcast last month, Trump Jr. boasted about having worked minimum wage jobs and suggested that some members of Congress could learn from his "hustle."
"They've never actually had that hustle," Trump Jr. told House Speaker Kevin McCarthy during a podcast episode in January. "I understand where I come from and my background—I get it. But my father made sure I worked minimum wage jobs....I also worked for tips, which is something that's really important that everybody should understand."
After a year working in Colorado, Trump Jr. returned to New York to join the family business, he told New York Magazine in 2003.
Trump Jr. said "so much" of the experience he gained from working those minimum wage jobs is "lacking" on Washington D.C. politicians' resumes.
Newsweek reached out to the Trump Organization for comment.