Donald Trump Jr. Says New York Times Op-Ed Commits Crime of 'Subverting the Will of the People'
Donald Trump Jr. lashed out at the anonymous Trump administration official who wrote a New York Times op-ed that undermined his father, President Donald Trump, saying that "subverting the will of the people" was a crime.
"I imagine this is a very low-level person. It's pretty disgusting. That's pretty sad," Trump Jr. told ABC News on Tuesday of the still unknown official who titled the op-ed "I Am Part of the Resistance Inside the Trump Administration."
"Perhaps it's a disgruntled person who's been thrown out because they didn't deliver on what they were supposed to do," Trump Jr. said.
"What's the crime, though?" ABC News White House correspondent Tara Palmeri asked.
"Listen, I think you're subverting the will of the people," Trump Jr. responded. "I mean, to try to control the presidency while not the president—you have millions and millions of Americans who voted for this."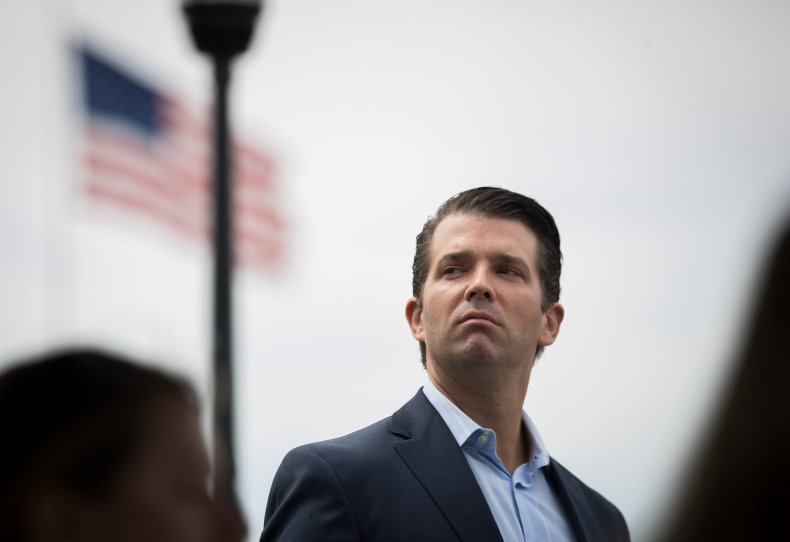 Trump Jr. said he believed there were still trustworthy people within the White House, but "it's just a small smaller group than I'd like it to be."
"Who do you trust?" Palmeri asked.
"Well, you know, I'll keep that to myself," Trump Jr. said.
When asked if they were not family, the president's eldest son replied: "Well, obviously I'm talking outside of family. I think that one goes without saying."
The administration official who wrote the op-ed published last week wrote, "I work for the president but like-minded colleagues and I have vowed to thwart parts of his agenda and his worst inclinations."
Among administration officials whom outsiders suspect may have been responsible are senior White House adviser Jared Kushner and Vice President Mike Pence. Pence is among more than a dozen officials who have denied writing the op-ed, while Kushner, when pressed by reporters last week, would not comment.
Fox & Friends co-host Brian Kilmeade said that if he were Trump, he would "give the people I can trust, which are people that have been very effective—Jared Kushner, Ivanka, if you want to bring Eric…in almost all key meetings," referring to the president's son-in-law and two of his children.
Trump Jr. also told ABC News that he believed the November midterm elections would be a referendum against the president, "so our people, the MAGA [Make America Great Again] people, they have turned up, they have to get out and vote and I think we can break history."
Failure by Republicans to turn out on Election Day could lead to his father's impeachment, Trump Jr. said.
"I think without question," he said, "because you know what the reality is, the Democrats play by different rules than the Republicans do."
Donald Trump Jr. Says New York Times Op-Ed Commits Crime of 'Subverting the Will of the People' | U.S.