Donald Trump Jr. has taken to Twitter once more to defend his father's record and hit out at the Democrats. He said President Barack Obama would have been made "emperor for life" if he'd achieved 10% of what President Donald Trump has done for ethnic minorities.
Trump's eldest son tweeted the message alongside a video, posted by California Representative Kevin McCarthy, apparently showing Democrat Congresswoman Gwen Moore dismissing Trump's economic record on African and Hispanic Americans.
"If over his entire presidency Obama had accomplished 10% of what @realDonaldTrump for these groups, the left would anoint him emperor for life. When Trump does it in less than 2 years it's Blah Blah Blah. What a joke!" Trump Jr. wrote.
The president's son appeared to be expanding on the original message posted by McCarthy that questioned how the Democrats could claim to be "for the people," when one of their representatives seemed so willing to dismiss, out of hand, progress for minorities.
However, Democrats have said Moore's comments were deliberately taken out of context and missed a wider point she was trying to making about the middle class. "You edited out the context of @RepGwenMoore's comments in today's @WaysMeansCmte hearing: contrasting a colleague's comments about rosy benefits—that have mostly gone to the wealthy—and challenges facing the middle class," Democrat representative Don Beyer wrote on Twitter.
Moore, a Wisconsin Democrat, made the comments while questioning experts at a Ways and Means Committee Hearing. She was paraphrasing Republican Representative Darin La Hood when she made the remarks, implying she felt he had glossed over deeper trends of inequality and middle-class hardship in the economy.
"My good friend and my good colleague Mr. La Hood waxed on about the health of the economy saying it is growing faster than ever, GDP is great, unemployment is at an all-time low, African Americans are doing well, Hispanics are doing well, wages are rising at the fastest pace in 10 years blah, blah, blah," Moore said.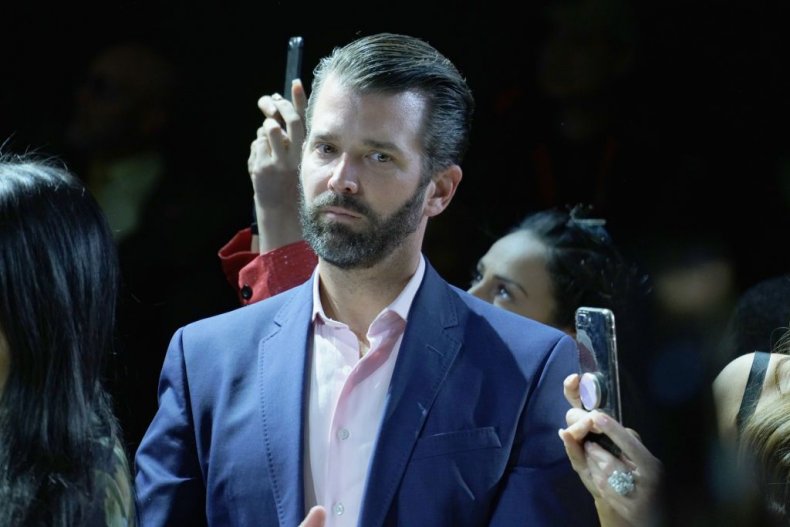 McCarthy's clip did not include the question within Moore's comments. "There seems to be some kind of a disconnect between this recitation of things and what testimony we have heard here today," she said.
Ironically, in his response, Moody's chief economist Mark Zandi attributed current economic gains to the years before Trump took office, contradicting Trump Jr.'s argument. "[For] the middle class, yes things have been going better in the last three or four years because the economy has got back to full employment, a process that began well before this administration but that has to be put into this broader historical political context and obviously the middle class is really struggling and continues to struggle," Zandi told the congressional committee.
The Trump administration has sought to emphasize the effects of the buoyant economy on ethnic minorities. "Unemployment claims have hit a 45-year low. And something I'm very proud of—African-American unemployment stands at the lowest rate ever recorded," Trump said in his State of the Union address earlier this month.
However, NBC reported that unemployment fell more dramatically as a whole for African Americans under the Obama administration than it has under Trump.