Donald Trump Jr. Rails Against Instagram, Mark Zuckerberg Over Decline in Followers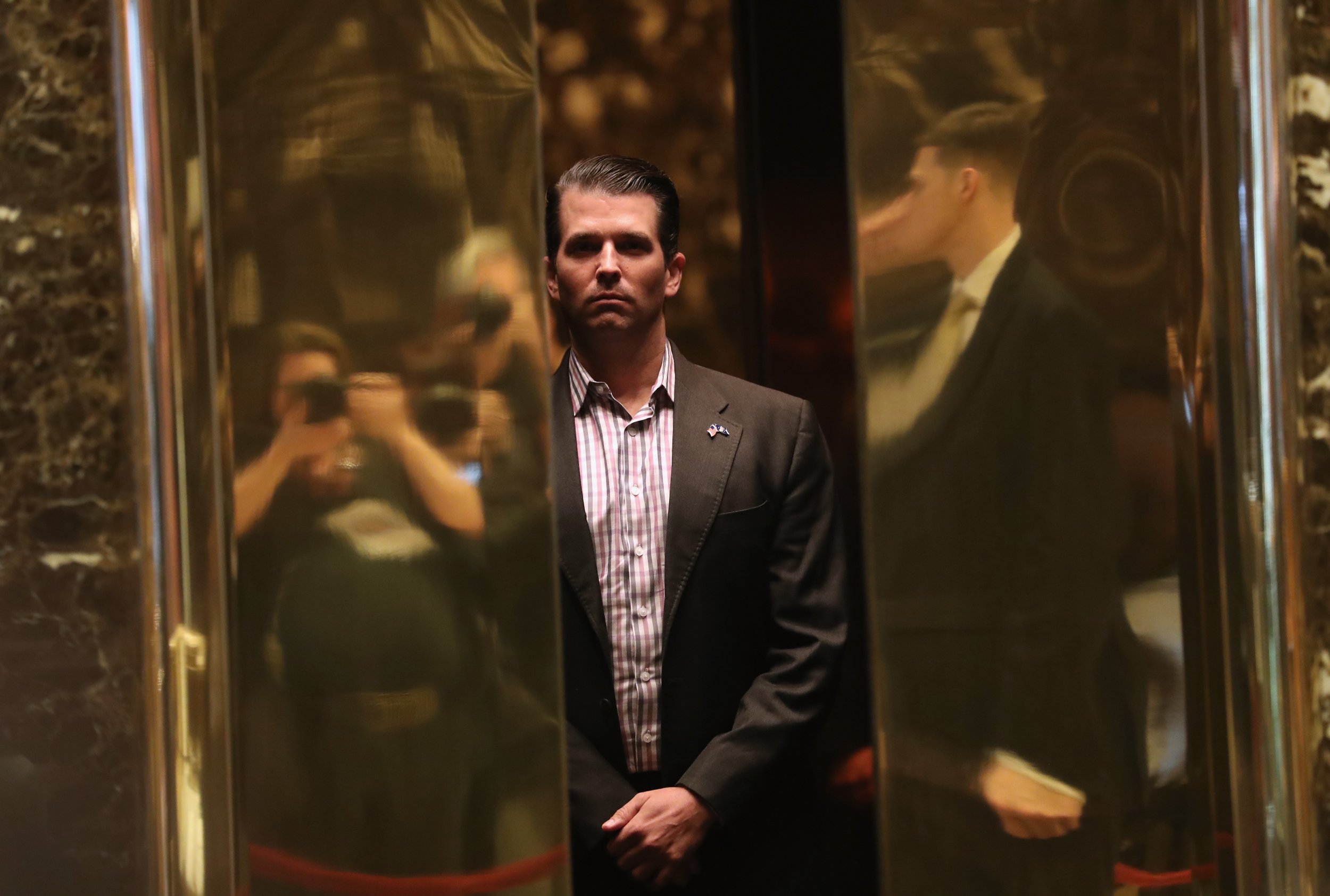 In a lengthy missive directed at Facebook CEO Mark Zuckerberg, Donald Trump, Jr. lamented the growth of his Instagram followers on Friday evening and accused the Facebook-owned picture sharing app of censoring conservative personalities.
"Honestly it's time for me to put this out there," the eldest Trump son wrote on the app. "For weeks I've been watching my #instagram analytics and noticed a crazy drop off in new followers. I used to average around 10,000 + new followers a week and then it just dropped off..."
The 40-year-old, who works for The Trump Organization, attributed the decline in new followers to a disclaimer he said appeared when a friend searched for him on the app. He shared a video of the warning popping on a phone screen. The message, which appeared to be from Instagram, read, "Can we help? Posts associated with words or tags that you're searching for often encourage behavior that can cause harm or even lead to death. If you're going through something difficult, we'd like to help."
The warning did not show up when Newsweek searched for Trump, Jr.'s name on multiple devices. Instagram did not immediately return a request for comment.
The video also showed the most common hashtags used in mentions of Donald Trump, Jr's name, including #donaldtrumpjrisatoll, #donaldtrumpjrcolludedwithrussia and #donaldtrumpjrisaliar.
"Are you fricken kidding me?" Trump, Jr., who has more than 1 million followers, griped. "@Zuck this is insane. I get that my 3-year-old Chloe can be pretty aggressive as are a few of my humorous memes, but this is ridiculous. If this account "could cause harm and even lead to death" we have serious problems."
He continued, "The #shadowban nonsense and the hysteria RE any conservative thought has to stop."
Shadowbanning is used by social media platforms to prevent content that violates their terms of service from appearing in users' feeds. In many cases, users only know they've been shadowbanned when their audience engagement experiences a significant drop.
For the most part, Trump uses his Instagram to post photos of his children, defend his father and rail against progressive causes. His social media presence on Twitter is, arguably, more controversial. In addition to accusations that he "liked" tweets from Russian bots, the president's son has also "liked" conspiracy theories about school shooting survivors. He has also mocked the #MeToo campaign against sexual harassment.
Friday's post isn't the first time Trump, Jr. has tried to spar with Zuckerberg over what he believes is a coordinated effort to squash conservative views from proliferating on both Facebook and Instagram. In a Congressional hearing, Zuckerberg told lawmakers that neither platform purposefully censors conservative views, but that the concern is valid.
"...Facebook and the tech industry are located in Silicon Valley, which is an extremely left-leaning place," Zuckerberg said."This is actually a concern that I have, and that I try to root out at the company—is making sure that we don't have any bias in the work that we do. I think it is a fair concern that people would at least wonder about."
Donald Trump Jr. Rails Against Instagram, Mark Zuckerberg Over Decline in Followers | Tech & Science