Donald Trump Jr. Shares Nike Ad With President Replacing Colin Kaepernick on Instagram
President Donald Trump's son, Donald Trump Jr., weighed in on Nike's decision to make former San Francisco 49ers quarterback Colin Kaepernick the face of its new marketing campaign with a photo of his father.
On Wednesday, the president's oldest son posted on Instagram a black and white photo of his father staring intently into the camera with the quote from the Nike Kaepernick's ad, "Believe in something. Even if it means sacrificing everything," superimposed on the image.
Trump Jr. captioned the Instagram post, "There, fixed it for you," with the president's campaign slogan hashtag "MAGA."
Many people credited Nike for taking a stand for what it believes in by choosing Kaepernick, but others joined Trump Jr. in criticizing the company for selecting someone they deemed to be a poor role model.
A photo of former NFL star and Army veteran Pat Tillman accompanied with Kaepernick's quote began circulating on social media, arguing that he would have been a far better choice. Others were so upset with Kaepernick's new position that they burned their Nike apparel as part of a boycott of the company.
The president never mentioned the former San Francisco 49ers quarterback by name but tweeted that similarly to the NFL, Nike is taking a hit for not taking a stand against Kaepernick and the national anthem protest he started.
"Just like the NFL, whose ratings have gone WAY DOWN, Nike is getting absolutely killed with anger and boycotts. I wonder if they had any idea that it would be this way?" Trump tweeted. "As far as the NFL is concerned, I just find it hard to watch, and always will, until they stand for the FLAG!"
Similarly to his father, Trump Jr. has also been a vocal critic of multiple NFL players' decision to kneel for the national anthem. In particular, the first son took umbrage with the NFL's claim that allowing the protests to continue was in line with the players' free speech rights.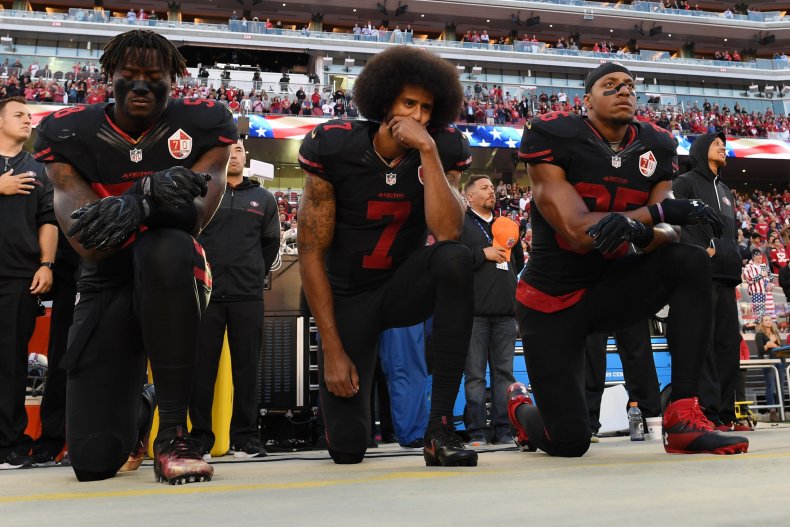 In 2017, he called out a double standard in the NFL when players were fined for wearing shoes honoring people who were killed during the attacks on 9/11. He tweeted a similar argument when Dallas Cowboys players were fined for wearing a decal on their helmets that supported the police department.
Kaepernick no longer plays in the NFL, but he's continued his advocacy against social injustice and racial inequality off the field. Nike released Kaepernick's commercial on YouTube on Wednesday and has plans to share it on television during Thursday's NFL season-opening game.
The "Dream Crazy" marketing campaign also highlights the accomplishments of NBA star LeBron James and tennis star Serena Williams, who both vocalized their support for Kaepernick's inclusion.