Donald Trump Jr. Slammed as 'Dumb' And 'Just The Coffee Boy' Over Wikileaks Correspondence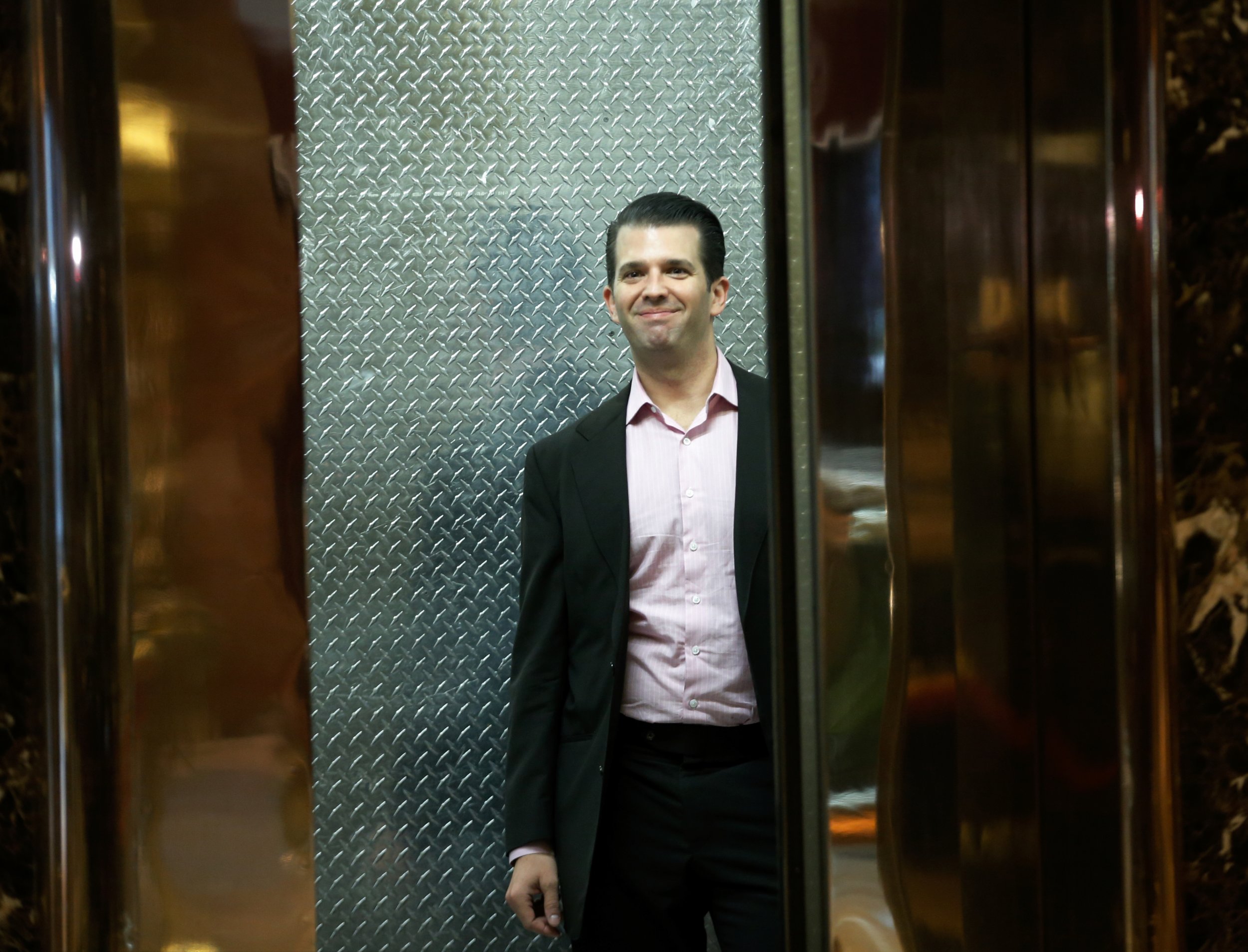 Donald Trump Jr. is facing criticism for corresponding privately with Wikileaks both in the run-up to the 2016 presidential election and following his father's surprise win.
The president's son received messages from Wikileaks over a period of 10 months, during which time the organization requested that he push for Julian Assange to become Australia's ambassador to the U.S. and share the organization's work. He was asked for Trump's tax returns and encouraged to tell his father not to concede if he lost the election.
On more than one occasion, Trump Jr. appeared to have taken political suggestions from WikiLeaks' board, according to a report from The Atlantic detailing the secret conversation.
Indeed, WikiLeaks asked Trump Jr. on October 3, 2016, to comment on a story about Hillary Clinton by sharing a quote from the former secretary of state about wanting to "drone" Assange, to which Trump Jr. responded: "Already did that earlier today. It's amazing what she can get away with."
And the correspondence hasn't been received well among social media users, with Trump Jr. being slammed as "dumb," and referred to by one account as "just the coffee boy."
Even though some Twitter users suggested Wikipedia had acted more poorly than Trump Jr. after allegedly advising him to urge his father to contest a potential election defeat, others hit out at the president's eldest son.
"I wonder if the SNL writers ever kick themselves over making Don Jr. the smart one," @ParkerMolloy wrote.
"PUTIN: Wikileaks is the perfect tool. Now, all we need is the perfect idiot. DON JR: Challenge accepted!" @StockPhotoTrump added.
The messages between Trump Jr. and Wikileaks have been turned over to Congress as part of the ongoing investigations into Russia's alleged attempt to influence the U.S. election. A lawyer acting on behalf of the president's son said he had cooperated with requests from the committees involved in the probe.
"Putting aside the question as to why or by whom such documents, provided to Congress under promises of confidentiality, have been selectively leaked, we can say with confidence that we have no concerns about these documents and any questions raised about them have been easily answered in the appropriate forum," Trump Jr.'s attorney Alan Futerfas told The Atlantic.