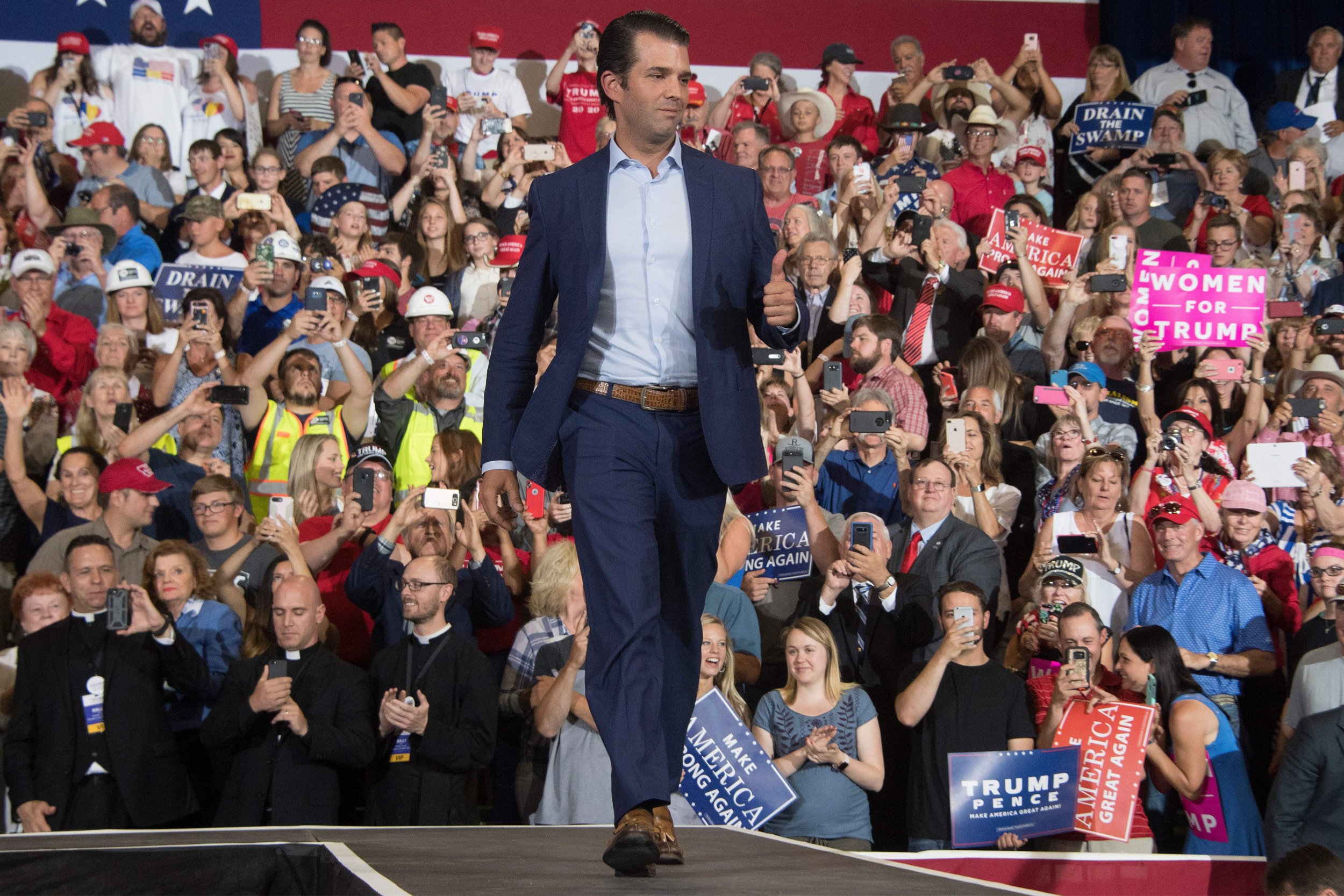 First son Donald Trump Jr. on Monday ripped people who work in Hollywood and the media for apparently deleting tweets calling for justice for Empire actor Jussie Smollett, whose claim he was attacked by "Make America Great Again" supporters has come into question after police said the suspects admitted they were paid to orchestrate the hate crime.
"Hey Hollywood and media types, I've noticed a lot of you deleted your #JusticeForJussie tweets…" Trump Jr. tweeted. "What's the matter, don't you want justice for him anymore??? #frauds."
Trump Jr., who continues to campaign for his father President Donald Trump at MAGA rallies, has been slamming liberal critics regarding Smollett since Chicago police on Saturday stated they had "shifted the trajectory of the investigation."
Smollett claimed he was attacked by two masked men on January 29 and told, "This is MAGA country, n*****," punched him in the face, put a noose around his neck and poured what he thought was bleach on him. But new reports emerged stating that the suspects were paid by Smollett to participate in the attack.
On Sunday, Trump Jr. called out Democratic California Senator Kamala Harris, who is running for president in 2020 and immediately after the alleged attack on Smollett called it a "modern day lynching."
"I'm wondering if @KamalaHarris still wants #JusticeForJussie?" Trump Jr. tweeted. "Will she be as vocal about it now or has she moved on?"
Trump Jr. also mocked comedian Kathy Griffin, who often trolls him, in regards to a "beheading" photo shoot she did in 2017.
"Kathy Griffin: No one can ruin a career faster than I can. Jussie Smollett: Hold my bleach!!!" Trump Jr. tweeted.
Trump Jr. started criticizing Hollywood and the media on Saturday.
"Strange that no one in Hollywood or the Main Stream Media seems to want #JusticeForJussie anymore. Wonder what changed?" he tweeted.
Trump Jr. also slammed a story by the San Jose Mercury News from a couple of weeks ago with the headline, "Is Trump Jr. promoting a Jussie Smollett conspiracy theory?"
"Despite all the obvious holes media/Hollywood desperately wanted it to be true to push their hate of conservatives," he tweeted. "Looks like it's not aging so well."
Trump Jr., who does not work in the Trump administration, has emerged as one of his father's biggest defenders on social media and on the campaign trail. His tweets against Trump opponents are unmatched by anyone else in his family except for his father.