Donald Trump Jr. Slams Mueller Probe on TruNews, a Network That Reports on 'Countdown to the Second Coming of Jesus Christ'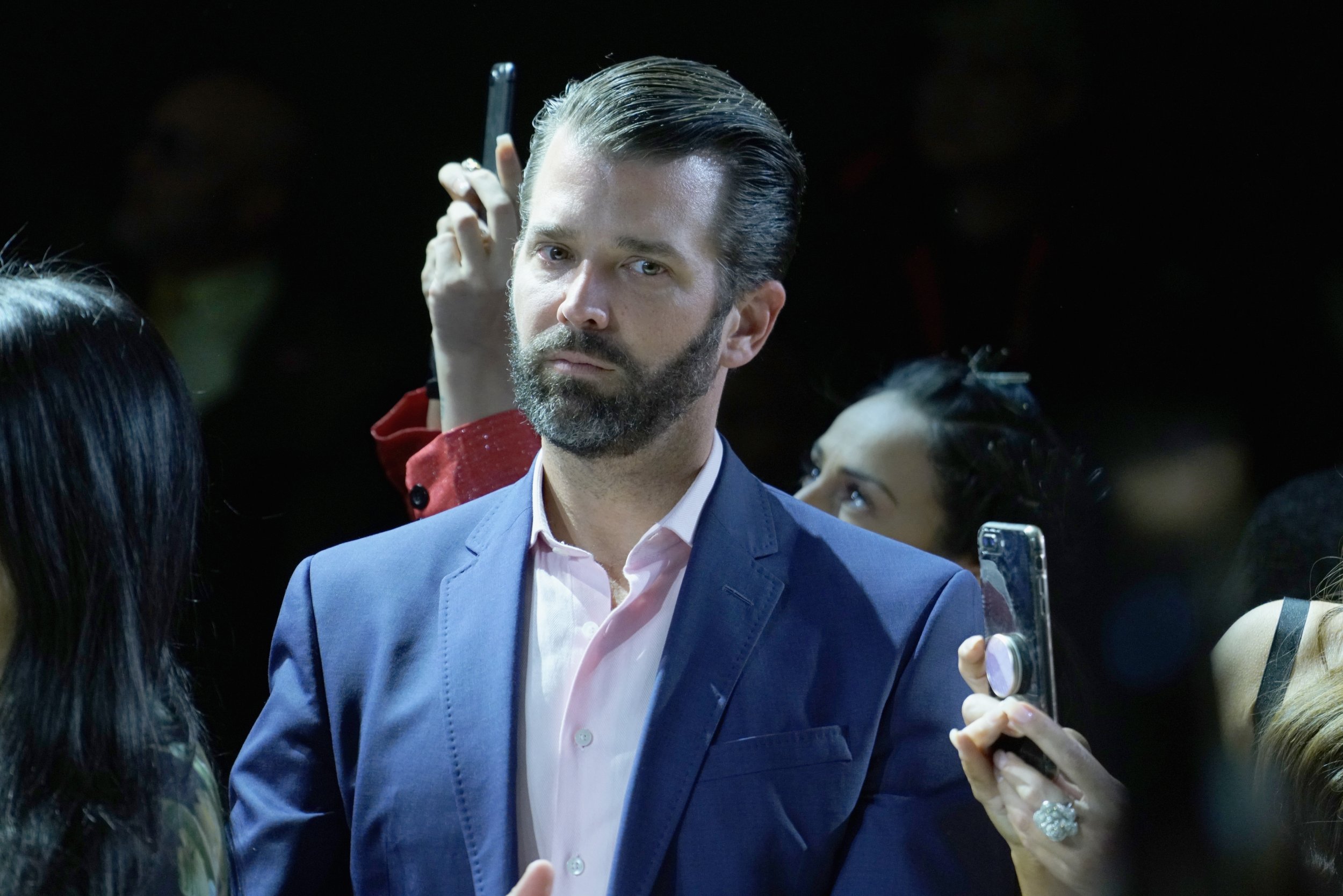 While President Donald Trump took the stage at a Thursday night campaign rally in Michigan, first son Donald Trump Jr. granted an interview to a network whose mission statement is "Reporting on the countdown to the second coming of Jesus Christ."
Speaking in person with a correspondent of TruNews, which calls itself "the world's leading news source that reports, analyzes, and comments on global events and trends with a conservative, orthodox Christian worldview," Trump took issue with how most mainstream media outlets have covered his father's presidency, and the recently concluded special counsel investigation into Russian meddling in the 2016 election.
Even though Attorney General William Barr told Congress that the probe, led by special counsel Robert Mueller, found no evidence of collusion between the Trump campaign and Russia, the first son told TruNews it "should never happen again."
"It's the greatest hoax ever perpetrated on the American people," Trump Jr. said, adding that 93 percent of the mainstream media perpetuated it. "The media has done irreparable damage to themselves and their reputation."
TruNews correspondent Kerry Kinsey shared the network's adoration for Trump: "Will you tell your dad that TruNews loves your dad and we always give him a fair shake?"
"I'll do that," Donald Jr. responded. "Thank you so much."
Trump Jr. also talked up his father during the TruNews interview, painting a picture of the president as a businessman who gave up "a billionaire lifestyle to do this for the American people." He also belittled the "swamp creatures" in the running for the Democratic nomination in 2020.
TruNews casts itself as an evangelical network, but its reporting and programming suggests it is really a more extreme form of the far-right conspiracy theory network InfoWars. TruNews reports on unfounded conspiracies, such as the notion that Jews or Nazis who are gay or lesbian will bring forth the end of the world.
Evangelical activist and right-wing conspiracy theorist Rick Wiles, who runs TruNews, has voiced his support for Trump since the 2016 campaign, and has advocated for the president's critics to be "rounded up" and sent to prison.
Wiles also said that former President Barack Obama was "a devil from hell" and that he was "spiritually sodomiz[ing]" the United States, Right-Wing Watch reported.
TruNews regularly gets press credentials to cover Trump's campaign rallies as well as his trips abroad.
In a statement to Newsweek, a spokesman for Trump Jr. said that the interview was not planned and the president's son was unaware of the outlet.
"This was not a pre-planned interview and Don had never heard of TruNews or had any awareness of their views until this very moment," he said. "Don was scheduled for an interview with Hannity on Fox News and while he was waiting in the press area for that interview to begin, various reporters nearby began asking him questions and so he ended up doing interviews with several outlets who were in the vicinity. Unfortunately, he did not have an opportunity to run a full FBI background check on each and every one."
Trump Jr. capitalized on the summary released March 24 of Mueller's finding no conspiracy between the Trump campaign and Russians in the 2016 election to bash Trump opponents and media outlets that criticized the administration during the probe.
He has pushed his father's claim that the mainstream media is the "enemy of the people," while praising conservative outlets including Fox News and even more radical networks like TruNews.
Update (03/29/19, 5:50 p.m.): This story has been updated to include a statement from a spokesman for Donald Trump Jr.