Donald Trump Jr. to Blame for Subpoena After Evading Interview Requests, Richard Burr Says: Report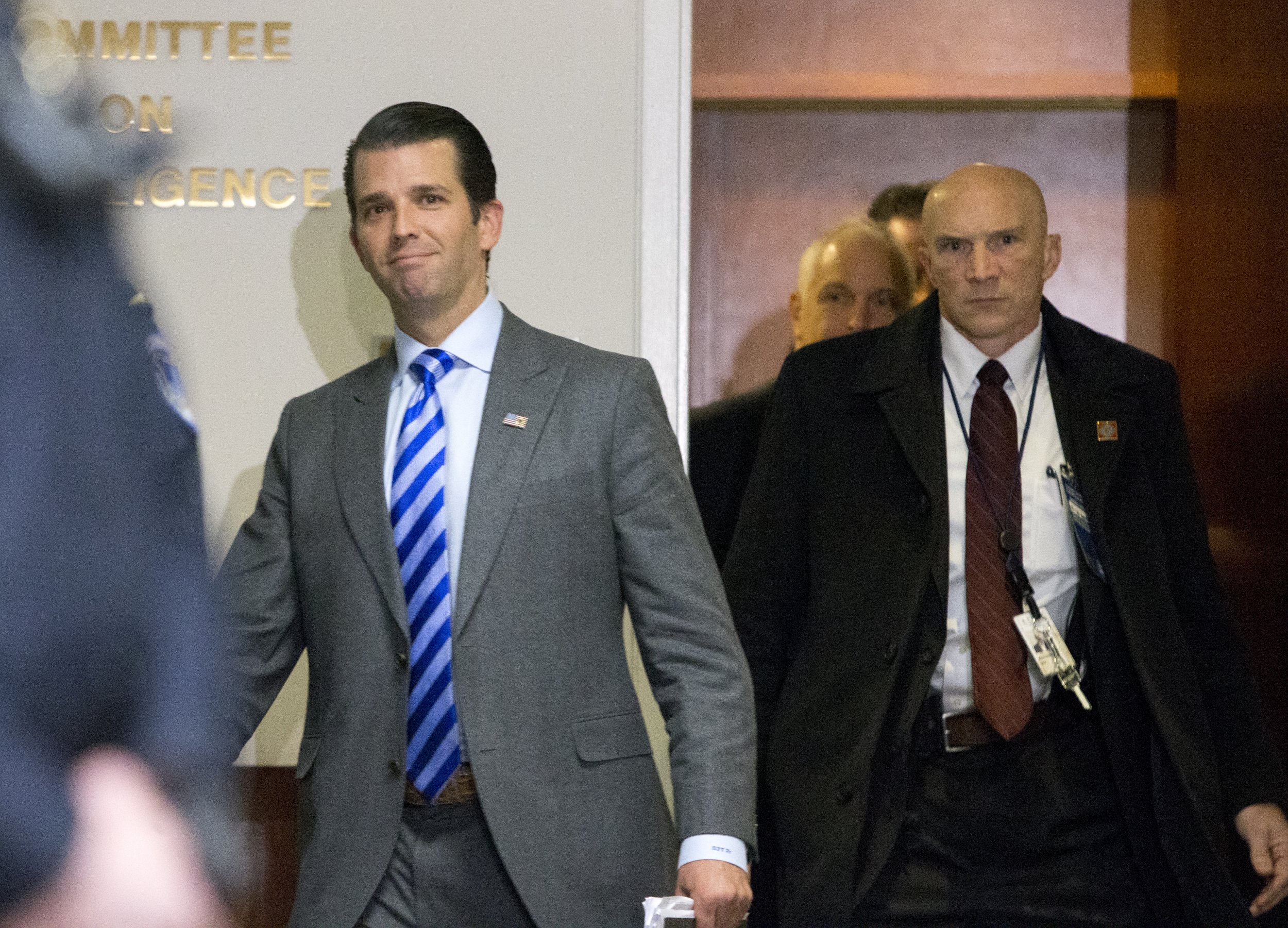 The Senate Intelligence Committee chairman, Republican Senator Richard Burr, told fellow senators at a private luncheon the day after Donald Trump Jr. was subpoenaed that the first son had agreed to participate in voluntary interviews two times in recent months but failed to follow through, according to a New York Times report published Tuesday.
Trump Jr.'s avoidance forced the committee on April 8 to issue a subpoena to talk to him as they try to wrap up their probe into Russian interference in the 2016 presidential election, with two sources claiming Burr said the blame should fall on Trump Jr. for his evasiveness, not the committee.
Burr apparently said that Trump Jr. had plenty of chances to sit for interviews with the senators voluntarily and quietly. The senator also said he was not pleased about criticism he has received from Republicans for subpoenaing Trump Jr.
Some Republicans have even alleged that Burr was bound to the committee's Democratic vice chairman Senator Mark Warner and that Warner aims to steer the probe into a partisan-driven witch hunt against President Donald Trump.
Burr reportedly said the committee stated from the start it could summon Trump Jr. to answer additional questions, contradicting a statement by someone close to the first son that he had been told he would have to testify one time when he sat for questioning in 2017.
Trump Jr. has not commented on Twitter about the subpoena, but has retweeted dozens of posts slamming the development. He has also tweeted stories, the latest an opinion piece on Friday by 2016 Republican presidential candidate Mike Huckabee with the headline, "Did senators forget that Trump Jr. answered the questions already?"
A spokesman for Trump Jr. did not immediately respond to a request for comment from Newsweek on Tuesday.
Burr and Warner reportedly believe they need to avoid partisanship that has affected the House Intelligence Committee and to a degree special counsel Robert Mueller's probe in order for their Russia investigation to have the greatest impact.
The House Intelligence Committee's Democratic chairman Adam Schiff told Newsweek at the Ellis Island Medals of Honor gala on Saturday he was "impressed that the Senate Intel Committee continues to work on a bipartisan basis."
"Hopefully they have more questions they need answered," Schiff said. "We have our own concerns about Don Jr.'s testimony before the House Intelligence Committee and so hats off to chairman Burr and vice chairman Warner, they continue to do important work on this."
Regarding what he thought should be done if Trump Jr. refuses to appear, Schiff said: "I don't want to speak for my Senate colleagues."