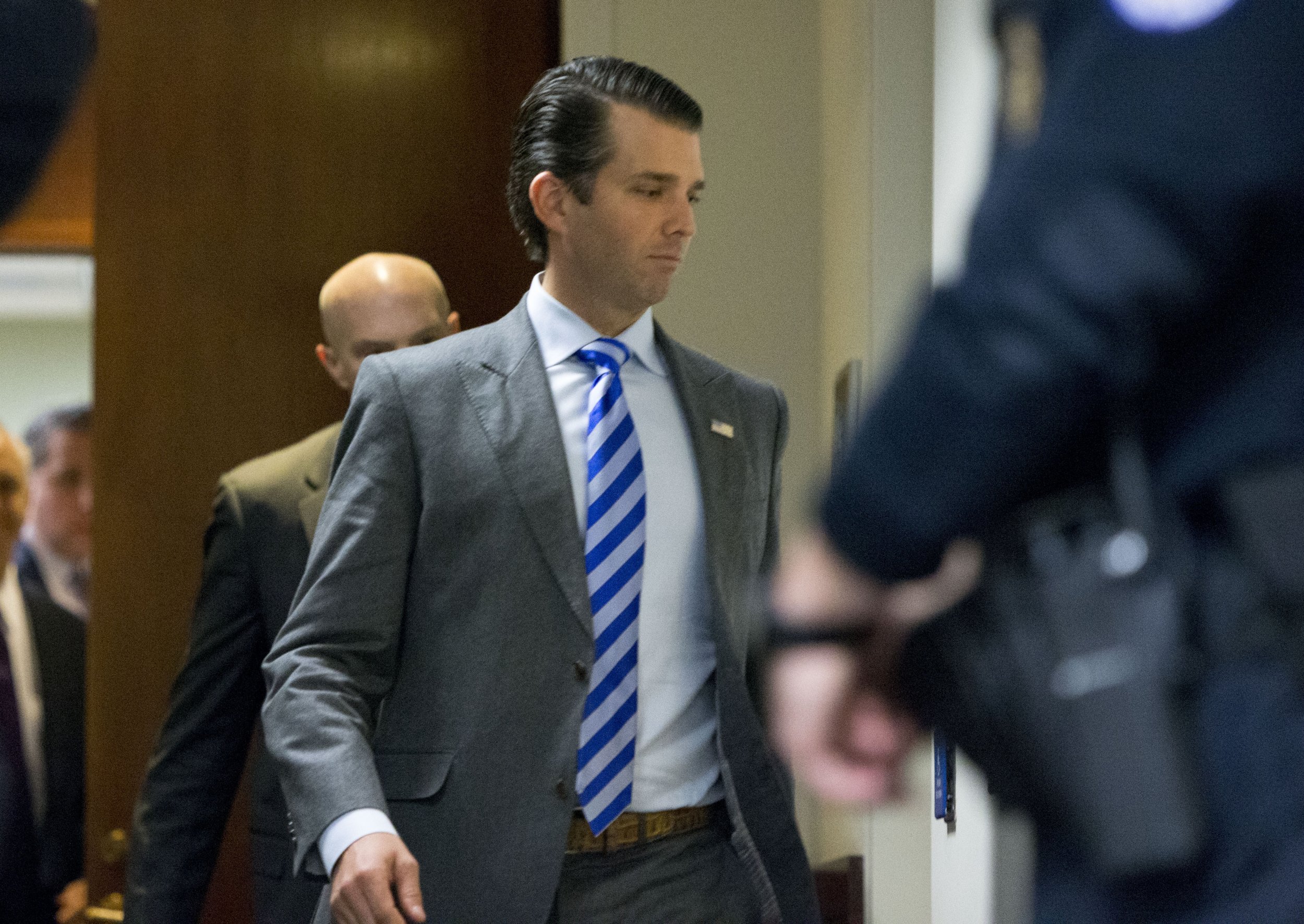 President Donald Trump's eldest son, Donald Trump Jr., has been subpoenaed by the Republican-led Senate Intelligence Committee over testimony he gave about a Trump Tower project proposed for Moscow, according to reports.
The subpoena was the first to target a member of the president's family. Trump Jr. is being subpoenaed to answer questions about what he told congressional investigators in the past about the Trump Tower meeting and the Trump Organization's plan to build a high-rise building in Moscow, people familiar with the issue told The Wall Street Journal on Wednesday.
Axios, which first reported the subpoena, quoted a source close to Trump Jr. as saying: "Don and Senate Intel agreed from the very beginning that he would appear once to testify before the committee and would remain for as long as it took to answer all of their questions. He did that. We're not sure why we're fighting with Republicans."
Trump Jr. testified before the Senate Intelligence Committee for more than nine hours in December 2017, and before the Senate Judiciary Committee in September 2017. The Judiciary Committee disclosed a transcript of Trump Jr.'s testimony, which concerned talks during the 2016 presidential election to construct a Trump Tower in Moscow, as well as a June 2016 meeting at Trump Tower in New York he attended with other campaign officials and a Kremlin-linked lawyer who promised "dirt" on Hillary Clinton.
The president's son testified that he was "peripherally aware" of the Trump Tower Moscow project plans, which did not end up materializing.
Trump Jr. did not address the subpoena on Twitter immediately after the reports emerged. A spokesman for Trump Jr. did not immediately respond to a request for comment from Newsweek on Wednesday afternoon.
In a statement provided to Newsweek, a spokesperson for the Senate intelligence Committee said: "We do not discuss the details of witness engagements with the Committee. Throughout the investigation, the Committee has reserved the right to recall witnesses for additional testimony as needed, as every witness and witness counsel has been made aware."
The reported subpoena comes more than two weeks after the release of a redacted version of special counsel Robert Mueller's report Russian interference in the 2016 presidential election. Mueller did not find evidence of conspiracy between the Trump campaign and the Kremlin and did not indict Trump Jr., but some legal experts believe that the report's other findings would not bode well for Trump Jr.
Former Watergate lawyer David Dorsen told Newsweek last week that the Mueller report "did eliminate a couple of possible charges, including conspiring with the Russians, but they've also presented evidence of other possible offenses that are quite serious, so he is not in more serious, but continues to be in serious trouble."
While the Mueller investigation has ended, the Senate Intelligence Committee is working on its report on 2016 election interference and will examine possible collusion between the Trump campaign and the Russians.