Donald Trump Jr. Suggests 'RINO Policies' Part of What Led to Trump Presidency
Donald Trump Jr. suggested Friday that more moderate policies from "RINO" Republicans were part of what led the GOP to embrace his father, former President Donald Trump.
Donald Trump Jr. made his comments during a scheduled "Reigniting the Spirit of the American Dream" speech at this year's Conservative Political Action Conference (CPAC) in Orlando, Florida. His criticisms of "RINOs," or "Republicans in name only," came as part of a swipe at Representative Liz Cheney of Wyoming, who joined nine other House Republicans last month in voting to impeach the former president.
"The one thing I'll say for Liz Cheney is, I'm sure she has a lot of bipartisan support, because if there's one thing that she and Joe Biden definitely want to do, it's bomb the Middle East," Donald Trump Jr. said in reference to a recent U.S. airstrike Biden ordered on Syria. "Everything else is a disaster. Everything else is just RINO policies, the kinds of policies that put the Republican Party in a position where they needed a Donald Trump.
"Liz Cheney and her politics are only slightly less popular than her father is at a quail hunt," Donald Trump Jr. added, referring to former Vice President Dick Cheney's 2006 hunting accident. When the comment drew laughter and applause from the crowd, Donald Trump Jr. invited fact checkers to "have at it" before resuming criticisms of the Wyoming congresswoman, whom he referred to as "Lincoln Project Liz."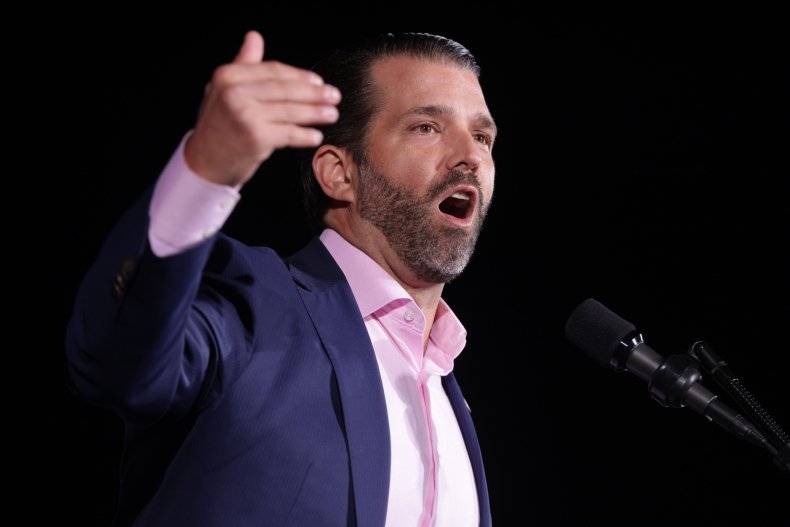 "Liz Cheney, she hates Donald Trump and his policies because her family has a long history of friendly fire," Donald Trump Jr. said. "But she also hates them because she's tied to an establishment that has done nothing but fail us time and time again."
Donald Trump Jr. delivered his remarks shortly after an appearance by Missouri Senator Josh Hawley and following an introduction by his girlfriend Kimberly Guilfoyle, a former adviser to the elder Trump. Before Donald Trump Jr. took the stage, Guilfoyle assured attendees that the fight for conservative values would continue even though a Democrat now occupies the White House.
"This movement is not going anywhere, and I can promise you this: President Trump is not going anywhere. He is here to stay," she said.
Several Republican politicians are scheduled to speak at the event over the weekend, with the former president set to close out the conference on Sunday afternoon. Near the end of his remarks, Donald Trump Jr. prefaced his father's CPAC speech, which he predicted would "not be what we call a low energy speech."
"I assure you that it will solidify Donald Trump and all of your feelings about the MAGA movement as the future of the Republican Party," he said.
Newsweek reached out to Cheney's office for comment and will update this article with any response.