Donald Trump Jr. Cost Taxpayers Nearly $100K in Security Costs During India Trip to Sell Condos: Report
During a week-long trip to India in February to give a policy speech and promote Trump property deals, the president's eldest son, Donald Trump Jr., reportedly cost taxpayers nearly $100,000 in security services.
Documents obtained by The Washington Post from the Department of Homeland Security through a Freedom of Information Act request show that through hotel rooms, airfare, car rentals and overtime, the president's son accrued $97,805 in costs to the Secret Service.
While in India, Trump Jr., who is still executive vice president of the Trump Organization, touted his family's condominiums and business ties to the country as he traveled to New Delhi, Mumbai, Pune and Kolkata. Meeting with potential buyers and real estate brokers, Trump Jr. promoted luxury high-rise properties that will bear the Trump name through licensing deals.
At the time, Indian newspapers were reportedly running full-page ads that said homebuyers who made a $38,000 deposit on one of the luxury properties outside Delhi could join the president's son "for a conversation and dinner." India Prime Minister Narendra Modi and his team told reporters during the trip that $100 million worth of luxury units had already been sold.
The hotel rooms that Trump Jr., and subsequently the Secret Service, stayed in while on their week-long tour were at luxury hotels ranging in nightly prices from $150 to nearly $500, according to the DHS documents.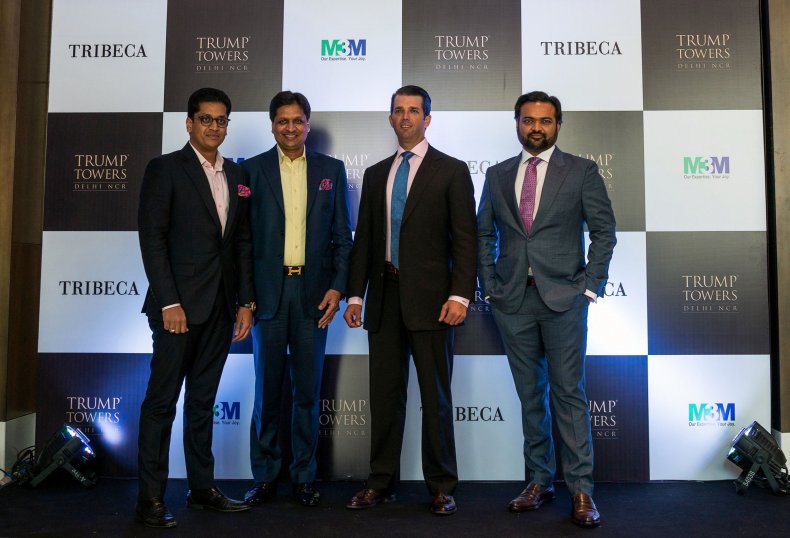 Trump Jr.'s previously scheduled speech on "Indo-Pacific" policy during his trip was canceled. The president's son does not hold an official role in the administration, causing backlash from those who say a private businessman who is the president's son should not be making policy speeches while on a trip designed to promote the family business.
"I'm here as a businessman," Trump Jr. told business and political leaders during his trip while he attended a business conference hosted by India media company The Times Group. "I'm not representing anyone."
A managing director of a company that builds mall and movie complexes in India and Singapore disagreed.
"Though he claims that it's not an official speech, we take it as an official statement," said P. V. Sunil, according to The New York Times. "He speaks to his father more than anyone here."
Watchdog and ethics groups have long accused Trump family members of using the Oval Office to promote their family's overseas business ventures.
In July, the watchdog ethics group Citizens for Ethics and Responsibility in Washington published documents from the Secret Service that showed the agency spent $200,000 during a trip to the United Arab Emirates last year in which Trump Jr. and the president's second son, Eric Trump, opened a golf resort. A separate trip taken last year by Eric Trump to Uruguay reportedly cost taxpayers nearly $100,000, according to a review of purchasing orders by The Post.
The Trump Organization did not immediately respond to Newsweek's request for comment. The organization did not provide a statement to The Post.