Donald Trump Jr. Claims Female Teen Sprinters Beaten by Transgender Athletes Is 'Grave Injustice'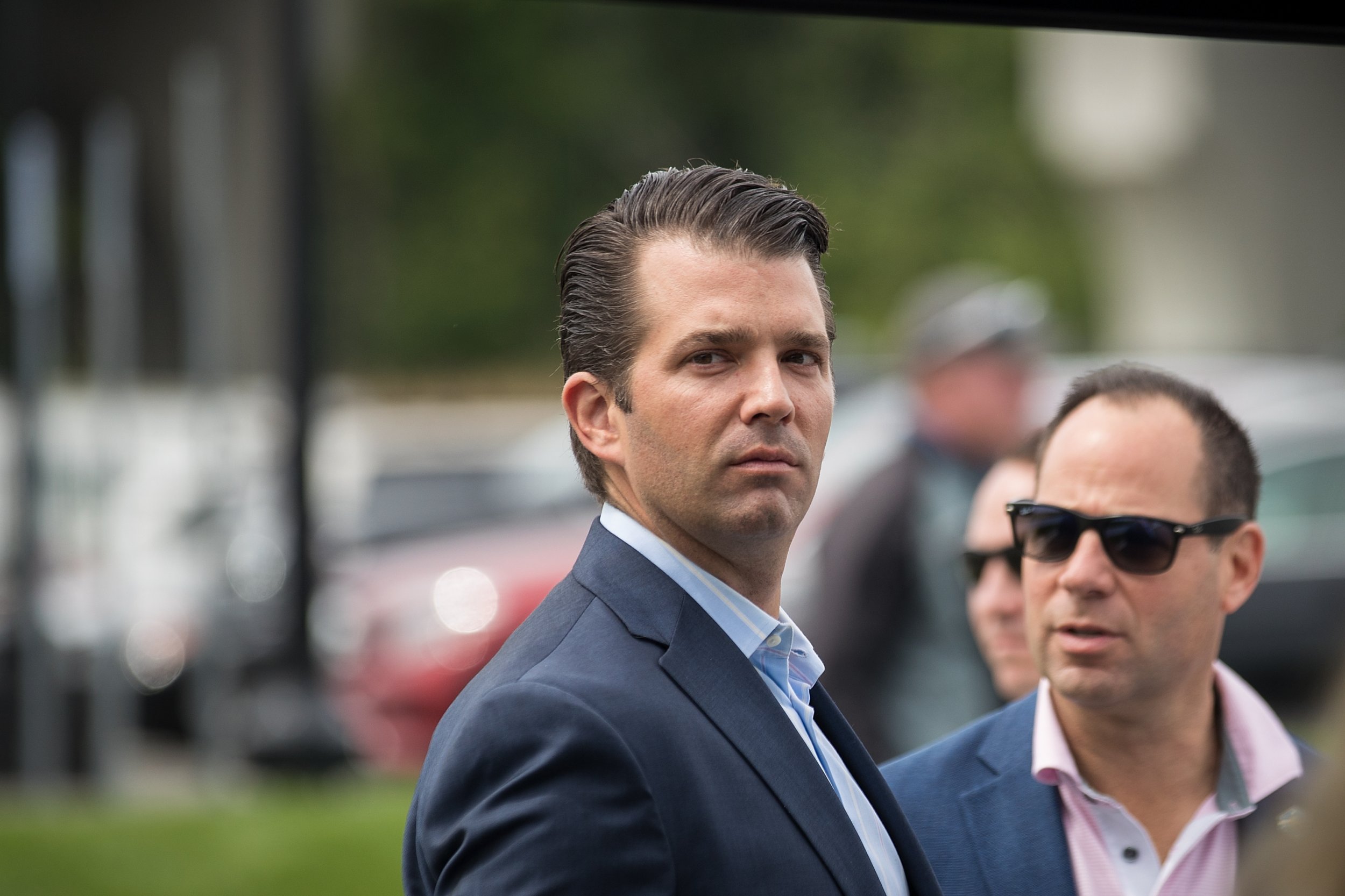 After two transgender athletes claimed first and second prize in a girl's track championship, Donald Trump Jr. called it a "grave injustice."
During Connecticut's state open indoor track championship, Terry Miller and Andraya Yearwood claimed first and second place, respectively. The two athletes, who are both transgender, won the top spots in the 55-meter dash, and Miller set a new record of 6.95 seconds, according to The Associated Press. The third-place winner, whom the AP reported was not transgender, finished about 20 miliseconds after Yearwood.
In response to the news of the two athletes' victories, Trump Jr. tweeted on Monday that he felt "so sorry" for the female athletes who had trained for years to become the best in their state and possibly get a scholarship to college. He called Miller's and Yearwood's wins a "grave injustice."
Transgender athletes competing against cisgender athletes has sparked fierce debate, with some arguing it's an issue of equality, while others saying there's an unfair advantage.
Selina Soule finished eighth in the 55-meter dash, which the AP reported meant she missed qualifying for the New England regionals by two spots. The high school junior told the news outlet that she was happy for Yearwood and Miller, because they're being true to themselves and should have the right to express themselves in school. She said there had always been rules to keep athletic competition fair.
"We all know the outcome of the race before it even starts; it's demoralizing," Soule said, adding that had Yearwood and Miller not run, she would be headed to Boston to race in front of college coaches.
During her transition, Yearwood told the AP that she learned a lot about other people and has tried to use the negativity to motivate herself to run faster. While she acknowledged that she was stronger than many competitors who were cisgender (those whose identity and gender match their birth sex), she said that's not the only advantage at play during the competition.
Yearwood pointed to an athlete with the advantage of long legs who can jump higher but gets beat by someone with better form. She added that some sprinters' parents may have more money than others, thereby allowing them to get better training.
To ensure fair competition, Joanna Harper, a medical physicist and transgender runner, had advocated for a standard based on hormone levels. She explained to the AP that until hormone therapies began to work, genetic males had an advantage over genetic females. With both transgender girls and cisgender girls having the right to compete and succeed in sports, Harper said the question was how to balance it.
It's also not an issue that can be answered with blanket regulations. In 2015, Harper, who studied transgender women, including herself, in long-distance running, found there were times it was advantageous to be transgender and there were times when it was an equitable competition.
When it came to long-distance running, she wrote in an op-ed for The Washington Post that she found cisgender athletes competing against athletes after their gender transitions were on equal footing. With regard to sprinting, however, Harper wrote that having more muscle mass could potentially allow for increased speed. Advantages were also possible in basketball when height was important, but on the other side of the coin, it would be disadvantageous in gymnastics.
Trump Jr. wasn't the first person to speak out about transgender athletes competing against cisgender athletes.
On Wednesday, Athlete Ally, a group dedicated to supporting LGBTQ athletes, dropped tennis legend Martina Navratilova from its advisory board over comments she made about transgender athletes. In an op-ed for the Sunday Times, Navratilova wrote that transgender women competing against ciswomen was "insane" and called for standards of completion to prevent unfair competitions.
"Trans women athletes aren't looking to take over women's sport," Athlete Ally said. "They are women, and want to compete in the sport they love, just as any other athlete would."