Donald Trump Jr. Tells People to Vote on Wrong Day in Virginia Election Tweet
Donald Trump Jr. might inadvertently suppress votes in Virginia gubernatorial election—by telling people to hit the polls on the wrong day.
Trump on Tuesday mistakenly urged Virginia voters to hit their polling places on Wednesday for a much-hyped race happening on Tuesday.
"Virginia, the future of the Commonwealth is at stake tomorrow. Find your polling place at http:// vote.gop to vote Ed for #VAGov," the president's eldest son tweeted.
Trump Jr., like his father, was pushing for Republican candidate Ed Gillespie to prevail over challenger Ralph Northam. The president has seen this race as the latest test of whether his endorsements carry weight in local elections, especially since Virginia is the only southern state he lost in 2016.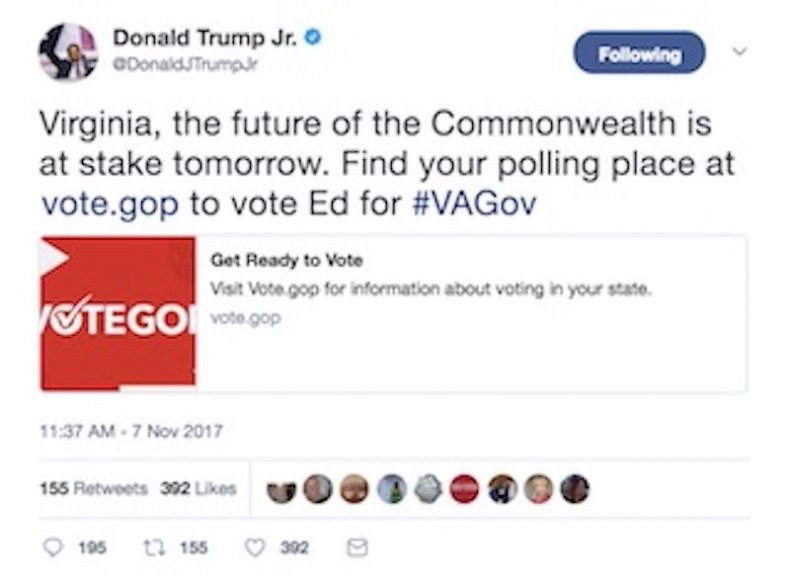 President Donald Trump also promoted Gillespie in a Tuesday tweet—and he even got the election date right.
"Ralph Northam will allow crime to be rampant in Virginia. He's weak on crime, weak on our GREAT VETS, Anti-Second Amendment and has been horrible on Virginia economy. Vote @EdWGillespie today!" Trump tweeted.
In another tweet, he added that Gillespie "will totally turn around the high crime and poor economic performance of VA. MS-13 and crime will be gone."
"Vote today, ASAP!" President Trump added, showing once again he knows when the election is happening.
But Trump made a similar flub when he was running to become leader of the free world.
At a Panama City, Florida, rally last year, about a month before the election, the then-candidate told supporters to "make sure you get out and vote November 28." The election was on November 8.