Donald Trump Jr. Slams Whoopi Goldberg for Defending 'Actual child rapist Roman Polanski'
Donald Trump Jr. isn't here for Whoopi Goldberg's implications about his sons. After the actress-turn-television host insinuated how his three sons are likely prone to abusive behaviors, President Donald Trump's eldest child slammed her Wednesday on Twitter.
"@WhoopiGoldberg when your political views are so warped that you 1. Defend a child rapist cuz they agree with you, while 2. attacking children whose parents don't, it may be time to seek professional help," Trump Jr., 40, tweeted Wednesday. "Truly sick."
The hosts of The View budded heads Tuesday with conservative commentator Abby Huntsman. This time, the topic of discussion was Trump Jr.'s concerns over how he suspects the #MeToo era will negatively impact his sons—Donald Trump III, Tristan Milos Trump and Spencer Frederick Trump—more than his two daughters Kai Madison Trump and Chloe Sophia Trump.
"I've got boys and I've got girls, and when I see what's going on right now, it's scary," Trump Jr. said in an interview with Daily Mail TV on Monday. He was asked whether he was more concerned with his sons or daughters during this era, which he replied: "Right now, I would say my sons."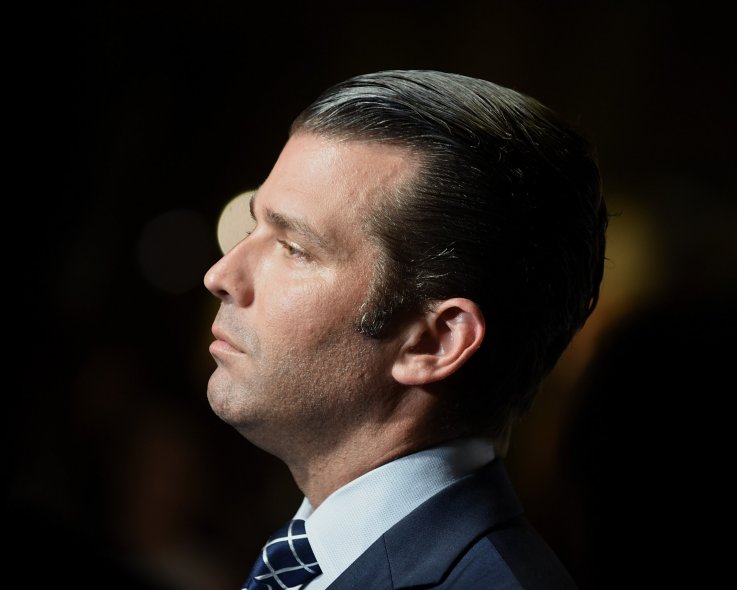 Goldberg, 62, wasn't amused by Trump Jr.'s remarks. The Color Purple actress, as a result, responded with bold accusations regarding their apparent behavior.
"You only worry about this for your child, if you think that your child has these tendencies," Goldberg said Tuesday. "If your child is not someone that's assaulting people, it shouldn't be a concern."
Huntsman chimed in to suggest how this wasn't "necessarily" true, adding: "What I think a lot of people are concerned about today is that you can be accused when you've been raised the right way, when you did nothing in that situation, we have countless examples where that has happened."
In addition to recommending Goldberg seek help, Trump Jr. cited the Academy Award winner's defense of disgraced film director Roman Polanski—a man who was accused of and later convicted of sexually assaulting a 13-year-old girl in the 1970s.
"@WhoopiGoldberg, instead of insinuating that my sons are potential future abusers, you might want to explain why you defended actual child rapist Roman Polanski?" Trump Jr. tweeted.
Prior to this, Goldberg had said of Polanski on The View 2009: "I know it wasn't rape-rape. I think it was something else, but I don't believe it was rape-rape." This comment resulted in a wave of backlash on her end.
Donald Trump Jr. Slams Whoopi Goldberg for Defending 'Actual child rapist Roman Polanski' | Culture