Donald Trump's Kids Saved the 2016 Republican National Convention in Cleveland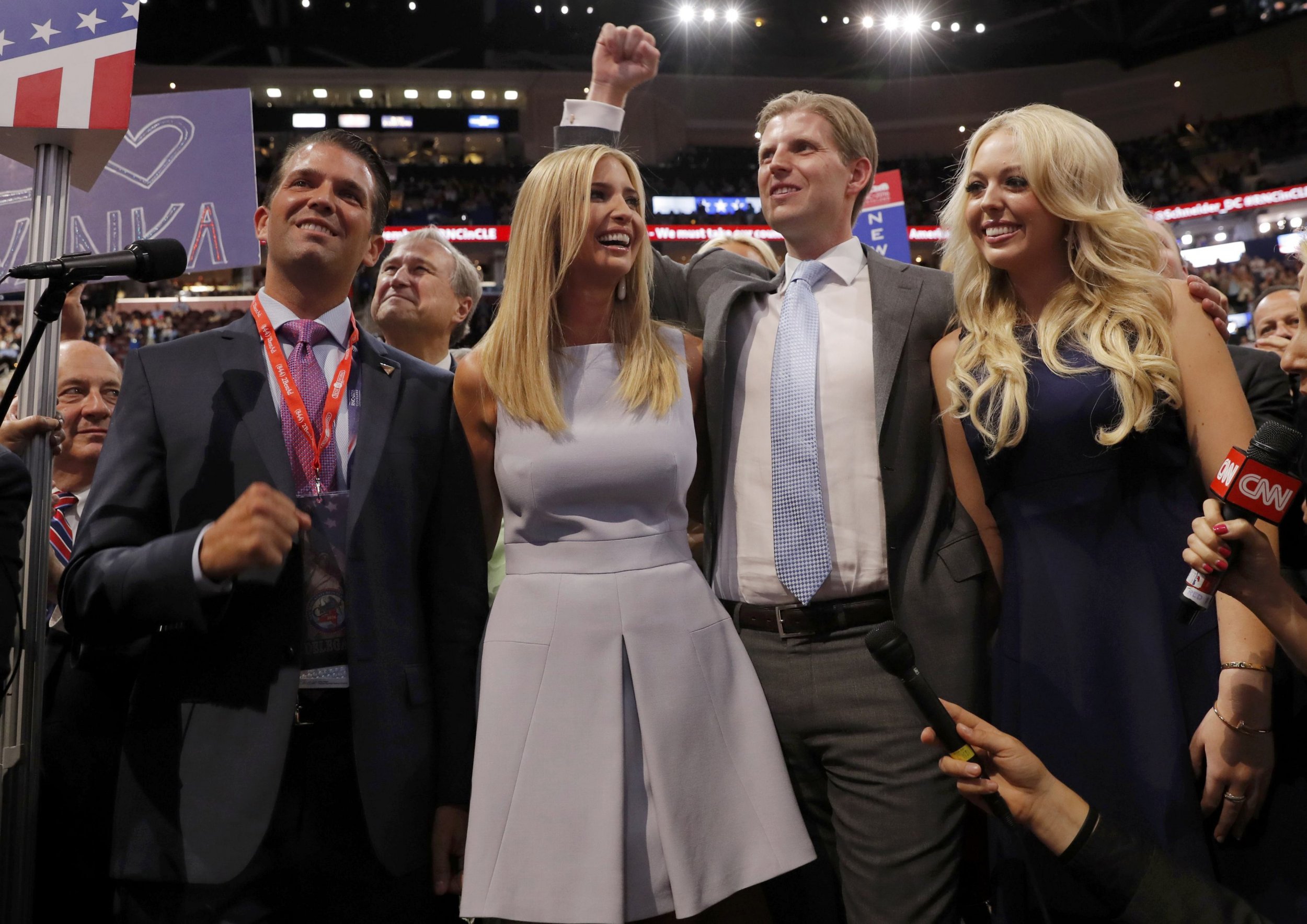 For all the talk of the 2016 Republican National Convention being a disaster, here in Cleveland it certainly doesn't seem that way. The delegates have been boisterous at their hotels, and at a recent party full of Washington insiders, the mood wasn't grim, even after Melania Trump's plagiarism snafu. "[Donald Trump's] only 3 percent down," said one Republican veteran from New York who asked that I not use his name. "And that's after all the craziness."
One thing that's struck people here are Trump's kids. "The other party gave us a regulatory state on steroids," Donald Trump Jr. said on Tuesday night. The thinner, darker, younger incarnation of his famous father mounted the podium at the Quicken Loans Arena and offered a vigorous denunciation of the Democrats. But it was mostly as a character witness that Trump Jr. succeeded in Cleveland. His job wasn't just to invoke his father's attentiveness and intelligence, but also to connect the Trump dynasty to the working class. "We learned from MBAs with a degree in common sense," the wealthy scion said, ticking off the working class heroes who taught him how to hang drywall.
There's nothing wrong with privilege or the efforts of rich families to mix it up with the hoi polloi. George H.W. Bush had a chauffeur take him to Greenwich Country Day School during the Great Depression. But he also worked on oil rigs in Midland, Texas and was shot down and saved over the Pacific. Each act of muscular struggle helped him understand a working-class he wasn't born into. The same goes for the Romneys and Kennedys.
But what seemed bizarre about the first son's family story was his denunciation of people with degrees from the Wharton School at the University of Pennsylvania and odd comments about MBAs. Three of the Trump children have gone to Wharton, like their father save for Don, Jr. and 10-year-old Barron (who still has time). The capacity of the Trump family to identify with the white working class ,and to be seen as the avatar of their dreams, doesn't require faux blue collar boasting. Trump Jr. and his brother Eric like big game hunting in Africa and don't hang out in Queens. That's who they are.
Trump Jr. also talked about the people who told his dad he shouldn't extend the Queens family empire into Manhattan. But as the candidate has said, the naysayer was his own father, Fred Trump. George W. Bush acted out his own oedipal moments, too. When asked if he sought his father's advice, he said he listened to a higher authority.
All of these family struggles are important. You don't need to be a shrink to see how Richard Nixon's insecurities were shaped by a withdrawn and often cruel father and witnessing the death of a more beloved older brother. Bill Clinton learned his people pleasing skills by dealing with his alcoholic stepfather.
Trump's family seem to deftly highlight the best parts of his personality. Even critics acknowledge that he seems to have a good relationship with his children. They appear devoted to him and not in a creepy, cultish way. He may seem like an egomaniac, but their testimony humanizes him, makes people think he can't be all that bad.
That's why Trump Jr. and Tiffany, his daughter with Marla Maples, have been the surprising stars of the convention. Chris Christie's anti-Hillary tirade was good for the base, but not terribly memorable. Ben Carson's bizarre recollections of Saul Alinsky, the author of Rules for Radicals, was a good reminder of why he never won a state. Paul Ryan had the only upbeat speech of the night, a well-crafted set of policy proposals that weren't born in a cauldron of resentment.
But Tiffany Trump's account of her father was perhaps the most compelling; it portrayed him as courteous, funny and involved in her life. Some have seen paternal animus in Trump's failure to mention her often. But the speech did not sound like a hostage video. It seemed like a touching moment between father and daughter, something genuine, which of course, is also politically advantageous.
Correction: An earlier version of this story incorrectly stated that Donald Trump, Jr. graduated from the Wharton School. He graduated from Georgetown.