Donald Trump Jr. Touts Working Minimum Wage Jobs, Getting Tipped
Donald Trump Jr., the eldest son of the former president, boasted about having worked minimum wage jobs and suggested that members of Congress could learn a thing or two about "hustle" culture from that type of work experience.
"They've never actually had that hustle," Trump Jr. told House Speaker Kevin McCarthy during a Thursday episode of his "Triggered" podcast. "I understand where I come from and my background—I get it. But my father made sure I worked minimum wage jobs....I also worked for tips, which is something that's really important that everybody should understand."
Celebrity Net Worth estimates that the eldest Trump son has a net worth of $350 million, with the bulk of that money coming from his salary as executive vice president at the Trump Organization.
Trump Jr. has often spoken about working as a bartender in the years following his graduation from the University of Pennsylvania's Wharton School of Finance, telling multiple outlets that he moved to Aspen, where he lived out of the back of a truck, in defiance of his parents. Politico Magazine reported that he spent his summers in high school working as a dock attendant in Atlantic City and at construction site for his father's company.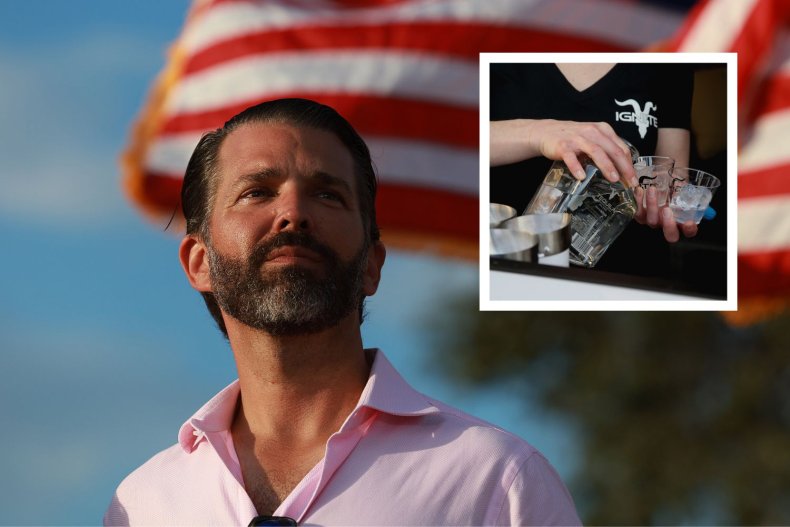 "I had a great time, but your brain starts to atrophy," he told New York Magazine in 2003. After a year in Colorado, he returned to New York to join the family business.
On Thursday, Trump Jr. said "so much" of the experience he gained from working in minimum wage jobs is "lacking" on the resumes in Washington, D.C.
"No one's every had to make payroll. No one's signed the front of a check, as opposed to the back," he said. "You always come to expect that not to exist in these offices."
Several members of Congress have discussed their experiences working in minimum wage jobs or their history in the service industry.
Among those is Representative Alexandria Ocasio-Cortez, who waited tables and tended bars at a New York City taqueria before launching her campaign in 2017. After she won her congressional seat, her critics would often cast her employment in the service sector as dubious.
Trump Jr.'s remarks drew criticism from social media users who pointed to his affluent background and his family connections.
"Working pretend jobs given to you by your daddy isn't the same thing as working and struggling to get by," Patriot Takes, an account dedicated to "combat right-wing threats," tweeted on Friday.
"Wait. I thought former President Trump is his father," wrote Jeff Timmer, a GOP strategist and senior adviser for the Lincoln Project.
Another user tweeted: "Trust fund baby, Don Jr. grew up in a 30,000 square foot apartment in a gold tower on Fifth Avenue in Manhattan next to Tiffany & Co., but please tell us more about your minimum wage jobs."
During his 2020 presidential campaign, the older Trump said he would be open to raising the federal minimum wage from $7.25 to $15 if he were elected to a second term but did not give specifics on how, although he opposed the House legislation raising the rate.
Newsweek reached out to the Trump Organization for comment.