Donald Trump Jr.'s 'Triggered' Book Becomes Battleground for Online Reviewers Ahead of Launch
Donald Trump Jr.'s new book was only released this morning, but its Goodreads page has been a battleground for reviewers for months.
The president's eldest son's new title Triggered: How the Left Thrives on Hate and Wants to Silence Us is published by Center Street, a conservative imprint of publishing house Hachette, but already has more than 50 user ratings and 19 reviews on Goodreads alone.
Reviews on the platform are split almost down the middle between ardent Trump supporters giving his eldest son a five-star rating to combat the one-star reviews of his liberal opponents.
At the time of writing, the new Trump Jr. book has a 2.75 star ranking on Goodreads and no reviews on Amazon, where it is the number 1 bestseller in the political conservatism and liberalism category.
"Laughing at all the negative reviews from people that haven't even read the book," said Goodreads user and five-star reviewer Mike S. "Hint: it's not out yet. Ironic, given the title of the book."
In August, some three months before the book's release, one-star reviewer Meghan wrote: "Wow. I couldn't even finish it."
"You didn't," replied Goodreads user Cav. "It's not out yet."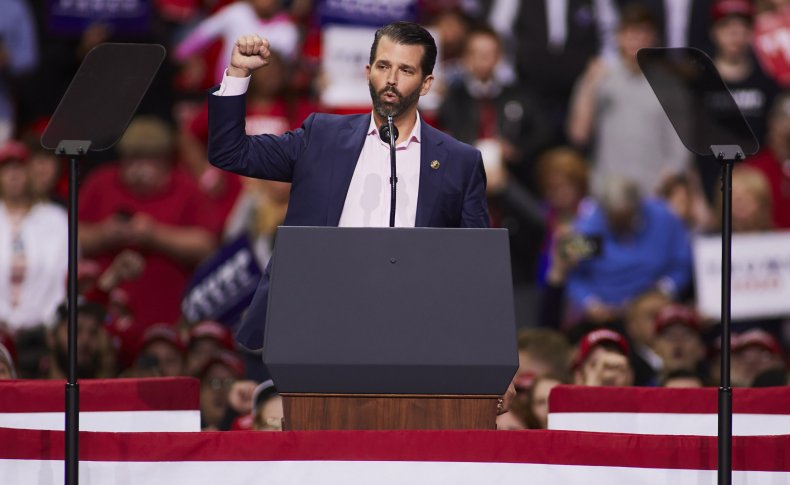 Newsweek has contacted Goodreads for more information on how it moderates reviews and ratings prior to a book's launch, but did not receive a response by time of publication.
Outside of online book rating platforms, Triggered has so far received one review from The Guardian, which took aim at the the president's eldest son for lashing out at left wing "censoriousness" while ignoring his father's threats to the media.
But the newspaper's mixed review also praised the title, saying it was "best viewed as the opening salvo of the Trump child with real political chops," and describing it as a "better campaign biography than most."
Trump Jr. has also got support for his book from closer to home, with his father yesterday tweeting: "My son, @DonaldJTrumpJr is coming out with a new book, "Triggered: How the Left Thrives on Hate and Wants to Silence Us" – available tomorrow, November 5th! A great new book that I highly recommend for ALL to read. Go order it today!"
The president's promotion of his son's book, in light of the Trump family's repeated accusations that Hunter Biden capitalized on the vice presidency of his father Joe Biden, sparked criticism.
Montana Governor Steve Bullock tweeted: "Donald Trump's priorities: 1. Helping his family profit off the Presidency. 2. Tweeting. 3. Golf."
"A family full of people who pretend to write books so other family members can pretend to read them," tweeted comedian Deven Green under the persona of her satirical character Mrs. Betty Bowers.
Trump Jr. has several booking signing events lined up for the next week, including a book party at the Trump International Hotel in Washington, D.C. next Tuesday.