Who is Donald Trump Jr.? President's Son in Russian Attorney Controversy Had Avoided Politics, Tended to Business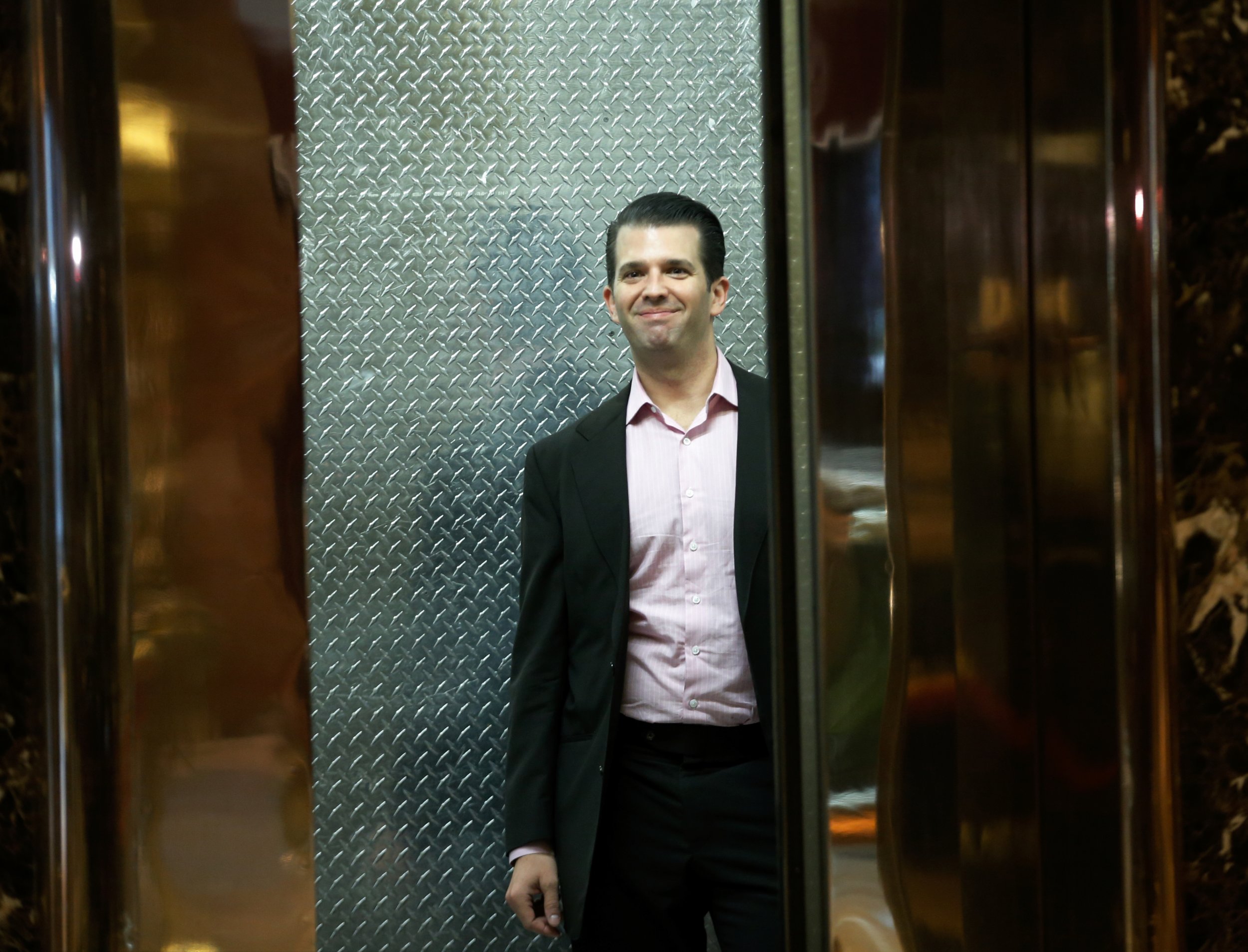 Donald Trump Jr. has been dragged into the political spotlight this week after leading the Trump Organization for more than five months with his brother, Eric. After the The New York Times revealed that last June he was interested in getting dirt on his father's presidential rival Hillary Clinton, Trump Jr. released an email chain Tuesday in which he is offered documents by a "Russian government attorney" who would allegedly incriminate Clinton "and her dealings with Russia." Trump Jr. has said no documents were forthcoming.
But just who is Donald Trump Jr.?
When his father and mother, Ivana Trump, were getting a divorce in the early 1990s, Trump Jr. and his brother Eric were shipped off to Hill School, a private school in Pottstown, Pennsylvania. There Trump Jr. said the constant media attention from their parents' divorce "all kind of went away."
Time passed quietly, and Trump Jr. earned a Bachelor of Science degree in economics from the Wharton School of Business at the University of Pennsylvania. After graduating, he moved to Aspen, Colorado, and lost touch with his father—choosing instead to become a ski bum and go hunting and fishing.
It wasn't until September 2001 that he returned to New York to work at the Trump Organization, his family's business, full-time. He married model and actress Vanessa Kay Haydon in 2005, and the couple now have three sons and two daughters. From 2006, Trump Jr. often appeared on his father's reality TV show The Apprentice as a guest adviser.
Related: Music publicist who set up Trump Jr.'s meeting with a Russian lawyer is connected to Russian oligarchs
Late last year, Donald and Eric Trump raised ethics concerns after invitations went out advertising a multiday fishing trip with the brothers with access to their father, for $500,000 to $1 million.
Although he has kept his focus on business, Trump Jr. recently blundered his way into a political scandal. After a man with terrorist affiliations killed six people near Britain's Houses of Parliament in March, Trump Jr. was roundly criticized after he goaded the mayor of London, Sadiq Khan, for saying that being prepared for terrorist attacks is part of living in a big city.
"You have to be kidding me?!: Terror attacks are part of living in big city, says London Mayor Sadiq Khan," Trump Jr. wrote on Twitter. But the young businessman's attitude showed he is a "disgrace," said Labour Party MP Wes Streeting in a reply online. British politicians from across the political spectrum defended the mayor's steady hand.
During his father's campaign, Trump Jr. also compared Syrian refugees to Skittles. "If I had a bowl of Skittles and I told you just three would kill you. Would you take a handful? That's our Syrian refugee problem," he tweeted. The candymaker replied that "refugees are people" and they didn't find it "an appropriate analogy." They demanded that Trump remove a photo of Skittles from his tweet.
Trump Jr.'s Twitter feed is the digital equivalent of a bare-knuckled ideological brawl. Yet he has never been as close to the political spotlight as he now finds himself as revelations continue to surface about his meeting with the Russian attorney.
"We do not get our opposition research from spies. We do not collaborate with Russian spies unless we want to be accused of treason," said Richard Painter, chief White House ethics lawyer in the administration of George W. Bush on Sunday.
"The Bush administration would never have tolerated this," Painter said, noting that if the story is true, Bush would have had Trump Jr. arrested, adding, "This borders on treason, if it is not itself treason."