Don Jr.'s Tweet Mocking Hillary Clinton Over Bill's Impeachment Resurfaces After Trump Impeached
After the House of Representatives impeached President Donald Trump on Wednesday, Twitter users resurfaced an old tweet of the president's eldest son, Donald Trump Jr., that described how he felt about presidents who were impeached--including former President Bill Clinton in 1998.
"Dear Clintons, you know what's deplorable? Being Impeached!!!" Trump Jr. posted on Twitter in 2016, in reference former Secretary of State Hillary Clinton calling half of Trump's supporters a "basket of deplorables."
Wednesday's impeachment vote fell along party lines with all but a handful of Democrats voting in favor of each article and every Republican voting against the articles. Trump now faces a trial in the Senate that's expected to start early next year. It's unclear when the trial will take place, though, because Speaker of the House Nancy Pelosi didn't send the articles to the Senate on Wednesday and declined to say when they would be delivered
The partisan votes were a different scene than in 1998, the last time a president was impeached, according to NPR. Some Democrats voted in favor of impeaching former President Clinton and dozens of Republicans voted against two of the articles, preventing them from being approved.
Since House Democrats launched the impeachment inquiry in September, the president's been unwavering in his defense. Continuously denying he engaged in any improper behavior that would warrant impeachment after the vote, the president reiterated that this was the "greatest witch hunt in American history."
Trump also touted his support on the Republican side of the aisle and posted in a tweet on Thursday morning that it showed Republicans were "united like never before."
Newsweek reached out to the Trump 2020 campaign through email but did not receive a response in time for publication.
Many of the president's supporters, including Republican legislators and Trump Jr., claimed the vote was decided before it even took place since the president's critics have been discussing impeachment since he took office. Senate Majority Leader Mitch McConnell, who said Republicans will align themselves with the White House on impeachment, is expected to address the vote on Thursday morning on the Senate floor.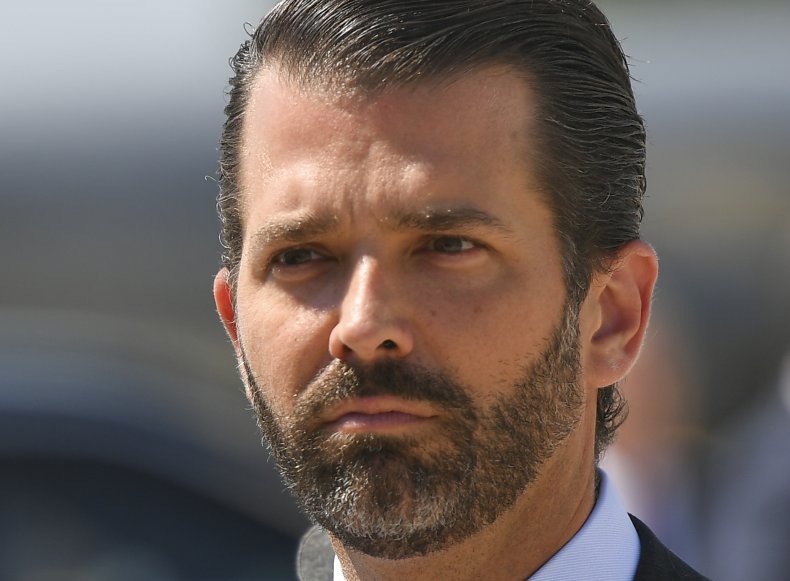 In an Instagram post on Wednesday night, Trump Jr., a fierce defender of his father, called impeachment the Democrats' "only viable candidate." With no one who can "actually beat" his father, Trump Jr. said they had to rely on impeachment, but claimed it would backfire.
"As always they've overplayed their hands and the American people see it for the disgrace that it is," Trump Jr. posted on Instagram. "The impeachment is a total partisan sham and everyone knows it."
Although the Constitution requires there to be a trial in the Senate before a president can be removed from office, the parameters of the proceedings are determined by the senators themselves. The majority of senators need to agree on the rules of the trial and The New York Times reported McConnell will likely work with Senate Minority Leader Mitch McConnell on a compromise.
Since Republicans have a majority in the Senate, experts claim there's a slim chance they'll convict Trump and remove him from office. Trump has pushed for an immediate Senate trial, confident that he'll be acquitted, but Pelosi said she wouldn't send the articles until legislators were assured a fair Senate trial.
Don Jr.'s Tweet Mocking Hillary Clinton Over Bill's Impeachment Resurfaces After Trump Impeached | U.S.