Donald Trump Jr. Tweeted Wrong Midterm Election Day in Video with Kimberly Guilfoyle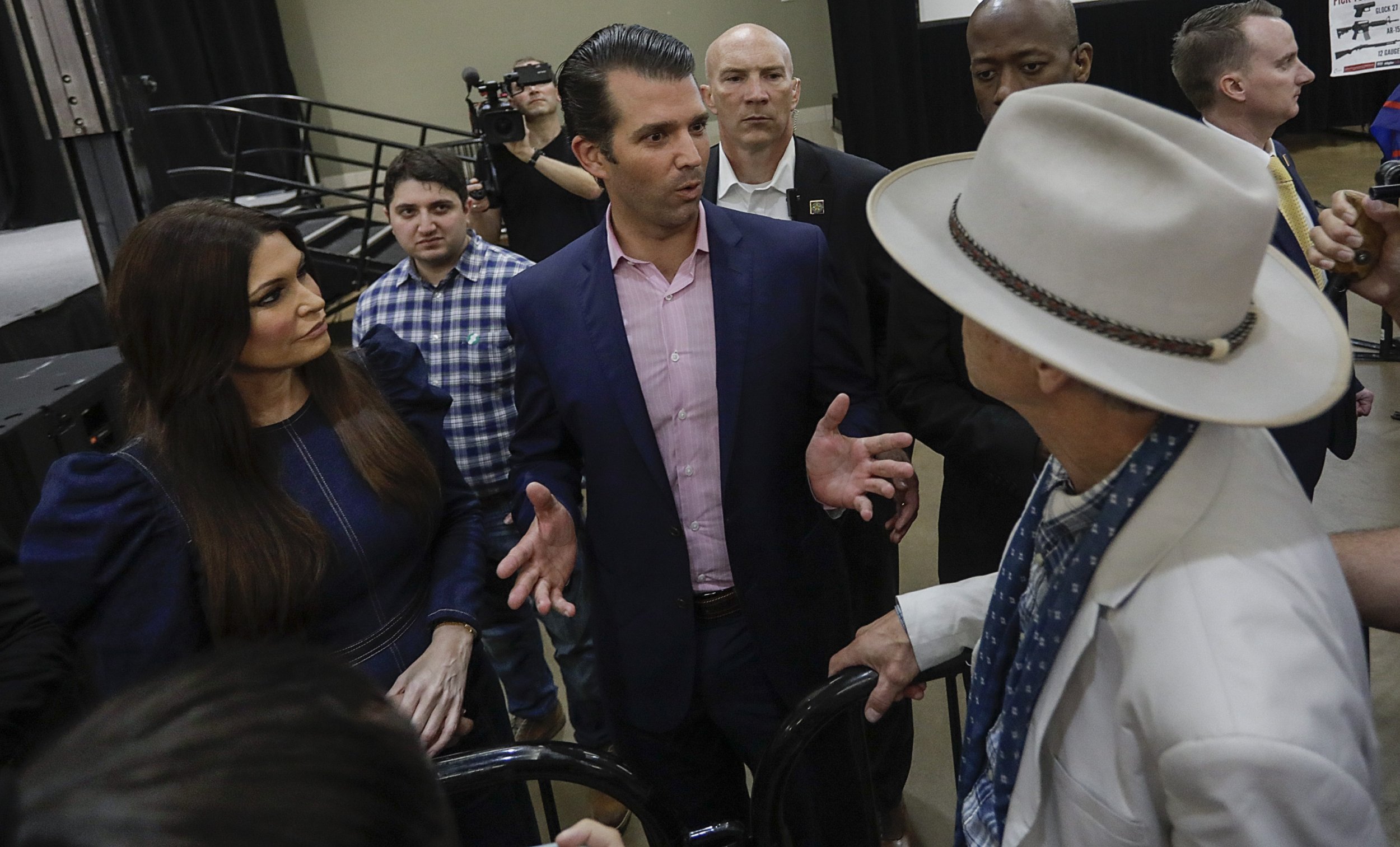 First son Donald Trump Jr. took some time to make a video with his girlfriend, Kimberly Guilfoyle, urging Americans to get out and vote Republican in the midterm elections—only to tweet the date wrong.
Trump Jr. tweeted the video on Wednesday morning. He wrote, "In 7 DAYS we need every patriot to get to the polls and make their voice heard LOUD and CLEAR! #VoteRepublican @kimguilfoyle @AmericaFirstPol." Seven days from Wednesday is November 7, the day after the midterms.
Fortunately for the first son, the couple got the election date right in the actual video.
"The mainstream media and the liberal mob are working hard to stop President Trump," says Guilfoyle, who left her job as a Fox News host to become vice chair of the pro-Trump advocacy group America First Policies.
"But we know that every day my father, our president, is fighting to keep his promise to the American people," Trump Jr. says. "That's why we need you to fight for him."
"This November 6, we need every patriot to get to the polls," Guilfoyle says.
"Let your voice be heard loud and clear," Trump Jr. says.
"Vote Republican, November 6, 2018," Guilfoyle reiterates.
"Because together we will keep making American great," Trump Jr. concludes, and the November 6 date flashes on.
Twitter users quickly mocked Trump Jr. for tweeting "In 7 DAYS."
"Yes, everyone, you heard @DonaldJTrumpJr! In 7 DAYS, get out and vote Republican!" replied Holly Figueroa O'Reilly, founder of Blue Wave Crowdsource, a nonprofit supporting Democratic candidates. "(But in 6 days, come out and vote for Democrats, since that's, you know, election day.) #WednesdayWisdom."
This is not the first time Trump Jr. got Election Day wrong.
In November 2017, he urged people in Virginia to vote in the gubernatorial race on the wrong day. He wrote in two tweets that they should go to the polls "today," but the election was the following day.
Trump Jr. did not delete those tweets or the one on Wednesday.
President Donald Trump also has told Americans to vote on the wrong day. In October 2016, he told people in Florida to go to the polls on November 28, which was 20 days after the presidential election. He said the right date in another campaign rally.
Trump Jr. and his father frequently misstate facts and make spelling errors, particularly on social media, and do not go back to correct them. Even so, the first son and Guilfoyle have become popular among the president's supporters on the campaign trail.