In a message directed at Twitter CEO Jack Dorsey, Donald Trump Jr. called the social media site "a platform for hate against conservatives" after a candidate for Congress suggested in a tweet that his step-mother is a prostitute.
Mark Roberts, who is standing as an independent for Oregon's 2nd Congressional district and identifies as a conservative, tweeted Monday: "Did you know the First Lady works by the hour? #thinkdirty #hoebag."
Highlighting that tweet about Melania Trump, Trump Jr. wrote: "Imagine if a conservative tweeted this. Imagine if anyone said this horrific statement about Michelle Obama. Their life would ruined and account deactivated. Twitter is becoming a platform for hate against conservatives," and tagged Dorsey's handle.
Dorsey did not reply. A spokesperson for Twitter declined Newsweek's request for comment.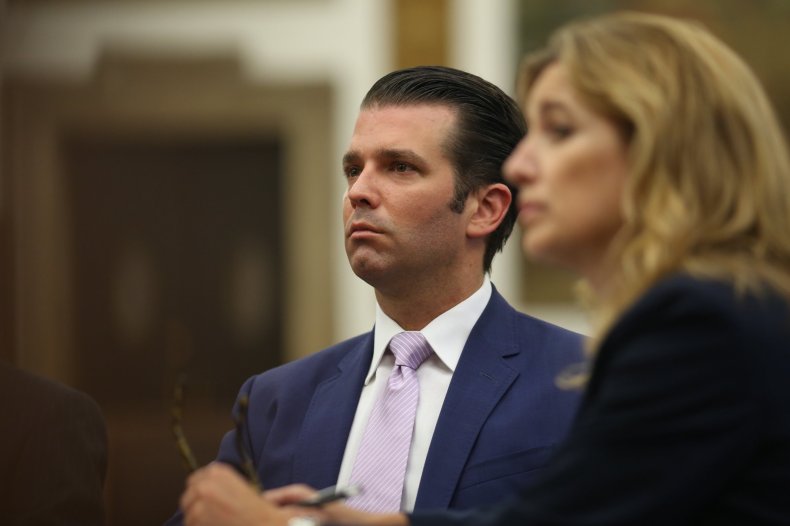 Rep. Kevin McCarthy, the GOP's majority leader in the House of Representatives, called on Dorsey to ban Roberts from Twitter: "@jack this attack on @FLOTUS is disgraceful. Comments like these have no business on any platform. This account should be banned ASAP."
McCarthy also wrote: "Conservatives will not be silenced on social media. We must stand up to Big Tech. #StoptheBias."
But Roberts did not back down in the face of criticism. He even invited "that hosebag [sic] to sue me."
"How about your wife?" asked the user ROCKANON of Roberts. "Is she a #thinkdirty #hoebag??? Quit with the absolutely rude comments already. Melania has more class in her baby finger than you have on all 20 digits! You owe @FLOTUS an apology!"
Roberts replied: "You start whipping out $100's and see how #classy she gets #makeitrain!"
President Donald Trump took aim at Twitter himself in July when he complained about alleged "shadow banning" by the platform of Republicans: "Twitter "SHADOW BANNING" prominent Republicans. Not good. We will look into this discriminatory and illegal practice at once! Many complaints."
Many on the right claim they are subject to shadow banning on social media sites. Shadow banning is the covert blocking of users and their content on social media sites by preventing their appearance in searches, without informing them such action has been taken.
Twitter categorically denies shadow banning any users and said recent issues around the disappearance of some users from the auto-suggestions element of its search tool was just a technical problem that is now resolved.
"We do not shadow ban," wrote Kayvon Beykpour, Twitter's product lead, and Vijaya Gadde, the company's legal lead, in a joint blog post after Trump's tweet.
"You are always able to see the tweets from accounts you follow (although you may have to do more work to find them, like go directly to their profile). And we certainly don't shadow ban based on political viewpoints or ideology.
"We do rank tweets and search results. We do this because Twitter is most useful when it's immediately relevant. These ranking models take many signals into consideration to best organize tweets for timely relevance. We must also address bad-faith actors who intend to manipulate or detract from healthy conversation."
This article was updated to say Twitter declined to comment.