Who Is Melissa Stetten? Former Model Claims She and Donald Trump Jr. Had Flirty Twitter Exchange
A former model said she was not surprised that Donald Trump Jr's wife is filing for divorce.
Melissa Stetten posted a screenshot of a message Trump allegedly sent her back in 2011, claiming that the two had a flirty exchange just a month after Vanessa Trump gave birth to their son Tristan.
"Surprised his marriage didn't work out since he was sending me DMs a month after his wife gave birth. (I tweeted a joke about pulling a muscle changing a tampon and he replied asking if I smelled bacon? Cool joke)," Stetten tweeted on Thursday.
The message Trump Jr. wrote reads: "Well Im getting shit 4the bacon comment glad I opted not 2send the tweet asking 4pics from ur bathroom tweet last night;) people need2chill."
Stetten said she deleted all of her tweets from their public exchange 7 years ago, but Trump Jr.'s tweets are still up. In November 2011, Trump Jr. asks Twitter if "anyone else has a bacon fetish." The exchange shows Trump Jr. asking why there isn't a bacon perfume, which leads to a reply from Stetten that she would "soak my body in bacon today."
"Stop that!!! I am a happily married man," Trump Jr. responded.
The retired model is the owner of Patti Lapel, a company that makes novelty enamel pins and plays for a recreational basketball team called the Pistol Shrimps along with other models. She told PEOPLE that she doesn't have a clue about what he means about a "bacon fetish" and that the two never knew each other before the exchange.
"He just started following me so I followed back. He would favorite my tweets and occasionally reply," Stetten told PEOPLE. "I always thought of the Trumps as idiots so it was entertaining to see his failed attempts at hitting on me."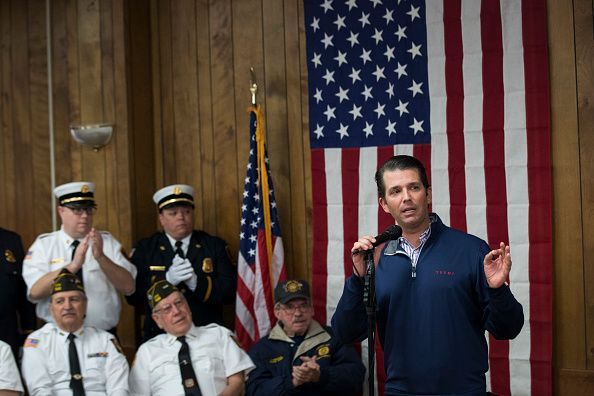 A spokesperson for Trump Jr. told PEOPLE the exchange was just a joke.
Vanessa Trump filed for divorce from Trump Jr. on Thursday in Manhattan Supreme Court, according to the New York Post. The pair were married in 2005 at Donald Trump's Mar-a-Lago resort and have five children together. The tabloid reported earlier this week that the two were having marital problems.