A new poll showed former President Donald Trump's son, Donald Trump Jr., is significantly more popular among Republicans than the GOP heads in both chambers of Congress.
Trump Jr. has remained a vocal force within the Republican Party after his father left office and has been floated as a potential presidential or senatorial candidate. He hasn't committed to making a run for office but has been an active member on the campaign trail working to get Republicans elected and it's possible his endorsement could be an asset to candidates, as his father's is.
A recent poll from Fabrizio, Lee & Associates, a survey research and strategic consulting firm, found Trump Jr. was the most attractive Republican among GOP voters. His net favorability rating was double that of House Minority Leader Kevin McCarthy and 25 times higher than Senate Minority Leader Mitch McConnell, according to Axios.
McConnell, once a staunch ally of Trump's, has found himself on the receiving end of the former president's ire since the Capitol riot. The Senate leader blamed Trump for feeding the mob "lies" about the 2020 presidential election and provoking the attack at the Capitol on January 6.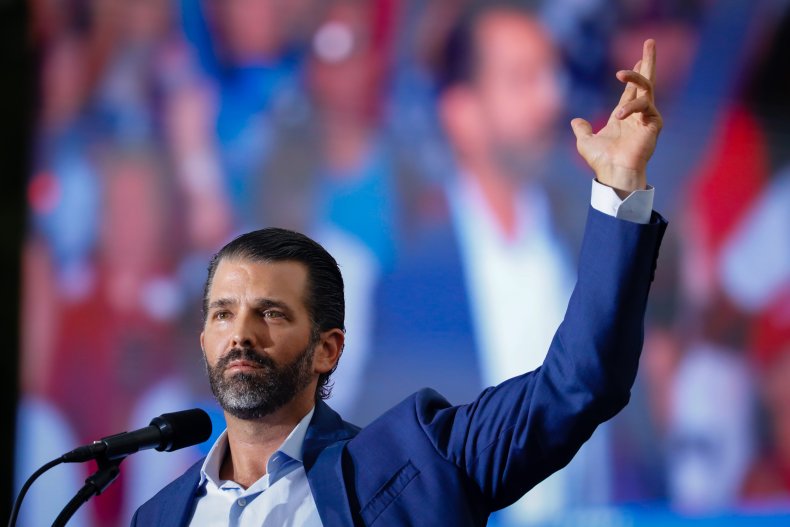 In breaking with McConnell, Trump targeted the longtime GOP leader for being a weak legislator who has allowed Democrats to steamroll Republicans in moving their agenda forward. While attacking McConnell, Trump announced that he would primary Republicans in elections when necessary and it's possible he could try to oust McConnell.
Experts told Newsweek in February that it would be tough to actually remove McConnell, who's not up for reelection until 2026, from office, but Trump's hold over the party could require the Senate leader to work to unify the party.
Another staple name of the Republican Party that's facing pushback from the Trump family is Representative Liz Cheney. A vocal critic of the former president, especially with regard to the Capitol riot, Cheney was removed from her GOP leadership position and her acceptance of Speaker Nancy Pelosi's appointment to the January 6 committee riled Republicans.
McCarthy questioned if it signaled Cheney was more aligned with Democrats than the GOP and Trump Jr. vowed to actively work to make sure she doesn't win reelection in 2022. At CPAC, Trump Jr. reiterated his love for campaigning amid rumors that he may be interested in a 2024 presidential run.
"I love being in that fight. I love fighting for the things that are out there, that I believe in as a conservative," Trump Jr. told Fox News.
Actually running for office would require Trump Jr. to actually "want to do the day job" that comes with winning a campaign, he told Fox News, adding that it's a "whole different story" to actually want to "get in that mix." However, should Trump Jr. ever consider a run, the most recent poll of 800 GOP voters from Fabrizio, Lee & Associates shows he may be able to be successful at it.