Donald Trump Jr. Warns GOP Candidates Liz Cheney Endorsement Will Be 'Kiss of Death'
Donald Trump Jr. has warned GOP candidates for Congress that an endorsement from Rep. Liz Cheney would be "the kiss of death" after the Wyoming Republican was ousted from her party leadership post on Wednesday.
The eldest son of former President Donald Trump taunted Cheney over her removal as the GOP's No. 3 in the House, adding that if she involved herself in midterm races it would be "the first time she became active in anything." He also called on the caucus to oust "CNN and MSDNC Republicans" next.
House Republicans booted Cheney, a vocal critic of the former president, from her role as conference chair in Wednesday's caucus vote. She has since promised to "do everything" she can to block a second Trump presidency.
Posting on social media, Trump Jr. wrote: "Figures the first time she became active in anything would be against Republicans.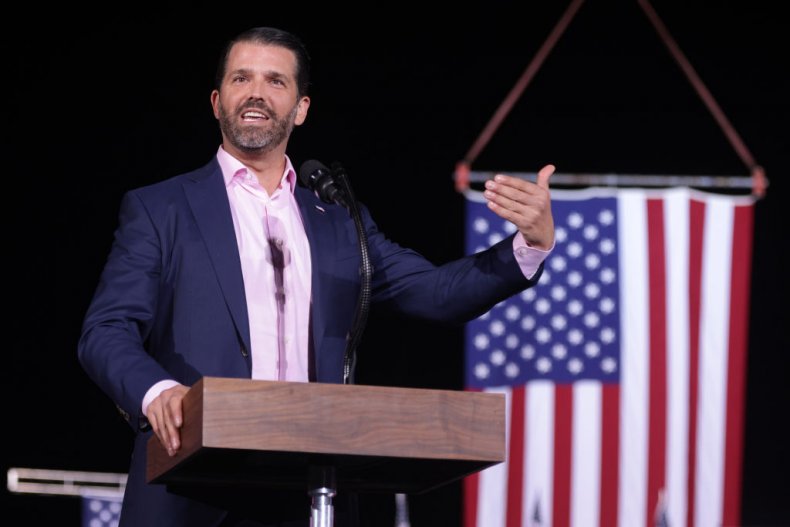 "Let's rid ourselves of CNN and MSDNC Republicans once and for all. A Cheney endorsement will be the kiss of death for a Republican candidate's campaign… if they don't get that they should lose!"
Newsweek has contacted Rep. Cheney's office for a response.
Trump Jr.'s tweet followed a statement from his father describing Cheney as a "bitter, horrible human being." He added that the congresswoman, who is the daughter of former Vice President Dick Cheney, never had "anything good" to do with the country or its politics.
"She is a warmonger whose family stupidly pushed us into the never-ending Middle East Disaster, draining our wealth and depleting our Great Military, the worst decision in our Country's history," Trump said. "I look forward to soon watching her as a Paid Contributor on CNN or MSDNC!"
Speaking to reporters after the closed-door meeting that sealed her ouster, Cheney said: "I will do everything I can to ensure that the former president never again gets anywhere near the Oval Office."
Her removal is considered a watershed moment for the Republicans and a big win for the pro-Trump, populist wing of the party in its civil war with the so-called moderate faction that steered the GOP before Trump secured the White House in 2016.
Rep. Elise Stefanik (R-NY) is widely expected to replace Cheney and has wasted no time in launching her bid to be the next GOP conference chair. The congresswoman is an ardent Trump ally in the Republican caucus and has claimed that she "absolutely" has the votes to secure the post.