A Massachusetts man was arrested and charged Thursday in connection with a series of letters containing white powder that were sent earlier this month to Donald Trump Jr. and others.
Daniel Frisiello, 24, was arrested and charged in a criminal complaint with five counts of mailing a threat to injure and five counts of false information and hoaxes, according to the Justice Department.
Frisiello allegedly sent the letters to Trump Jr. and four other high-profile people earlier this month and implied that the white powder inside was dangerous. The powder ended up being harmless, according to investigators.
The letter sent to Trump Jr. included a printed message that read: "You are an awful, awful person, I am surprised that your father lets you speak on TV. You make the family idiot, Eric, look smart. This is the reason why people hate you, so you are getting what you deserve. So shut the **** UP!"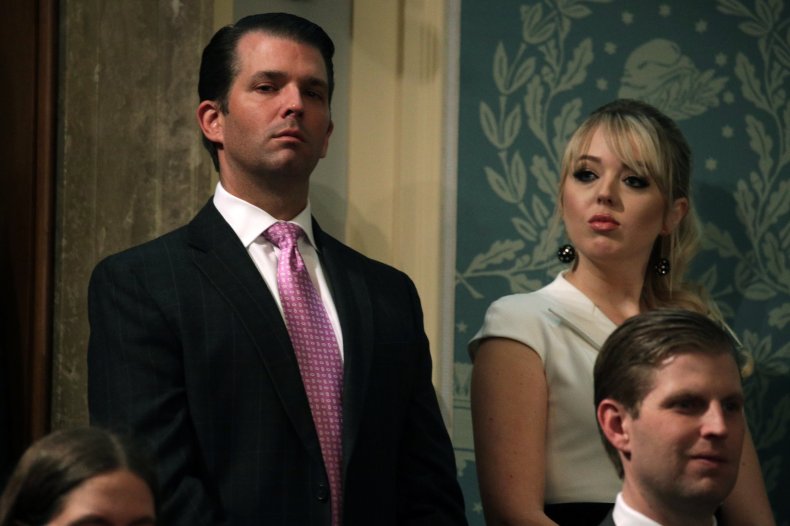 After opening the letter February 12, Trump Jr.'s wife, Vanessa, and two others who were in the same apartment were hospitalized as a precaution.
Also, Frisiello allegedly sent a letter to Nicola Hanna, the interim United States attorney for the Central District of California. That letter blamed her for the death of former Glee actor Mark Salling, who killed himself in January after being charged with child pornography crimes. Hanna's office was prosecuting the case.
"That's for murdering Mark Salling! I Hope you end up the same place as Salling," the letter read.
Michele Dauber, a professor of law at Stanford University, also received a letter. She had pushed for the recall of Judge Aaron Persky in California after what critics called his "light" sentencing of Brock Turner for rape. Senator Debbie Stabenow of Michigan received a letter in connection with comments she made about Randy Margrave, the father of three women who were victims of the serial sexual abuser and former USA Gymnastics team doctor Larry Nassar. Margrave attempted to attack Nassar in court, and Stabenow showed sympathy for the father.
A final letter in the case was sent to Antonio Sabato Jr., a Republican and Donald Trump supporter who is running for Congress in California. Sabato Jr. has Jewish roots, and his letter contained anti-Semitic language.
The most serious charge Frisiello faces is 10 years in prison for threats addressed to a federal official.
"This investigation should remind people that law enforcement will prioritize finding and charging those who try to cause panic by sending threatening letters containing what looks like dangerous substances," said United States Attorney for the District of Massachusetts Andrew Lelling in a statement. "Beyond terrifying the victims, these incidents caused law enforcement agencies around the country to spend time and money deploying emergency response units."
The letters' only identifying information was that it was postmarked in Boston, according to NBC News.
Federal authorities found that a "glitter bomb" was also sent to Dauber with the same message. A glitter bomb was a gag delivery from a now shut-down company that doused the recipient with glitter. The owner of ShipYourEnemiesGlitter.com cooperated with authorities and alleged that Frisiello attempted to send at least 10 other glitter bombs, including some to members of Trump's family, according to MassLive. Authorities were able to obtain Frisiello's computer's IP address from payments to the company.
The U.S. attorney's office in Massachusetts did not immediately respond to Newsweek's request for comment.