Donald Trump Jr. Will Run For President in 2024 and He'll Likely Win Republican Nomination, GOP Strategist Says
Republican political strategist Rick Wilson predicted that Donald Trump Jr., the president's eldest son, will run for office in 2024 and is likely to secure the GOP nomination in a Daily Beast op-ed published Thursday.
"There are three 2024 scenarios that Republicans pretend they won't face, but that represent the further decline and fall of a once-great party of conservative ideas," Wilson wrote. "First, the clues have been there all along that the real 2024 primary will be between Donald J. Trump, Jr. and everyone else."
"It's becoming more obvious by the day," he said.
Trump Jr. — who's currently serving as a trustee and executive vice president for the Trump Organization — has been "on the road doing fundraisers and political events for the Republican candidates," Wilson noted, as a signal that he's considering a future run for the White House.
The president's son is also a Fox & Friends favorite and his book, Triggered: How the Left Thrives on Hate and Wants to Silence Us, is coming out soon, the GOP strategist continued.
"He is fluent in the language of whining, dickish grievance-mongering, which has replaced modern conservatism," Wilson said. "Whether the GOP wannabe 2024 field knows it or not, it's DJTJ's opening shot for the 2024 nomination."
He then suggested that Trump Jr. may have an even greater chance of the GOP 2024 nomination if his father loses his 2020 reelection bid. "Every single one of these candidates will spend the year before the election posturing and posing as the sole heir to Donald Trump's legacy," he added.
Newsweek reached out to Donald Trump Jr. for comment but did not receive a response in time for publication.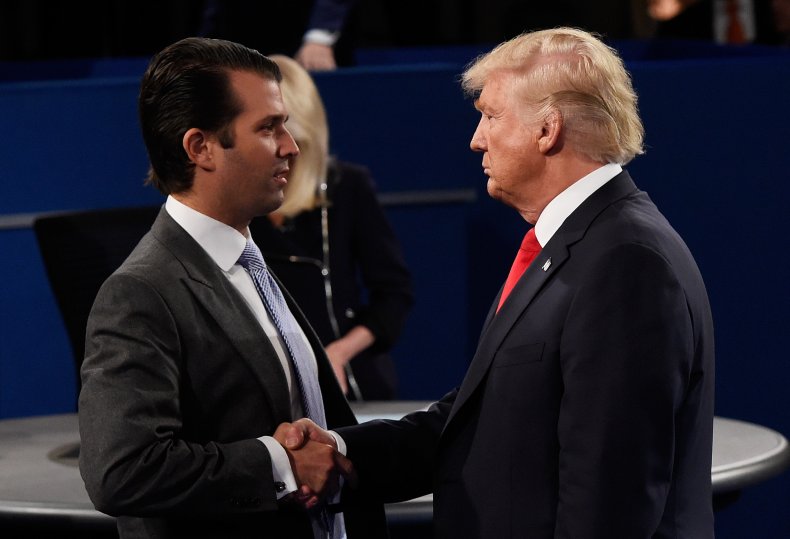 Last Thursday, Trump Jr. headlined a rally in support of Kentucky Governor Matt Bevin's re-election bid with his partner Kimberly Guilfoyle at Pikeville's Appalachian Wireless Arena. According to WFPL, the event's organizers had to ask "the audience to move out of the seats and closer to the stage" because the rally was so "sparsely-attended." Roughly around 200 people were in attendance, WFPL reported.
In addition to running events to support the GOP, Trump Jr. also frequently tweets attacks at Democratic figures, such as former Vice President Joe Biden, freshman lawmaker Ilhan Omar and Senator Kamala Harris. In June, Trump Jr. shared a tweet from a right-wing personality who claimed that Harris was not black enough to represent African Americans.
"Kamala Harris is implying she is descended from American Black Slaves. She's not. She comes from Jamaican Slave Owners. That's fine. She's not an American Black. Period," Ali Alexander, a black MAGA personality who launched a website for other Trump supporters, tweeted. Trump Jr. quickly moved to share Alexander's sentiments, writing: "Is this true? Wow."
In March, Trump Jr. told Bloomberg he wouldn't "rule out" running for office in the future. "I definitely enjoy the fight," he said. "I definitely like being out there and I love being able to see the impact and the difference that it makes on these people's lives that I get to see all over the country."