Donald Trump Jr.'s Spokesman Rips Senator Richard Burr Over Subpoena: 'Don Isn't A Govt. Employee'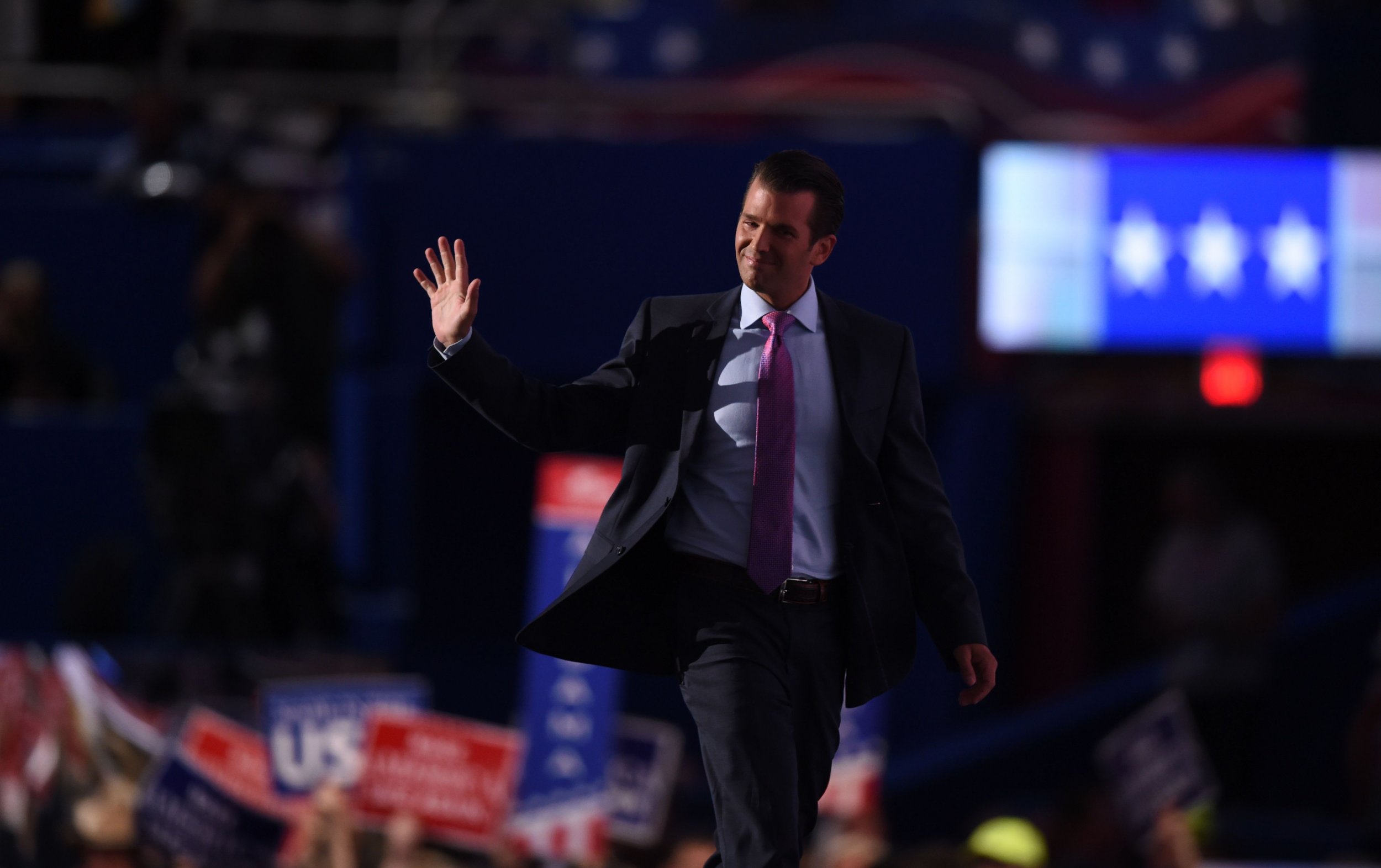 A spokesman for first son Donald Trump Jr. on Saturday slammed Republican Senate Intelligence Committee Chair Richard Burr for subpoenaing Trump Jr. to provide additional testimony.
The Trump Jr. rep accused Burr of fronting a "government harassment campaign" and complained that Trump Jr. has testified for more than 20 hours even though the the president's eldest son is not a government employee.
"The most disturbing part of @SenatorBurr's targeting of @DonaldjTrumpJr is the authoritarian nature of it," tweeted Andrew Surabian, a former special assistant to the president and White House deputy strategist.
"Don isn't a govt. employee. Has testified 20+ hours already & was cleared of any crimes by Mueller," Surabian continued. "This govt. harassment campaign of a private citizen is 100% un-American."
Trump Jr. is the Trump Organization's executive vice president of development and acquisitions. He worked on his father's 2016 presidential campaign and, much like the president, unabashedly goes after opponents online.
Trump Jr. was not indicted by special counsel Robert Mueller, but continues to be the subject of various ongoing investigations.
Surabian did not immediately respond to a request to elaborate on his tweet. His Twitter profile states he is a GOP communications and political strategist and "War Room Director on Trump 2016." Surabian previously told Newsweek that he handles Trump Jr.'s political press.
The Republican-led Senate Intelligence Committee subpoenaed President Donald Trump's eldest son on Wednesday to answer questions about his previous testimony to Senate investigators. Trump Jr. testified before the committee in December 2017 for more than nine hours. He also testified before the Senate Judiciary Committee three months prior, where he told lawmakers he was only "peripherally aware" of a proposal to build a Trump Tower in Moscow.
However, subsequent statements from former Trump attorney and fixer Michael Cohen have indicated that Trump Jr. had more extensive knowledge of the Moscow proposal.
Surabian on Friday criticized Burr over a report that people close to the senator said he has given cover to other Republicans to say a bipartisan probe was happening, and that they were angry about criticism they've received for subpoenaing Trump Jr.
"So @SenatorBurr is mad bc Republicans are pissed that he would target @realDonaldTrump's son?" Surabian tweeted. "What did he think the reaction would be? Don fought like hell to keep the Senate in GOP hands in 2018 & is beloved by the grassroots. Maybe try not taking your marching orders from Dems?"
Surabian also retweeted a post by Trump Jr. in which he ripped Democratic Senator Richard Blumenthal for tweeting that the first son meeting with a Kremlin-linked lawyer at Trump Tower in June 2016 was "despicable, unpatriotic, & a blatant violation of campaign finance law."
"Hey Da Nang Dick, You know what's unpatriotic?" Trump Jr. tweeted. "Stolen Valor!"
This was an apparent reference to a controversy involving Blumenthal's military service. During the Vietnam War, Blumenthal served stateside in the Marine Corps Reserve. However, in his 2010 election campaign, he reportedly claimed or implied that he had actually served overseas in the war. The senator denied ever deliberately misleading anyone about his service.