Donald Trump Could Have Almost One-Fifth of All Circuit Judges in U.S. After Just Over Two Years as President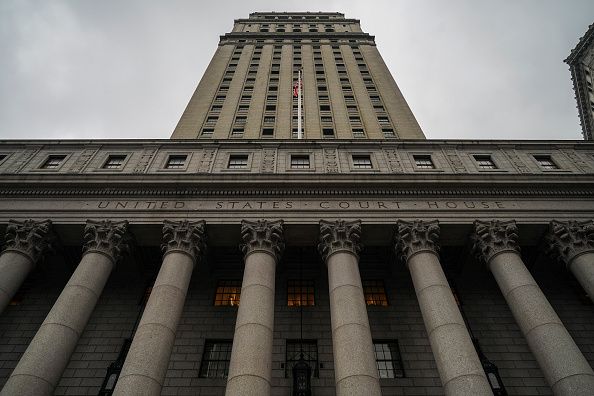 President Donald Trump has installed a record number of federal appeals court judges in his first two years in office, and is now on track to have appointed nearly one-fifth of all circuit court seats in the country.
In the next week, the Senate is expected to confirm the 34th Circuit Court judge of Trump's White House tenure. Plus, Republicans already have at least three more judges lined up for floor action in Congress. That would mean Trump would have appointed close to 20 percent of all U.S. Circuit court judges, Politico reported Wednesday.
Trump's picks for the Circuit Court, which is just one step below the Supreme Court, have been predominantly male and less diverse than those appointed by other presidents. He has also skewed toward tapping younger judges to serve in the lifetime role.
On Tuesday, the Senate confirmed Allison Rushing, 37, and Chad Readler, 46, to Circuit Court positions.
Last November, Senate Majority Leader Mitch McConnell said that the judiciary was his "top priority."
"We intend to keep confirming as many as we possibly can as long as we can do it," McConnell told reporters in a news conference at the time.
Last year, Trump mockingly thanked his predecessor, President Barack Obama, for leaving so many judicial posts vacant at the end of his presidency. The Republican-controlled Senate had slowed down many of Obama's federal court appointments at the end of his administration.
"When I got in, we had over 100 federal judges that weren't appointed," Trump said at the time. "I don't know why Obama left that. It was like a big, beautiful present to all of us. Why the hell did he leave that?"
In addition to his reshaping of the Circuit Court, Trump had the opporotunity to name two justices to the Supreme Court in his first two years. Both George W. Bush and Obama, despite each having served eight years as president, appointed only two justices to the high court.
Trump's first pick, Neil Gorsuch, was confirmed by the Senate in 2017 after a partisan battle over the Supreme Court seat. The seat had been vacated during the last year of Obama's administration, but McConnell refused to hold any hearings for Merrick Garland, Obama's nominee, and insisted that the appointment be made by the next president.
Trump's second Supreme Court nominee, Brett Kavanaugh, faced brutal controversy after several women accused him of sexual misconduct and assault decades before. Kavanaugh denied the allegations, and was narrowly confirmed in a Senate vote of 50-48.
The confirmation of Gorsuch and Kavanaugh gave the Supreme Court its first conservative majority in decades.
Now, Republicans are devising a plan to make judicial appointments move much faster than before by decreasing the amount of debate time on nominees. Democrats can opt to debate for 30 hours, but if Republicans change the rules that time would be reduced to two hours.
In January, Trump tweeted his frustration with Democrats over the 30-hour debate period, writing: "For FAR TOO LONG Senate Democrats have been Obstructing more than 350 Nominations. These great Americans left their jobs to serve our Country, but can't because Dems are blocking them, some for two years-historic record. Passed committees, but Schumer putting them on hold. Bad!"