Donald Trump Jr. Tells Chelsea Handler Don't 'Suck' at Politics Like She Does at Comedy
Comedian Chelsea Handler is a frequent opposer of President Donald Trump and his administration's policies but she targeted his son Donald Trump Jr. on Monday via Twitter. The Chelsea Lately alum took to the social media platform to suggest it'd be intriguing to see Trump's son turn on him.
"I can't wait for Donald Trump junior to flip on his father," Handler, 43, tweeted on Monday. "That's going to be awesome."
Trump Jr. has been a loyal supporter of his father and wasn't amused by Handler's remark. In response to the comedic actor's comment, Trump's eldest child took to Twitter to criticize Handler.
"I'd say stick to comedy but you weren't funny enough to avoid cancellation of your Netflix show," the 40-year-old tweeted. "Stay away from politics—no reason to suck at two things."
Trump Jr. dug further by suggesting Handler stand by her previous desire to exit the U.S. following his father being elected to office, tweeting: "Hey Chelsea, now that your show is canceled it's not too late to make good on your promise. Really no excuse for you to stay anymore."
Before engaging in a Twitter feud with the eldest Trump child, Handler equated her own father to America's 45th president. In an interview with BuzzFeed's Profile on August 19, the former Netflix star claimed her dad "would be like Donald Trump if he could."
"I have an asshole for a father," Handler told Profile. "I yelled and screamed at him my whole life."
Hander additionally took the time to call out Trump's eldest daughter, Ivanka Trump. She expressed her disappointment in the former fashion designer's inability to speak out against her father on his administration's policy regarding the separation of families, saying: "To see that kind of behavior, with a lot of power, and a daughter who sits idly by when there are children in cages at the border—I mean, what land are we living in?"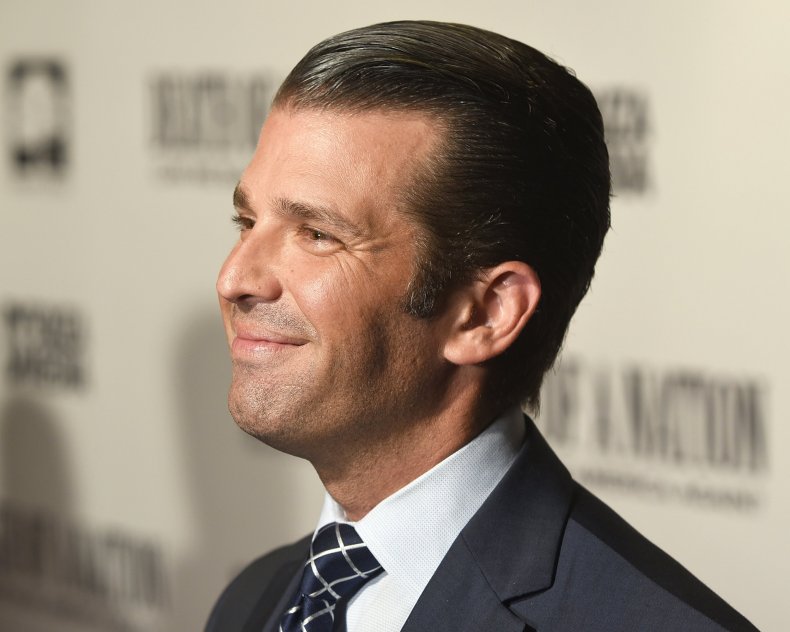 Trump Jr. has slammed Handler before. In March 2017, the pair engaged in another seemingly hostile exchange of words after Handler shared her thoughts on the announcement of his brother Eric Trump's wife, Lara Trump, being pregnant with their first child. At the time, Handler suggested: "Just what we need. Another person with those jeans. Let's hope for a girl."
Trump Jr. wasn't fond of Handler's feedback, taking to Twitter to share an extensive statement on Handler's "sick tweet."
"The liberal elite's real hatred is hopefully starting to be apparent to mainstream America (both right and left). Their whole 'party of tolerance' nonsense only applies if you fully buy into their dogma, and when you don't their true colors shine," he wrote. "Attacking the announcement of someone's first pregnancy would seem below the belt to most, but sadly that's not the case."
Donald Trump Jr. Tells Chelsea Handler Don't 'Suck' at Politics Like She Does at Comedy | Culture